2020 marketing trends. They're here and they mean business. Customers want fresh, holistic approaches from businesses - ones that triumph trust, ethics and personalised relationships.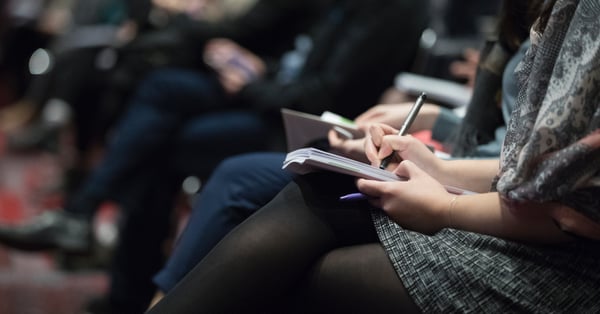 Let's explore some of the top trends and discover why genuine, emotional marketing is leading the way for 2020.
The Top 2019 Marketing Trends
Thought Leadership
2019 was the year businesses showed their expertise more than ever before, without an extra cost to the consumer. This is an example of 'thought leadership' where a company offers expert content to advance the conversation in a certain industry.
An audience interested in a specific subject (such as printing) might want an expert point-of-view or bespoke behind-the-scenes tips to further their knowledge. Plus, customers want to see this content in new and exciting ways: live video, contests, downloads. This marketing trend offered real-time advice and leadership which has proven to be very engaging.
Influencer Marketing
Macro-influencers and micro-influencers. They might sound like confusing terms but because of social media, they're all around us. Think of Instagram or Twitter accounts with lots of followers who talk about products or services. YouTube is probably the best place to discover influencer marketing with thousands of people reviewing products and businesses.
Both macro (many followers) and micro (not so many followers) influencers are equally valid avenues to explore. It helps if you've already provided some thought leadership to entice these people to become interested in your work. It's a largely untapped market so expect this trend to continue into coming years.
The Growth of Content-Based Marketing
Each month, 70 million new posts are added to WordPress blogs alone. This is only a small portion of a massive amount of written content that's posted every second.
Exposure, trust, influence and information - you can achieve all of these through the written word, especially for businesses. Whether it's in print, downloads or online content, audiences respond well to content that has the perfect solution. Combine this with invested influencers and you're onto a winner.
So if these were some of the biggest marketing trends for 2019, what 2020 marketing trends will we experience?
2020 Will Be the Year of...
Emotional Marketing
Traditional marketing was all about the attention economy, creating something big and brash to catch people's eyes. However, this is fast becoming a thing of the past. We're now in the age of the emotion economy, one of the most promising 2020 marketing trends.
This trend is where brands try to pull at your heartstrings to create an emotional connection. Strong and memorable, buying is typically an emotional decision. Customers engage the strongest with a 'purpose-driven' brand.
Customers want to see authenticity as they're tired of being fed something that isn't exactly true. If a brand promises something and then delivers on it, it builds trust that people are looking for nowadays.
One of the most stirring examples of this is Nike's partnership with NFL quarterback Colin Kaepernick, who knelt during the American National Anthem to protest against police brutality. Those against this stance began to film themselves burning their Nike merchandise with some videos going viral.
But while Nike stuck to working with Kaepernick they championed a story of social justice, generating a profit of $43 million and sparking brand loyalty in younger consumers.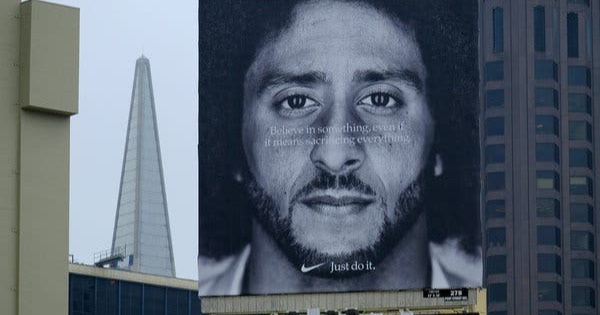 Image credit: New York Times
Progressive values and using emotions aren't just fluffy additions - customers think about these things when it comes to buying decisions. Tesla's commitment to green energy. Facebook's recent issues over privacy. Attitudes and actions like these will affect how consumers look at and interact with your company.
In the future, bespoke emotional print and digital content will be engaging methods for delivering your message.
Hyper-personalisation
One-to-one marketing. That's the ultimate goal for a lot of marketers and it's becoming much more of a reality thanks to artificial intelligence (AI) and machine learning.
Email marketing can suffer because the content distributed is generic or irrelevant. Customers now prefer to interact with a level of deep personalisation, or 'hyper-personalisation'. 82% of marketers revealed that personalisation led to a higher open rate with their emails with some brands recording an 8x improvement on their click-through rates.
A key 2020 marketing trend will be the action of hyper-personalising your targeted content through AI and machine learning-based marketing tools. They're changing the very nature of the marketing game. Using software, we can track interactions, demographics, buying journeys and other key data which help create personalised content for any audience.
As marketing trends develop, so does the software used to create brilliant campaigns. Customer relationship management (CRM) software is now widely used and is now developed enough to track, target and create personalised content for prospects.
Similar to emotional marketing, hyper-personalisation allows for a more holistic approach to marketing. Creating personalised, emotive content and distributing it to the right people at the right time is a killer marketing tactic.
A Print Renaissance
When digital music became easy to download and streaming services such as Spotify took off, the CD market was left behind. But when one main format falls, others rise up to fill the gaps.
This is happening in print. As video and digital adverts, as well as electronic books, dominate the market we are seeing a print renaissance. Books, magazines and advertising materials such as posters are constantly pushing the boundaries of creativity. They succeed in their bespoke style where digital formats succeed in their accessibility.
Independent magazines are thriving. Posters are ever more visually appealing and graphic designers are more in demand than ever. Where there is a physical customer presence, print will always triumph. Especially for niche or luxury business, print is something highly desirable.
More Ethical and Sustainable Businesses
2020 will be the year of sustainable businesses. More and more consumers only want to buy from companies they trust to be both ethical and sustainable. This isn't just what their products are made from, but now covers every aspect of operations.
Circular supply chains, renewable energy, sustainably-sourced materials and even ethical print are key aspects of this 2020 marketing trend. Each part of a business can be improved.
Take print, for example. Green printing is becoming more popular for marketers, designers and publishers. Businesses can prove they're working with FSC Certified and carbon balanced paper and even dedicate their inner workings to be carbon neutral. Recycled paper stocks and vegetable inks offer consumers bold new ways of creating brilliant print without the environmental price.
Print is having a renaissance and sustainable print is the cream of the crop. So how can you create green printed media? We've got the best info for you.
Start Your Journey to Green Printing Today
With our green printing checklist, you'll be able to tick off all the considerations that go into creating printed media. Think of paper types, FSC Certified stocks, energy usage - all which you can delve into and make decisions for.
So if you want to get a head start on this 2020 marketing trend, click the link below.