If there was only one type of printing technique, then businesses wouldn't be able to differentiate themselves from the competition. Luckily for you, print is thriving in this technologically advanced world and that's great news for materials you print for commercial needs. But what are the different types of commercial printing?
Commercial printing is basically a printing device used for businesses, such as brochures and leaflets. However, there's not only one type and each one is used for a different purpose. The different types of commercial printing we're going to look at are:
Simply click on any of the above to be taken to the relevant section.
Offset Lithography
In offset lithography, a printing plate contains an image of the content that needs to be printed. Once this plate has been inked, only this part of the image holds the ink. The inked image is then transferred - or offset - from the plate to a rubber blanket and then to the printing surface.
The great thing about offset lithography printing is that your business can print on pretty much any flat surface. If you want paper, cardboard or even plastic, it'll be a success.
As businesses can require a higher volume of work, offset lithography machines use rolls of paper which are fed through four towers or printing units to achieve the best results.
What offset lithography is best used for: This commercial printing technique is widely used by businesses for an extensive range of products such as books, newspapers, posters and stationery.
Digital
Digital printing is ideal for businesses seeking short runs and personalisations, providing an exciting opportunity to get creative with commercial print. This technique offers endless options when it comes to making a serious impression with your marketing material.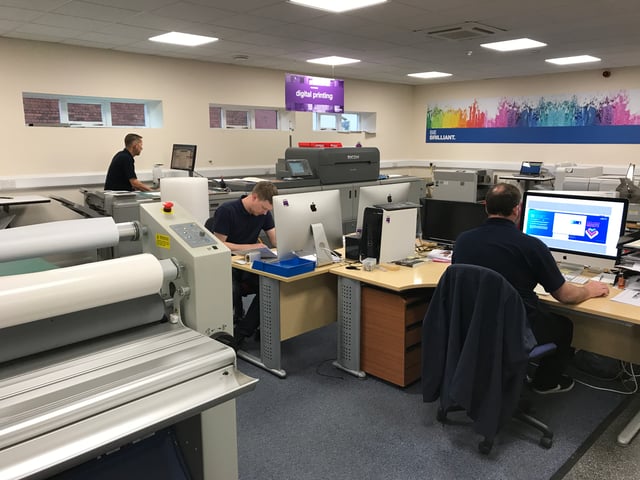 Our digital print room.
With ever-increasing popularity, it's a cost-effective technique as it minimises postage costs while engaging your customers. However, success does depend on the machine used, purpose and the company operating the machines.
Ideally, the preference for any business would be to select a tried and trusted third-party expert in this field. Picking an in-house team which is fully equipped with mono and full-colour presses that are managed and operated by skilled digital professionals ensures that the results are exactly what you want.
By using digital printing for the right job, it makes the quick turnaround and full-colour printing a truly viable option for work to a certain size (in terms of number of prints). That's because the output equivalent is on par with what you receive in litho printing - but you don't have the set-up costs.
What digital printing is best used for: The digital print method is popularly used on labels, letters, newsletters, some banners, point of sale items, menus and many other customisable products for businesses.
Large Format
Large format commercial printing is the perfect solution when you need to make a big impression. Otherwise known as wide format printing, display print or POS. This method gives businesses the option to have graphics printed onto almost any material of any size.
This method refers to print materials that are too large to be printed on any other commercial printing press. So, it comes as no surprise that this method requires the use of specialty production equipment that can accommodate larger dimensions.
It can be used to draw attention from a distance or to provide quick reference. Most businesses use large format print materials as a flat wall-hanging item like a banner. However, it can also be made to fold or be used to free-stand, so the versatility of this, along with the visual appeal, is what makes it popular among businesses.
What large format printing is best used for: External vinyl banners, signage, wallpaper, floor graphics, laminating and mounting, pop-up displays, exhibition graphics, billboards and more.
LED UV
For the highest quality imaginable, LED UV printing by businesses is becoming a hugely popular choice as it helps make the all-important, 100% impactful first impression.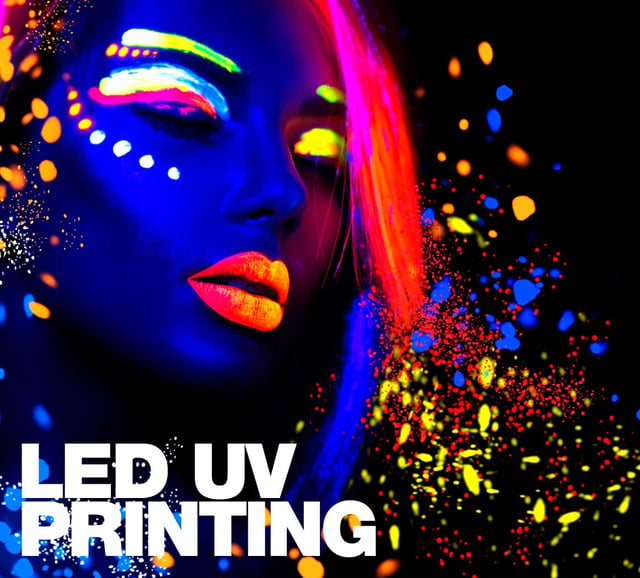 Whilst LED UV printing can be used to get great results under a UV light, it's best used to create crisp and clear colours when viewed under normal circumstances.
LED UV technology ensures that the print quality is much sharper and vivid, even on uncoated stocks. Printed materials also retain their original characteristics as no sealing coat or anti-set off powder spray is used. However, the biggest selling for businesses is that the turnaround times are now much quicker while maintaining that high-quality.
This is down to the unique UV curing drying method. To find out more about this method and what makes it so special, check out this blog post on the topic.
Businesses that also want to reduce their carbon footprint also benefit with this method because it's proven to be much more eco-friendly as it uses much less power than traditional print-drying technology and the instant on/off functionality reduces standby consumption between jobs and reduces overall CO2 emissions.
Again, versatility isn't an issue with LED UV as that's something businesses need to stand out. That means any type of stock or materials can be printed on because of the drying method, which uses light instead of heat. This is additionally beneficial to the high-end businesses with luxury items to sell with a bespoke option.
What LED UV printing is best used for: Think about high quality prospectuses, handbooks, catalogues, lookbooks, newsletters, magazines, posters, leaflets, brochures and so much more.
Find Out All You Need to Know About Print
Your next print job should always be better than the last. As you update your content, change your materials, play with designs and structure, and even your production methods: your print output is always improving.
Make sure your next job is the best one yet by using this guide to producing brilliant print. Grab your copy today.