With the rise of digital marketing and advertising through social media channels the thought of using a brochure to market your business could seem old fashioned to some. With all of these high-tech marketing measures, how does marketing through a brochure compare?
Marketing through a brochure is effective in many ways such as when it comes to networking - they can be handed out after talking to potential clients or customers - they are cheap to distribute and you can specifically target your ideal market. And with a paperless world, brochures can simply be a novelty to stand out from the competition. But just how effective are brochures in marketing?
Reaches Your Target Audience
Brochures are essentially booklets containing information about your business. They are usually distributed in person by hand at events, meetings, networking events and more; this distribution method means you can specifically target the people who you believe would take an interest in your business. As brochures are distributed by hand they are cost effective and the personal touch of receiving something by hand (and meeting the people behind the business) means before people have even read the brochure they already understand a bit about your business.
Think about something as simple as a takeaway menu posted through your door just before you're deciding where to eat; it's extremely targeted as you know they are within your delivery radius. For events, brochures provide a tangible piece of marketing, given only to those who you qualify through conversation.
Interaction
A brochure is something people can touch, keep, and pass on to others; it allows potential customers connect with the information they have received via the brochure instead of forgetting it amongst the wide-web.
Having a brochure physically there in front of your gives the information inside much more of a meaning and attracts the potential customers' attention more than an advert they might see on the web. Brochures are easy to access as all you have to do is pull it out of the drawer if you're wanting to re-read the information or pass it onto a friend, whereas an advert on the web may be difficult to trace back and locate.
For example, many brochures are distributed at events, where stalls are set up advertising your business, college, university, and so forth, therefore, when people come over to your stall, they are interested in what you have to say and to find out more about what you have to offer. A brochure is used as a take away which will offer more information in a visually pleasing way, and there's nothing better than opening a brochure and smelling that fresh ink smell.
Quick tip: Try making a brochure with a quick checklist that leads the customer to your business as a solution. For example, "a checklist guide when your double glazing needs replacing" or "when to service your car: a quick checklist." The customer can refer to the checklist to know when a product or service is needed, and they will think of you because you provided valuable content for free - in print.
Appearance
The appearance is everything for a brochure as straight off the bat it tells the customer a lot about your business. Just like the saying first impressions count, it also works with brochures, if you hand an unattractive brochure to a potential customer they will automatically get an idea of your business, and they may think you don't put effort in. If they are handed a glossy technicolour marvel, they'll associate your brand with quality.
A brochure which is of high quality won't be thrown away and will be kept by the person you have handed it to; they will appreciate the quality of the material used, the print, and the contents.
Even though you should "never judge a book by it's cover" when it comes to marketing the better looking your brochure is the more effective it will be. Just as the recognisable National Geographic image of the green-eyed Afghan girl wearing red, sticks in reader's minds, a captivating image on your brochure will keep readers engaged.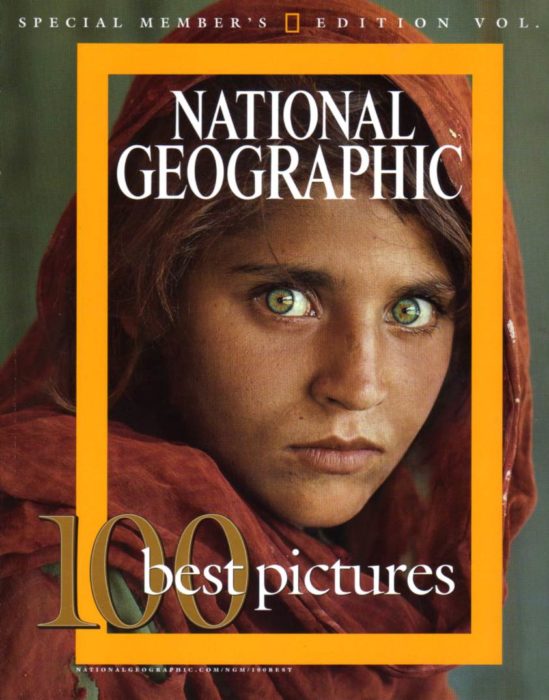 Image courtesy of: https://petapixel.com/
But what truly underpins being able to create a striking and lasting impression with a print brochure is the quality of the material itself. Not just the quality of the content in artistic terms - such as punchy copy, striking images and bold colour schemes - but also in terms of high quality stock and inks.
And these are best put together using the best quality printing techniques. LED UV printing provides the most outstanding results thanks to the way the inks are dried by being blasted under LED UV lights.
Not there's anything wrong with other printing methods, we are just huge fans of LED UV and proud to say we were the first printing firm to bring the technique to the UK.
Cost Effective
Once designed all that is left to do is print them out and using a printing technique like offset printing, which allows you to print high quality brochures in bulk for a small price, the overall cost of producing a large amount of brochures is little. Some digital marketing techniques such as PPC can cost your company hundreds to thousands per month if there is a lot of competition, and you pay that every day you want to remain front of mind (like rent)!
Distributing brochures is low cost as it can be done by hand from person to person. This distribution creates a more personal touch as it introduces potential customers to who they may be communicating with through the process of purchasing their product or services.
As these two processes of creating and distributing a brochure could not cost you much, there is no reason as to why you shouldn't try using a brochure as a marketing tool. We say at least give yourself the chance to deliver a high quality, informative, brochure to potential customers as it won't break the bank.
Consistent Business Branding
As your brochure is your own and will not be seen amongst other competitors ads or marketing efforts, the saying goes "out of sight out of mind" and when it comes to digital marketing this adage can sometimes be true especially if your ad isn't intriguing or catches the attention of potential customers; however, when it comes to a brochure it's all you.
All the information within a brochure is advertising your company, product, or services. You can fill the brochure with unique information and images you may not be able to put on a digital marketing ad.
If your brand has a colour scheme you should use this theme for the brochure, meaning it is recognisable as a piece of your content. For example, if your logo is purple, white, and blue incorporate it into a colour scheme for your brochure; it will automatically make the customer aware it's a piece of your marketing material and will hold information about your business by just recognising the colour.
Consider how recognisable the McDonald's golden arches are with the iconic red background.
If people see red and yellow, they will think of this fast-food burger chain, and you can help customers remember you with your iconic colours. Just like the burger chain's yellow M, Starbucks doesn't even need its name on its products either since the green siren of its logo does the trick.
Your logo can also be repeated throughout the brochure. This strategy is a good way to get potential customers to recognise your logo when they see it again and know who it belongs to. They will also associate your logo with the brochure they have received off you.
Why You Should Use Brochures
Trends come and go but many people still like brochures as they can display beautiful images and a vast amount of information.
Brochures are designed to be referred to again and again.
Many people find accessing a brochure easier than trailing the web for information about your company.
They are cheap to produce and can cost nothing to distribute.
Offer a personal touch as you distribute them yourself to another person.
They are always visible as they are physically there instead of being on an advert which flashes by.
Brochures are also cost effective, therefore, you can test out different brochure designs and see what is most effective for your company without breaking the bank
Even though brochures can be overlooked in favour of more 'trendy' marketing methods, when it comes to getting your business seen, brochures are still as effective. Many people use brochures to collect information, make decisions, and purchase services and products. Luxury looking brochure can even just be left "on-show" on people's coffee tables.
For example, travel agents still rely heavily on using brochures to advertise their hotels, and holiday deals as customers can enter the shop take one for free and end up booking a holiday. Again, tourists use brochures to plan their holiday experiences such as where to visit, finding out opening and closing times, and ticket prices of popular places to visit.
Make sure they look the part
The design of a brochure is extremely important as the design can determine if your brochure is effective or not. Having a high quality printer to print your brochures will ensure potential customers receive crisp fonts, sharp images, and that fresh ink smell.
If you are unsure about what printer is the best to use when printing off brochures, take a look at our free guide: