There's no denying that today, there's so much competition and the market is increasingly saturated. Plus, with the rise of social media, it's a lot more challenging to stand out from the crowd. That doesn't mean you can't succeed in marketing, even if you're a newbie to it all.
Here's some basic marketing advice to get you started on your journey.
Always Think About Your Audience's Needs
The only way your marketing efforts will resonate with your audience is if you take their needs into account. Start with their needs, questions and preferences and then build your marketing plans and campaigns around those.
In the long run, you should find that you'll see greater success and better results by focusing on your audience's needs rather than guesswork.
Put Emphasis on Customer Experience
Linking with the previous point, customer experience is vital in any marketing strategy. One of the biggest and first focus points you should look at is improving your customer service offering. Customers now chase a consistent experience with any brand, so make sure you meet your customers where they are.
Through the buyer's journey, make valuable connections so you can build long-term relationships and turn them into promoters and advocates of your brand.
Build a Level of Genuine Trust
You'll earn a loyal following if you build trust and establish your brand as experts. Trust is more important than ever in today's marketing as more and more consumers are looking for trustworthy brands among all of the noise.
Customer trust is earned over time, so build narratives which align with your brand values. Then, you can communicate these to your customers and all of this can lead to an increased level of trust and reliability.
Focus on Improving Your Personal Branding
Don't trip up at the first hurdle and be boring when writing and marketing your brand. Use this as the perfect introduction or handshake that your prospective audience will remember forever.
Make your branding personal, warm and add some personality into it, rather than sticking to third-person and giving off a dull vibe instead. First impressions are super-important, so make it a good one that your audience can't forget.
Take Great Strides to Stand Out From Your Competition
We won't deny it, standing out in a crowded marketplace to create brand awareness is arguably the biggest challenge any marketer or brand faces. There are even studies to show that to be the case.
Take a step back and look at the bigger picture. What makes your brand unique and more appealing than your competition? Find out why your current customers have picked you so you understand how you currently stand out.
When you have your answers, make an effort to further solidify them so you're always ahead of your rivals.
Host Events to Set Your Brand Apart
Strictly going digital isn't the best decision when it comes to marketing tactics, so don't put all of your eggs in one basket. You can't ignore the value of in-person events with plenty of statistics proving this to be the case. So, think about utilising event marketing strategies.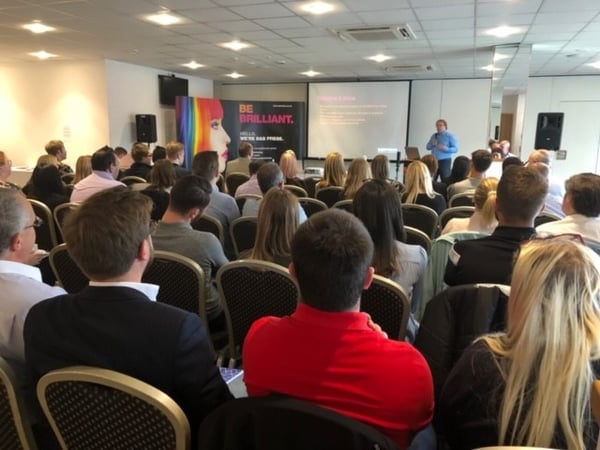 They're perfect opportunities to solidify the crucial memory you want your attendees to walk away with. Plus, think about all of those crucial networking opportunities you can benefit from.
Don't Forget to Repurpose Your Content
Don't make the mistake of ignoring all of the old content you produced. Or, if you've never produced content, make sure you start. It can be anything from regular blog posts to downloadable content, videos and podcasts.
If you have a vault full of older content, then you should optimise it all, repurpose them and make them relevant.
Don't Ditch Social Media Entirely
Although social media makes for a more challenging landscape, you can still use it to your advantage.
For example, paid social is a big hit with platforms like Facebook and Google. More and more marketers are turning to these platforms for a very good reason - they're proven to bring paid social strategies great success.
You can even help your sales team out by giving them important information on how leads interact with your brand on social networks. That way, they know exactly how to start a conversation and build relationships.
Keep Up With Marketing and Industry Trends
You'll benefit a lot from taking time out to keep up with the latest developments in marketing. The only way your marketing can be really effective is if you take the steps to stay ahead of the curve. Know how to provide value to your audience, know which tools to use, which methods are working currently and more.
So, invest time in reading about the latest developments in the industry from marketing blogs to get a much better understanding.
Don't Ignore Video…
It's simple, more and more consumers are turning to video to make buying decisions. Get started with video content by using your smartphone or investing in some equipment to make personalised videos a crucial part of your marketing strategy.
When done right, videos can help you nurture leads a lot more effectively than other types of content.
...Or Offline Marketing
As beneficial as digital marketing is, you can still benefit from using some traditional offline marketing methods. Think along the lines of events, business cards, brochures, pamphlets and much more. When designed and produced on high-quality materials, you'll find the messaging can resonate with your audience more.
Make it engaging and difficult to put down rather than an easy-to-ignore email.
Get Exclusive Access to Even More Useful Marketing Tips and Tricks
All of this is just the tip of the iceberg when it comes to marketing and a great starting point if you're a newbie. The great thing about marketing is that with so many new trends and techniques coming to fruition, there's always more to learn.
If you have a keen interest in marketing, then join our virtual hub full of useful marketing content - the BeBrilliant club. You'll gain access to specialist advice, regular tips and even more benefits to help grow as a marketer.