Don't do your car dealership a disservice with old, outdated and boring marketing materials. You aren't just selling facts about a car — you're selling a lifestyle. As tempted as customers will be to splash the cash on the BMW, Mercedez-Benz or Audi parked in your dealership, it's how you display the crucial information which will nudge them to open their wallets.
You can't rely on the same old worn-out booklets you've been using for years. If you have a dealership full of luxury vehicles, your car dealership marketing materials need to convey that luxurious feeling when somebody notices the products. If you're ready to switch up the marketing materials you use in your dealership, here are some that will leave a huge impact.
External Marketing Materials
Marketing your car dealership starts long before people are browsing in the showroom. You need to draw attention to the dealership and utilise all of your space on the forecourt. Although vehicles will take up the most space, there's still plenty of real estate there for you to be more innovative than other dealerships with your marketing.
1. Forecourt Flags, Stands and Frames
Forecourt flags, stands and frames are the perfect way to advertise your marketing messages to customers. In fact, it helps draw the attention of people who weren't necessarily looking to enter the dealership but piques their interest enough to come and view some cars for whenever they want to upgrade.
Having a large forecourt means you can utilise the space to showcase offers, such as flash sales, finance options or even display your branding. Choose a reliable supplier, so you not only get flags, stands and frames that are vibrant and demand attention but also cater to poor weather conditions.
2. Entrance and Directional Signage
If you have a decent-sized dealership, you could take advantage of external signage in the entrance area and offer directions. These are effortless spaces where you can display your branding and offer something unique to visitors who enter your dealership — and stick around.
Many dealerships around the country are the same. Some are run-down, others are dark and none tend to go above and beyond when it comes to marketing materials. Lead the change by going all-in on your signage — starting with the moment visitors walk in — with products like window graphics, graphic panels and sales banners.
3. Outdoor Banners
Outdoor banners in car dealerships aren't anything new, but this tried-and-tested product is still knocking about today because it's effective. It's another product you can use to showcase offers, highlight your branding and draw visitors inside the showroom. They're also much quicker to print; they're durable, inexpensive and — when done right — can reach a large demographic when they're walking or driving past.
Internal Marketing Materials
The inside of your car dealership is arguably more important than the outside. Although you've done the hard part of convincing visitors to enter, it's even more difficult to keep them inside and, eventually, buy from you. It's the indoor marketing materials that will keep people engaged.
4. Informative Wall Panels
The last thing you want in your dealership is blank walls. It's a blank canvas with plenty of space for you to utilise to help set your showroom apart. Whether it's HD displays or large format print sprawled on the walls, it needs to be something eye-catching and compelling. When you put marketing materials on the walls, place them strategically to drive visitors towards certain vehicles.
5. Window Graphics
Window vinyl and graphics are a fantastic way to enhance the face of your business. Every retail store uses window graphics because it offers more space to reveal innovative and artistic displays to promote curiosity. Its intention isn't to hide the cars inside but to bring people close to read the windows and, eventually, get people inside.
Some advantages of window graphics as a space to utilise your marketing materials include:
Increase brand awareness when you decorate your showroom's name and branding
Highlight your locations if you have multiple showrooms
Direct customers to improve the customer experience
Showcase promotions and offers
Show off your other marketing, such as your website and social media
6. Pull-Up Banners, Canvases, Backdrops and Posters
Although they're all different products, they're essential marketing materials to use in your car dealership. When used together, you can deliver maximum impact. Pull-up banners are great for displaying your branding and essential information and perfect if you regularly visit trade shows and don't want to continue spending on more banners than you need.
The same applies to the other types of indoor marketing materials. Strategically-placed posters help direct attention to specific vehicles in your dealership; branded backdrops are great for Zoom calls if your dealership offers video call options to customers. Each product you use is essentially a free way to promote your showroom further.
Car Marketing Materials
Your actual vehicles are also options for you to display your marketing materials. Although it can be tempting to leave the vehicles looking pristine without sticking anything on them, marketing materials can work wonders by displaying helpful information that can help visitors reach a decision.
7. Windscreen Sale and Sold Stickers
Simple yet effective. For sale and sold stickers are pretty much essentials when it comes to utilising marketing materials on vehicles. It can display attractive prices designed to convince visitors to buy while the sale lasts, whereas sold stickers can create a sense of urgency that shows people trust your dealership.
There are plenty of sticker options you can utilise on your vehicles. Although for sale and sold tend to be the most important ones when trying to drive sales, other windscreen stickers such as rear screen dealer details and circular interior stickers are great to drive awareness and deliver messages.
Printed Marketing Materials
The atmosphere when buying a high-value item like a car isn't just limited to the physical space. Yes, counter displays with stunning visuals, display stands, posters, signs and banners all work in harmony to accentuate the lifestyle you want the customer to feel, but don't ignore the impact of printed marketing materials you can use in your dealership.
You want customers to feel like they belong. Post-purchase print materials are excellent as customers can take them home and keep that new-car feeling long after they leave your showroom.
8. Handover Wallets
When you're ready to officially hand over the details and documents of the vehicle to the customer, don't keep them blank. The problem? It can take up to 12 months for a car to arrive to the customer. That's a lot of time for them to lose interest, pull out of the agreement and chase alternatives.
Print can help — as long as it's exciting enough to keep the buyer engaged. Personalisation is one tactic you can use, where you can offer personalised prints of the car and spec ordered. You can also combine print with digital by implementing QR codes within your print material so buyers can see their future car in action.
Or why not regularly update them with educational content? Road trip ideas, planning a trip, maintaining their car — there are plenty of ways to keep customers exciting as they wait for their vehicle.
It's another effortless way to combine high-quality materials that feel good to touch and your branding, so your dealership is never forgotten by the customers.
9. Brochures, Leaflets, Flyers and Booklets
Brochures, leaflets, flyers and booklets are some of the best ways to let people know how they can visit your showroom. While they're common, you can make them more unique with your branding, material choice and printing methods. People come across so many of these marketing materials every day, so yours need to stand out.
Make them bright with bold colours to deliver a punch and demand attention. An example to inspire you is a leaflet we created for Sheffield City Region. This interactive cardboard leaflet was engineered to reveal the pages once the tab is pulled, meaning the reader has to put some effort in.
How often do you come across a brochure, leaflet, flyer or booklet like this?
10. Lanyards and Merchandise
Most car dealerships have staff members wearing suits, which is fine as you want to show you're professional. However, you might be missing a trick as branded merchandise with your logo on it means your staff — whether they're inside of the showroom or not — will advertise your business outside of the showroom to attract customers.
It could be anything from t-shirts to lanyards; brand them in your style, so it's always unmissable.
11. Display Materials
If you're ever displaying anything in your showroom, present it in an attractive way to customers, such as the James Hardie example below. Whether you're housing business cards for your showroom or lightboxes to brighten up the reception area, use a display that's unique and eye-catching inside of your showroom.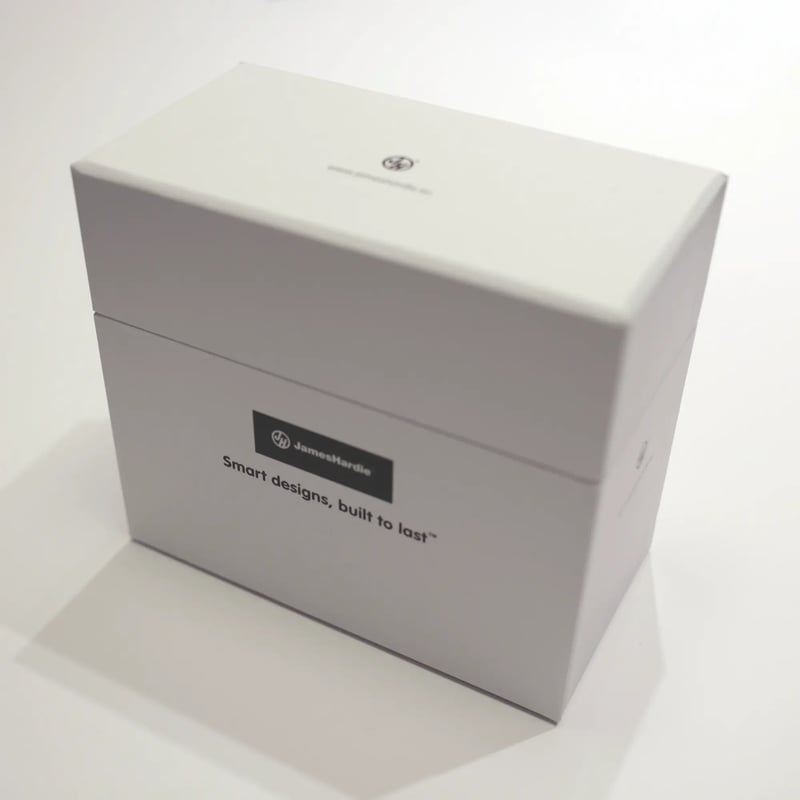 With so many online car companies, such as Cinch, on the rise due to the convenience, it's a challenge for car dealerships to get people through the door.
As a dealership, you can make the most of printed direct mail by working with a reliable supplier to create beautiful brochures, newsletters and postcards to increase engagement.
You can even print promotion materials, such as posters, for events, re-openings or opening new branches and revealing a fleet of new cars people won't want to miss out on.
Contact our team today to discover how we can take your car dealership up a level with unique marketing materials.
Level-Up Your Car Dealership Marketing Materials With B&B Press
At B&B Press, we have over 60 years' experience helping our clients like you attract more customers to your business. With a car dealership full of vehicles, we have the print expertise to do your cars justice and give them the attention they need with high-quality campaigns.
Litho printing, digital design, display print, mailing services — whatever you need, discuss your vision with us today.