Studies show that consumers enjoy reading catalogues - that's why they spend time engaging with them. In fact, the average time spent looking at a catalogue is just over 15 minutes and consumers tend to hold on to them for several weeks.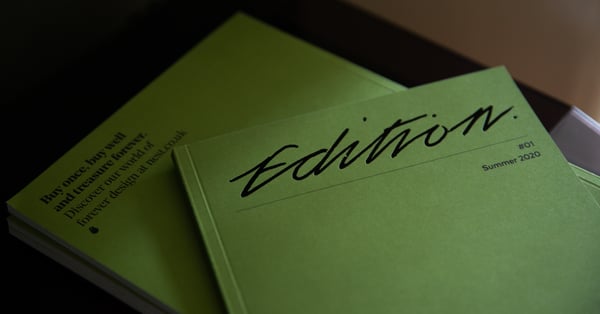 Credit: Max Hawley, Nest
Despite the digital age, print catalogue marketing has continued to provide effective success for businesses by presenting information to customers - wherever they may be. Here's why catalogue marketing can support your existing strategies and the benefits it provides.
Omnichannel Marketing Opportunity

The purchase experience has become huge. Even digitally-native businesses who previously overlooked physical collateral have embraced print to better connect with their customers and prospects. Through stories and images, catalogues take people on a journey. Every page turn is an adventure.
Catalogues are also a strong customer retention tool since people are even more likely to read and keep them after visiting a showroom. They not only provide the concentrated power of direct mail, but they've also become an integral part of an omnichannel campaign.
By driving customers to digital experiences, they create awareness and inspire consumers to buy through other channels. Research shows that catalogues are most successful when produced alongside an online marketing campaign to drive customers online to e-commerce.
When paper and pixels unite, amazing things happen. It's made even easier with dynamic QR codes, augmented reality (AR) and near field communication (NFC) that deliver interactive experiences that jump off the page.
Powerful advancements like this are why retailers still use catalogues to engage customers and entice them to start the buyer's journey.
Are your prospects print traditionalists or are they online shoppers who seek instant gratification? You can appeal to both.
Can Support a Multitude of Strategies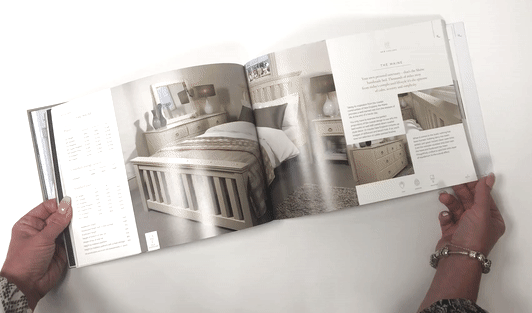 It's important to consider that each catalogue is a way to represent your brand and build your credibility. It should clearly display what your brand offers while also enticing people to open it and learn more.
Informational – Text-heavy, informational catalogues intend to educate or provide information. This could be something like a magazine that outlines the details of your company's latest news and how it'll impact your services or products offered.
These catalogues are primarily for providing value. Catalogues like these aren't trying to make hard sales; they're trying to establish a certain voice and identity for your brand that will hopefully later be useful in encouraging customers to purchase with you.
Promotional – The type you're probably most familiar with. These are the standard examples you probably think of when asked to define a catalogue. They traditionally feature a selection of items offered by a single brand and live in the showroom.
Purely for promotional purposes, these could include several goals, such as increasing sales of a particular category of products or to announce a new special offer. Promotional catalogues can even highlight an entire category of products or services your business is offering.
Services Listing – These are a more particular type of catalogue, purely for businesses offering services and not products exclusively. The goals of such catalogues tend to be driving readers to call, visit a website or otherwise get in touch with you to get a quote or schedule an appointment. You'll probably have a case study in there to really sell your quality and services.
Category or Topic-focused – Usually, these feature a specific division of your business or a certain line of products you offer. Often individually branded, it reflects the offering of the division they represent. For example, a door manufacturing business could publish a catalogue that visually features a lot of different types and styles to set the mood.
Full-Line Catalogue – Now here's where you sell yourself. These catalogues list every individual product, service and configuration you have to offer so a reader can quickly reference it to get the pricing of a specific good or service. These kinds of catalogues usually benefit from mail-in forms so readers place their orders via mail.
Studies show catalogues that include content to express a brand personality have the potential to increase sales. In fact, 65% said they'd read that additional content. This can include stories around how the product is used, how your business started and customer or employee profiles.
No matter which kind of catalogue would complement your business, it's important to choose one that aligns with your current goals. Whether to boost brand awareness, build credibility or increase sales, they can effectively support your marketing efforts.
Proactive and Tactile Tools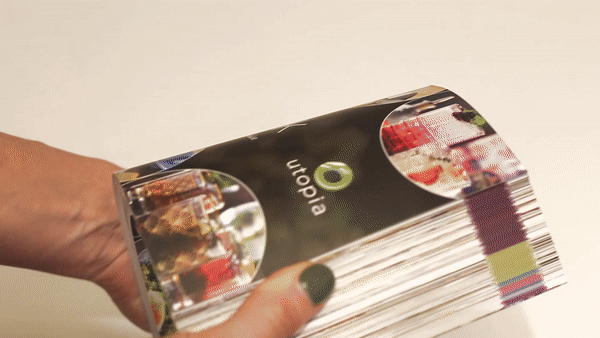 From the feel of the paper on your fingertips to the visual gleam of the images, catalogues give readers a multidimensional experience that stimulates multiple senses. Even the smell of fresh ink can be intoxicating to customers.
Easy to consume, catalogues provide the opportunity for prospects to pause and enjoy the experience of being transported through your services - all over a cup of coffee or commute.
One size doesn't fit all. Consider testing different formats and speciality sizes of your catalogue to see what your customers respond best to. Using innovative printing techniques such as embossing and foiling, paired with luxuriously dense paper type, you create something digital simply can't.
With budget pressures on marketers to prove ROI, attribution is more important than ever. It's essential to take some time to analyse the performance of your catalogue marketing campaign. Armed with the knowledge of which lead came from where, you can better assess if your catalogues meet your defined goals.
Throughout the process, you should try to gain insight into your audience and use this information to fine-tune the next catalogue to get an even better result.
If you're planning on mailing your catalogue, you'll have to find a printer that also offers in-house mailing services. Whichever printer you end up going with, make sure you select one that can truly provide the highest quality print and the capacity to scale as you do.
Today's catalogues are undisputed powerhouse marketing tools, even for those wanting to be eco-friendly. It's no longer a rivalry between digital and print. It's all about using the strengths of each medium to create engagement that satisfies your customer (and your company's bottom line).
From wonderfully handcrafted home additions to charities and education, see how other sectors are utilising catalogue marketing in their existing strategy today.
Print

spiration to Help You Create a Catalogue That Converts

Here at B&B Press, we work with plentiful businesses to create something synonymous with their brand. We take all the unique details and selling points that make them special and turn it into something tangible.

Our Job of the Week page showcases our range of fantastic print collateral we've produced, from prestigious brochures that exude class to an anti-scuff laminated brochure that showcases the durability of the product it's showcasing. Not only is a great place to see what print is capable of but it can also serve as some inspiration for your own collateral. Check it out below.