Analog. Tangible. Physical. Three ways of describing print, three ways it's carved out a niche in the world of media and marketing. Even when people thought the digital age would be the end of print, it fought back to become more creative, unique and important than ever.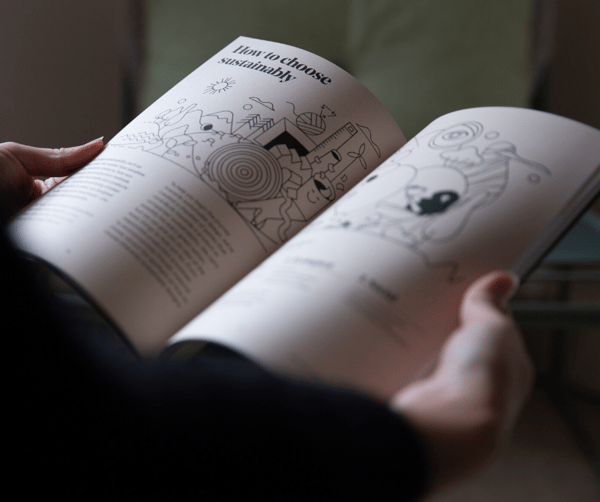 Credit: Max Hawley, Nest
So why is it thriving? What is the power of print in the digital age? Here's why you shouldn't discount it from your marketing strategy.
Why Has Print Made a Comeback?
Print has been a popular medium for more than a century. We've all seen the historical posters - Theophile Steinlen's 1896 'Le Chat Noir' poster, Alfred Leete's WWI 'Lord Kitchener Wants You' and Shephard Fairey's 2008 'Hope' poster, depicting Barack Obama. They stick in our heads, entertain us and inspire us.
Recently, print has become increasingly creative. As printing techniques, design technology and typography get more innovative, we see more amazing designs. Many artists now solely concern themselves with print with people like Fairey, Jenny Holzer and Barbara Kreuger making a name for themselves.
Our Brains Prefer Print
According to the Canadian neuromarketing firm TrueImpact, it requires 21% less cognitive effort to read and process print over digital media. They also revealed the ability to recall the content of print was 70% higher than recalling the information provided by a digital ad.
This means information given through leaflets, flyers and posters is much more likely to be remembered.
In a study by Temple University researchers, they found we're much more likely to be emotionally motivated by a physical advertisement or printed media. The study also found that it's more probable for us to develop a subconscious desire for the product or service being advertised if we see it in print.
When it comes to marketing, it's been neurologically-proven that print is still highly effective. Not only does it grab attention but it's also actively better at retaining it.
Print Lasts Forever
Print does last forever, at least, if it's cared for.

Web content is a highly saturated market with thousands of articles, blogs and ads being posted daily. For the average consumer, it can be overwhelming. There's fierce competition for space. Print is a great way of getting away from that volatile marketplace.

If you compare a brochure to digital ads, you have to weigh up several differences. For instance, digital ads don't last - they get lost as you scroll and are confined to yesterday's digital blasts.
A brochure, however, can happily sit somewhere in an office or house to be picked up again and again. It may seem like developing a brochure may seem costly but compared to the constant creation of digital ads, the time and money saved quickly adds up.
Brochures and leaflets are also not susceptible to ad-blocking which most people use on their devices today. Bonuses like this protect print against the volatile world of digital marketing.
Putting The Planet First
Eco-friendliness, social awareness, experiential or ethical marketing - all modern ideas that print can adequately provide. Now more than ever, consumers want to do business with organisations that are unique, progressive and work to reduce their environmental footprint.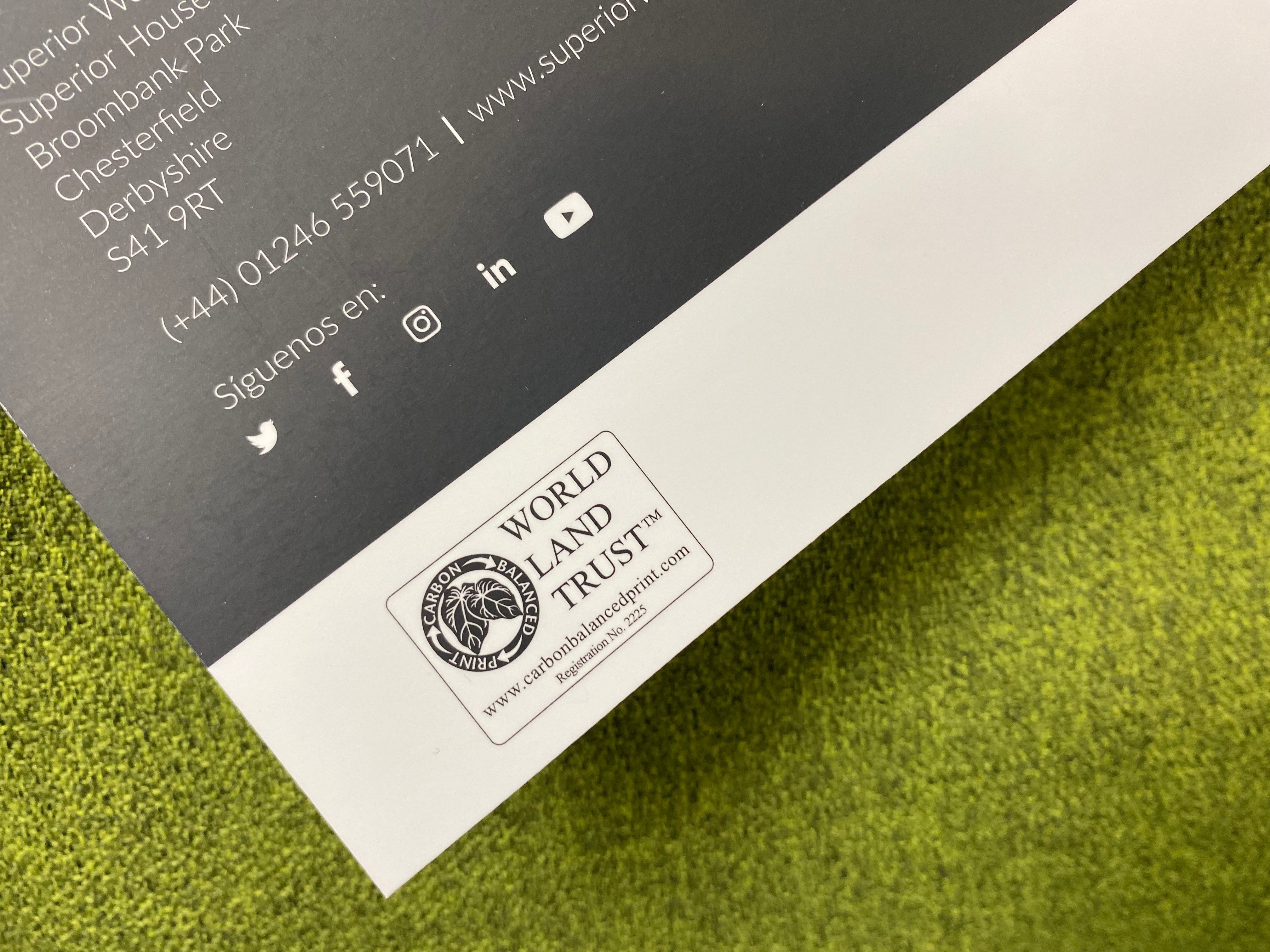 Print is now more sustainable than ever. Imagine a business' server which holds the information, marketing strategies and unique platform data organisations use every day. These machines use 500 to 1,200 watts per hour. That's a lot of power to keep your digital marketing efforts on track.
In comparison, an LED UV printer - one of the most eco-friendly printing methods out there - only uses around 100 watts.
If you're also printing with a Carbon Balanced Printer (like us) on Carbon Balanced Paper, you can rest easy knowing your print in some cases can be more eco-friendly than digital.
It's easy to think reducing your print use will help save the planet, but reducing your print could also mean reducing potential sales. If you look at a brochure or catalogue the call to action is usually to go online or in-store to buy. Catalogues, in particular, give brands more space for more products and, coupled with the fact that human beings like to browse tactile things, this means average order values are generally higher than the average across digital acquisition channels.
The good news is you no longer have to sacrifice print as a marketing channel in your efforts to become a greener business, as long as you're choosing to work with a printer who is also putting the planet first you're doing a positive thing and you can demonstrate that to your audience by using a unique Carbon Balanced Print logo on your printed marketing.
Printed media is an experience in itself. Imagine a brochure that's more than a series of ads - it's tangible with a great physical feel. Brochures can have vibrant colours and intricate designs. It becomes something of a statement, something to keep and show off. They can be shared, returned and eventually recycled.
You can also be heavily creative with print. Tailor your media to what you want, choose how you want it to look and feel and inject your brand's identity into it.
Bringing Print and Digital Together
We're not here to say that digital marketing isn't worth it - it can do many things that print can't do like localisation, personalisation and the inclusion of audio and video. The real strength of an effective marketing campaign is using both of them in tandem.
Generating market qualified leads purely from digital is difficult because online targeted ads simply aren't as trustworthy as something physical.

To return to the neuroscience, a 2009 study by Bangor University and the branding agency Millward Brown found that something physical is more 'real' to the brain. It has more of a meaning and a 'place' because it engages with 'spatial memory networks'.
What this means is people can associate more with a brand if they're engaging with something physical. The more physical an ad is, the more trustworthy it can be. This unique power of print needs to be used alongside digital marketing efforts so an organisation can not only engage leads on two fronts but also build a trustworthy brand identity.
Now, print is also becoming more and more eco-friendly. Because of the current public demand for greener products and services, it means you're more likely to grab the attention of customers if you're creating eco-friendly printed media. Fortunately for you, we've created a checklist to help you make the most of your green print.
Explore the Best of Green Printing Tips
You're probably well aware of the growing importance and demand of eco-friendly products. Modern technology has made these kinds of items increasingly cheaper to produce and more visually appealing.

They're a great way of lowering your business' environmental impact - but how exactly do you produce the best kind of print using these methods?

Our checklist will give you the best advice for creating an impactful sustainable print solution.

Click the link below to download.