Contrary to what some people might believe, LED UV printing is more than just a 'buzz phrase' or fleeting piece of technology. It's shaping the future of print as we currently know it, for the better.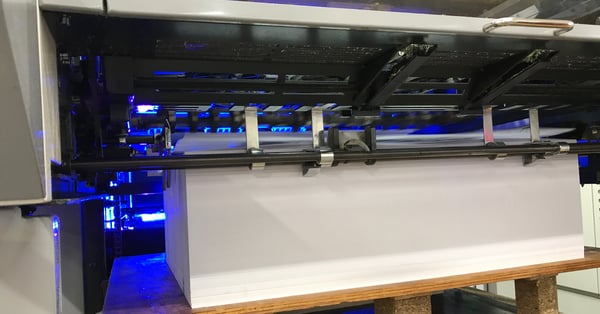 Here are five of the reasons why the future of printing is undoubtedly LED UV:
1. It's Not A One-Trick Pony
Unlike some technologies, which are only suitable for certain applications, LED UV printing is ideal for the widest range of projects. Whether it's:
Leaflets
Brochures
Prospectuses
Catalogues
Direct mailers
Corporate reports
Handbooks
The list is endless on coated or uncoated papers!
2. It's Versatile
It doesn't restrict you when it comes to your printed product options. Using this method enables you to print on a diverse range of surfaces - from wood and glass to fabric and leather.
No matter what your choice of surface or design - the opportunities provided by LED UV printing are endless.
3. It Delivers Perfection
If you're looking for fantastic print quality, then LED UV printing won't disappoint. Why? Because it's specifically designed to produce a sharper, more defined finish.
The end result: colours look more vivid, even on uncoated stocks and, because there's no need for a sealing coat, the paper retains its original characteristics.
4. It's A Real Time-Saver
One of the best things about LED UV printing is the instant drying process. No longer having to wait for the ink to dry and use anti-set-off powder spray, which can often create blemishes and markings (another reason why LED UV printing delivers perfection).
In fact, it's so efficient, that we estimate it can reduce the turnaround of most printing jobs by around 40 per cent.
5. It's Kind to the Environment
Last, but not least, LED UV printing uses less power than traditional print drying technology. Its instant on/off functionality reduces standby consumption between jobs which, in turn, reduces overall C02 emissions.
Plus, being the environmentally responsible bunch that we are here at B&B Press, we also make sure that the ink we use is recyclable too.
So, now you know that LED UV printing produces high quality results for a wide variety of applications - as well as instantly drying and not harming the environment. And these are only a few of the reasons why the future of printing is undoubtedly LED UV.
The content of your business' marketing campaigns is naturally of utmost importance.
However, the presentation and printing of these campaigns - whether they're leaflets, banners or other forms - are equally as significant and should be of the highest quality to achieve maximum impact.
Using LED UV printing in your business will help you to stand out from your competitors with a more eco-friendly printing process which produces impressive, striking results.
Want to Discover Some Great Solutions and Support for Possible Challenges You Might Face?
Having provided exceptional printing and outstanding service to literally hundreds-upon-thousands of customers for over 60 years, it's fair to say there's not a lot we don't know about printing.
Like all industries, printing has rapidly evolved over the years and, for the last six decades, we've lived and breathed these changes. But that's not all. We've also had our finger on the pulse when it comes to the latest industry developments, including the introduction of LED UV printing.
For those of you who don't know, we were the first printing company to bring LED UV printing over to the UK.
That's right - we invested in our two state-of-the-art LED UV printing presses back in 2014, and have spent the last few years meticulously reviewing and refining our processes to provide our customers with truly exceptional results. From testing the inks to reviewing the paper, our team of specialists have been fine-tuning our LED UV printing service to provide our customers with superior print quality every time.
What we're trying to say is we get the possible hurdles marketing managers might come across. We know about the day to day duties of your role and understand what makes it great and what can sometimes mean it is challenging.
Especially when it comes to printing and finding the right company to partner with.
So to help with all of this, we've put together a great guide full of solutions from great ways to manage time to how you can prove your ROI. We take pride in providing help and guidance to marketing teams - with whatever they need, whenever they need it.
Click the link below to download your free copy of our guide today.