You've got deadlines and a design that needs to be printed. However, you're not quite sure it's going to print as you envisioned. With things such as file formats, colour spaces and crop marks to consider - we'd forgive you if one slipped your mind.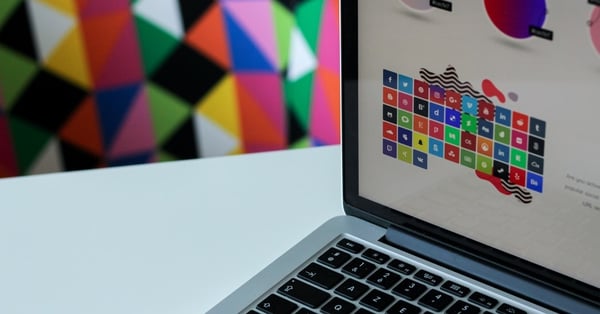 Whether it's brochures, bookmarks or display banners, here's our checklist on how to prepare artwork for printing plus tips to ensure it's a smooth process.
Preparation Checklist
☑️Talk to your print provider: Communication with your printer is absolutely crucial. Not only can they advise you on things like the file format they prefer, bleed area and crop but they can sometimes offer a solution that makes the whole process simple.
TIP:
Start these conversations early so you can start your artwork without delay or make the necessary changes to guarantee your print is going to look as spectacular as it does on your screen.
☑️Define bleed, margins and crop marks: Any document that's going to be professionally printed will require a bleed area and a safe zone, which is the space that will be cut down after printing. This is so any vital text or imagery is protected during the print, giving your artwork everything it needs to be effective.
TIP:
The industry standard for bleed zones is typically 3mm on each edge and a 3mm safe zone inside. However, you should discuss with your printing specialists as their own specific guidelines might differ.
☑️Use the correct file format for your print: JPEG, TIFF, PDF, AI, PSD and AI. These are just a couple of file formats that might be found at the end of your file name. The good news is they're recognised industry-wide. The bad news? They're not all used by the most important thing - the printer.
TIP:

Take a look at this blog that goes into more depth
about vectors, rasters and file formats so you can identify what's best when preparing your artwork for printing.

☑️Work in the right colour space:

Artwork designed in the wrong colour space could lead to disappointment.

Make sure you're designing in CMYK, this ensures the colours get printed as anticipated on your screen. Without this simple change, you might run into some (expensive) print quality problems down the line.
TIP:
We advise requesting a hard copy proof from your printer if you want to check how the colours look printed before going ahead with the full print run.
☑️Check image resolution: Often overlooked, images can sometimes deceive you on a screen. Looking crisp and fresh from the studio on your monitor but when printed, they can be pixelated and unengaging. To avoid this, make sure your image resolution is optimised or use high-quality stock images. We have a quick guide to image resolution in this blog here.
TIP:
If you want your images and graphics to look sharp, a minimum resolution of 300-400 ppi should be used.
☑️Don't forget about your fonts: Whilst printers have extensive font collections from floaty cursive to impactful block script, there's no guarantee that they have the one you've used in your branding. Not only can this throw off spacing but it might mean your iconic font is replaced with something that just doesn't represent your brand.
TIP:
When saving, make sure you 'package' your artwork. This creates a folder that contains your artwork document, all the graphics used and most importantly, those fonts.
Preparing artwork for print is exciting, something you've designed is going to be something tangible. Even in today's increasingly digital world, printed materials are often the first experience a new customer has of a business. So why give them something that doesn't represent you and your offering accurately?
If you want to make the process of preparing your artwork for printing easy so you can concentrate on producing high-quality design work, we've got just the guide for you.
Want to Prepare Your Artwork for Printing With Insights From Experts in the Industry?
With deadlines looming and the clock ticking before you launch your online campaign, we could understand if making sure your file is a PDF is the least of your worries.
Here at B&B Press, we're always trying to make it easier for our customers. That's why we've created a brilliant print guide to advise and inspire you through each stage of creating your print.
For more tips on preparing artwork for print, you can contact an expert printing professional like B&B Press or download our 'Guide to Creating Brilliant Print' below.