It's understandable to wonder whether using flyers, leaflets and brochures are still an effective marketing tool for schools, colleges and universities. Think about it, when you're on a train in the morning, you might see only a handful of people taking in information from a physical newspaper, while the majority will be soaking up the same news from mobile phones or tablets.
A "luxury magazine" feel will always be loved and appreciated.
But this just means that, if executed properly, printed brochures are wholly more engrossing and therefore effective.
Here are the 3 advantages and 3 (possible) disadvantages in a little more detail.


ADVANTAGES:
Convenient
Brochures can fit just about anywhere, from pockets and handbags, to taking pride of place on one's coffee table at home.
Schools and colleges can also opt to place their brochures inside of local newspapers and magazines to reach a wider audience where they're guaranteed to reach homes for parents to read through, rather than relying on students to make sure they give them to their parents.
Brochures allow people to glance at content and the information schools and colleges provide can immediately grab attention, even if they're skimming through it.
Obviously, you want more new students at your institution, and the convenience of brochures allows parents to pass them on easily to others who might be interested as well or those who could lack the same information.
In comparison, you probably won't see parents exchanging emails about brochures they've downloaded online; chances are, they'll be passing over physical copies as they're really handy.


Reaching Your Target Audience
You only want to target parents and children and produce brochures with this target audience in mind. When it comes to choosing schools and colleges, parents take a hands-on approach as they want to ensure their children have the best future possible and, if they're impressed by your brochure and the content, then they'll take action.
This action can include things like reading through the brochures and attending taster days and open evenings, where they too can catch a glimpse of what schools and colleges have to offer, rather than throwing their children in at the deep end to fend for themselves.
Researching on the internet does help to an extent, but the information they want will be better conveyed through brochures which are straight to the point, as parents won't have time to navigate through endless pages to get to the destination, while switching up the folding techniques of a brochure is also good way to grab attention and stand out from other schools and colleges.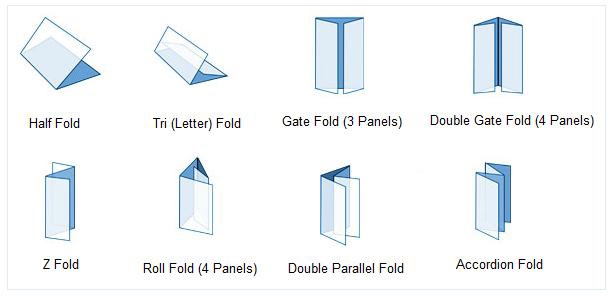 Examples of in-brochure page folding techniques which can help add another dimension to your brochure. This allows you to stand out from the competition.
Image courtesy of https://www.pinterest.co.uk/

Cost-Effective
While printing out thousands of brochures and leaflets sounds like it could be an expensive process, that's not necessarily the case.
Using brochures can be cost-effective for schools and colleges, because it's likely you already have the skills to design and write them in-house. Speak to your Arts, Design and English or Media faculty specialists.
Once the design has been finalised, schools and colleges can use specialist printing techniques, which allows you to print high-quality brochures in large batches - the larger the batch, the smaller the price when it comes to litho or offset printing.
You can even take the cost one step further and think about the price of distribution, as brochures can be delivered by hand at events that schools and colleges are hosting, while they can be directly handed to students before they go home so they don't lose them. Alternatively, a personalised mail shot is also an option.
There may also be families who live close by and brochures can be posted through their letterboxes, so the cost is minimal.


DISADVANTAGES:
Easily Lost If It Feels Disposable
If your brochures aren't impressive enough to warrant proper attention, one of the big disadvantages of schools and colleges using brochures is that parents could easily dismiss them. Especially those that work full-time as they could end up losing them, or accidentally throwing them away..
With busy lives, it means that they may forget to pick up the brochure again or leave it at your open event, even if it's by accident.
However, if your brochure is produced using stunning print techniques (like LED UV) on a lovely, heavyweight stock, it's far more likely to make it home and be looked at again over a cup of tea.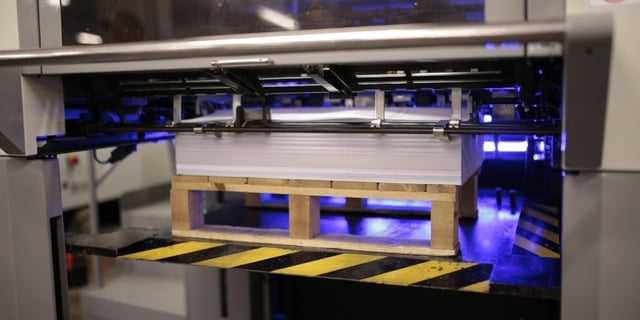 One of our fantastic LED UV printers in action. These work by speed-drying the ink as a result of blasting it with LED UV rays.
Easy To Not Hold Reader's Attention
Each of your competitor schools or colleges is going to be issuing brochures and prospectuses. Attention spans of parents are limited.
Even if parents have read through a brochure provided by a school or college whilst at an open event, it doesn't mean they're going to continue doing that at home. If it hasn't grabbed their attention enough, they could easily discard it or, in some cases, they may choose not to read it at all.
If a school brochure gets lost in between other pieces of generic marketing materials like takeaway leaflets and spam mail, they may end up throwing it away without knowing.

Make sure you grab the reader's attention with features like striking imagery and stunning design schemes.
Read this blog about killer features in leaflets which you can apply to your next brochure.
It Takes Time To Get Right
The distribution of brochures seems relatively easy, as does the printing aspect, but when you combine all of the factors together from production to delivery, it can become quite a lengthy process.
Schools and colleges have to come up with and finalise the relevant content to include. And this needs to be checked, double checked, and checked again. And checked again.
But, believe us, this quadruple checking method is quicker than rushing something through to print, waiting for it to be delivered and then spotting an error, to only begin the whole process all over again.
It's best taking your time and making sure the design, copy and print process is all perfect before hitting "Go!"
But it's certainly worth it when you pull it off.
Brochures have been used as marketing tools for schools and colleges for years, and the advantages behind them show you why. Despite the clear disadvantages, it doesn't look like they will stop the process and could instead focusing on perfecting designs to reap even more benefits.


Remember To Choose The Right Print Technique
Creating a brochure doesn't need to be a tricky process, as you can easily find the right printer to do an amazing job of printing high-quality products - and quickly. We've come up with an easy guide which highlights all of the different types of printing, and what they're best used for.
With this in hand, you'll be able to choose the right print style and method which means your brochures are the ones which make it home to the parent's coffee table. And then your impressive content within can do the selling for you and drive up enrollment numbers.