Although leaflets have been used for many years by businesses, schools, colleges, universities and so on, there is always that big question of just how effective is leaflet advertising? Especially in this digital media age. When it comes to schools and colleges, word of mouth or feeder schools usually promote the next step pupils will take.
But leaflets are a super useful tactic for you to use.
When it comes to choosing a school or college, parents tend to take a hands on approach. This includes going to open evenings, sending children to taster days and talking to teachers. The use of the internet when it comes to researching schools and colleges is only useful to a point because sites are usually not up to date and old fashioned, plus a school or college isn't like a restaurant where people leave reviews of their child's experience there.
As marketing a school is hands on, here's how effective leaflet marketing is when it comes to a school or college and why they should be used more often.
The Facts And The Stats
Here are a few facts and stats of how successful leaflet distribution is on an average.
As many as 79% of people who receive a leaflet through their door either keep it, pass it on to a friend and the majority will at least glance over the contents of the leaflet.
Leaflets that have been distributed to people's doors are glanced at by 78% of consumers.
Leaflets with an offer like money-off coupons and exclusive deals are kept by 33% of potential customers. You could entice students by offering discounted bus passes or lunch tokens.
Research by the DMA shows that 48% of consumers actually visited the place advertised, requested extra information or bought a product after receiving the leaflet through their door.
These stats show just how much marketing through a leaflet can be beneficial, therefore using them to advertise schools and colleges is a good way to get potential pupils from across the catchment area (and beyond) to come and visit the school or college.
Cost Effectiveness
Marketing through a leaflet is extremely cost effective as they can be created through a programme such as Canva or Photoshop. Once the design has been finished, you can use a printing technique, such as offset printing, which will allow you to print out high-quality leaflets, in large batches, for a small price.
Leaflets are also cheap to distribute as they can be delivered by hand at opening events, or given to primary and high schools to distribute amongst their eldest year students, who will either be moving on to the high school or college. Leaflets can also be pushed through letterboxes of families within the catchment area. All of the above are ways of distributing leaflets at a minimal cost.
Reaching The Target Audience
For schools and colleges, your target audience will be children coming up from nursery, children finishing primary school and teenage pupils leaving high school. Distributing to these demographics will be easy as you can visit the source yourself and distribute amongst your potential pupils and their parents.
The best way to reach your target audience would be to distribute the leaflets through schools, however, you could also reach them through after school clubs, places of worship, activity centres and even in shopping centres at weekend.
These are the places your potential pupils (and more importantly their parents) visit out of school hours.
Success Is Measurable
Many people may think you can't measure the success of marketing through a leaflet as there are no online tools to give you the figures of who has seen it, who has read it and so on. Therefore, a good way to measure the success of a leaflet is to offer a coupon, a discount code or a promotional item. This way you can measure how many people use it, therefore, being able to measure the success of your leaflet distribution.
When it comes to offering a promotional item for a school or college, you maybe can't offer buy one get one free on school lunches, but you could offer a free drink or one to one talk with the headteacher for your opening days.
You could also offer promotional items such as branded stationery. This will allow you to easily measure the success of your leaflet distribution as you will be able to see how many people bring coupons in exchange for what you are offering. Also, as mentioned above in the stats, leaflets with an offer in will be kept by 33% of the people they were distributed to.
Offering A Good Insight Into Your School Or College
Leaflets are a good way to promote your school or college as they are visually pleasing and offer a great insight into your premises, teaching and learning techniques, awards given to the school and all your other amazing USPs.
Creating a leaflet layout which is simple and effective is easy. There are some killer techniques for creating leaflets which covert in this helpful blog post. Follow those amazing example techniques with your own beautiful, well-made leaflet and the enrolment numbers will get a healthy boost.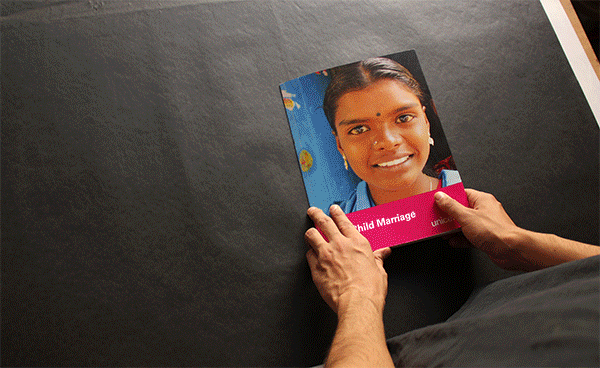 Here's a really powerful leaflet which we discussed in a recent blog.
As a leaflet is something for potential pupils and parents to physically hold, it carries more of a meaning than just scrolling past an ad on the internet. It can be placed somewhere safe so parents can revisit the information you have provided within your leaflet later.
Leaflets Are Convenient
Leaflets are convenient. If you have targeted your audience correctly, many potential pupils and their parents will ensure they keep the leaflet safe after already reading it. They may then bring it back out when, for example, using the contact information of the school which will be provided on the leaflet. They may also want to re-read the information you have provided when it comes to making a decision as to what school or college these pupils want to go to, and so on.
Storing away a leaflet and finding it again is easy whereas many people bypass ads in magazines, TV and online without even realising they are doing it. 62% of people overlook ads on the TV, sometimes muting or turning over the channel to get away from them and an astonishing 81% of people flick right past ads in the newspaper or in a magazine.
Advertising a school or college can be tricky as the majority of interest from potential schools will come around the months of September and October when opening days are approaching. Therefore, leading up to these months is when you should get your leaflet up to scratch, updated and looking like a good representative of the school.
For a successful leaflet campaign, you need to make sure it's colourful, catches your target audience's eye and offers the right amount of information that they know enough about the school but aren't bombarded with too much text. Also, make sure it uses the right inks, papers and design to make it worth remembering and, even better, worth keeping.
Choosing Types Of Print
Creating a leaflet can be tricky, however, finding the right printer to do a good job of printing high-quality products, quickly and at a low price can be even trickier. That's why we've come up with an easy to read guide which will tell you the different types of print and what pieces of marketing material they are the best used for:
Stats provided by: Direct Marketing Association