Being in the digital age, marketing leaflets are often overlooked, they have been branded as old fashioned and ineffective, however there are many advantages of using leaflets to market your business or product. When done correctly, leaflets are visually appealing and contain useful information about the business or product. As long as paper is still being used, leaflets will never become obsolete and are still an effective marketing tool.
Marketing your business is very important and finding what works well for your business is key; however, a lot of people will overlook the use of leaflets as an effective way to promote their business. Here are some advantages and disadvantages of leaflet advertising in 2019.
ADVANTAGES
Leaflets Are Cost Effective
Posting leaflets through people's doors is a very popular way for small and local businesses to promote their brand whether that being a local restaurant or marketing company. There is little cost when it comes to posting leaflets (i.e. paying hourly costs of the manpower it takes to post them) through people's post boxes whereas trying to get noticed digitally can cost you as you may have to use paid ads (that can cost thousands per month) and there is always the worry of investing in other marketing techniques that you may not know too much about, therefore wasting resources, money, and time.
Leaflets are significantly cheaper to produce than investing in a digital marketing strategy and, as mentioned above, don't cost much to distribute to potential customers. Leaflets can easily be designed for free on a computer and then, for high quality products, using digital or offset printing to print the leaflets can be cost effective. These printing methods aren't expensive, especially if you want to print off high quantities. When it comes to digital and offset printing, the outcome of your leaflets will be of high quality - presenting sharp, crisp images, and content.
Leaflets Include A Lot Of Information
Unlike digital marketing there are fewer word count or character limit restrictions with leaflets. When it comes to leaflets, you can fill them with as much information as you need within an organised layout that is also visually pleasing. A leaflet can include information about the product or business you are advertising, company logo, contact information, images, and more.
When it comes to designing a leaflet, even though they can be text heavy and there are fewer restrictions, it's important to consider only including the information necessary, finding the right balance between adding all of the information needed, but not making the leaflet purely text.
The ideal leaflet should be visually pleasing which includes images and text that is in an easy to read layout. The text included should be to the point, possibly bullet pointed with headers, as this breaks up the text making it easier to read but also looks better within the leaflet. Get more leaflet design tips here and choose the right print technique to go with your design here.
Visually Pleasing
A leaflet needs to grab the attention of possible customers, therefore, needs to stand out; this attention-grabbing layout can be achieved by being colourful, including images, and eye catching headers. A leaflet, unlike paid ads, are visually pleasing and can come in a range of styles that can grab the potential customers' attention.
Leaflets can come in a range of shapes and sizes. This flexibility can influence the layout of your content and create a leaflet that is easy to read and to the point.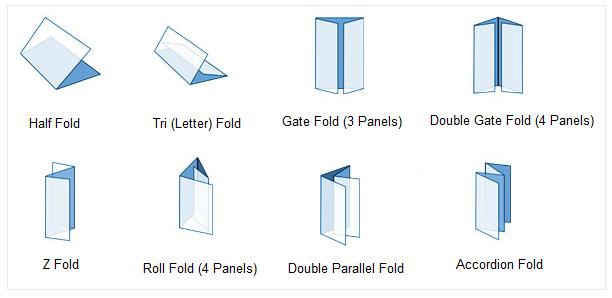 Image courtesy of https://www.pinterest.co.uk/
Easy To Read
During the leaflet design process many marketers will only add important information that is needed to be known by potential customers about the business or product. The text also has to attract the attention of potential customers therefore should be clear, in a easy to read font. We recommend a font such as Arial as it's rounded and clear to read.
A flyer is made to attract consumers and to make them interested in the business, therefore are designed to be visual and straight to the point so making them easy to read is critical.
Targets Specific Demographics
When it comes to distributing leaflets, the most common way is posting them through people's letterboxes, or passing them out in busy areas. This strategy is a great and cost effective way to target your local demographics, as you can't reach more of your local consumers than by posting a leaflet to their house. Even digital marketing may not be able to target everyone locally.
You can distribute leaflets in areas which have a higher percentage of your target market. For example, if you are opening a new shop, visiting a shopping centre and distributing leaflets will hit your ideal demographic of shoppers, all within a short space of time. Or, for example, you could only post leaflets about your luxury product to high income postcodes.
DISADVANTAGES
They Are Discarded Once Read If They're Poor Quality
Leaflets lack long term impact as many consumers may read the leaflet but they will not keep them. Once read leaflets often aren't needed any more (and will most likely be discarded).
This quick-turnaround means that they may become a customer but they won't have anything to remind them of your product or service; so you have to keep them coming back through great service and other marketing methods.
As many people distribute leaflets, potential customers will look once at the leaflet and if they aren't interested at that time will throw the leaflet away as they aren't worth keeping hold of. If people aren't interested from the off, they will not want to hold onto it for long as they create clutter.
To get around this, you should make sure your leaflets pique a person's interest and are worth giving a second glance. You need to make sure you grab the reader's attention.
Read another post about how to design effective marketing leaflets here.
Do Not Have A Long Term Impact
As mentioned above leaflets can easily be discarded sometimes once read, or before that if the leaflet hasn't grabbed the consumers attention. Some people can see leaflets as a waste of time as they will usually be advertising something that is not of interest to them.
However this only tends to happen to leaflets of low value or poor targeting. I know from experience that restaurant and takeaway menus are revisited a lot!
Sometimes Aren't Considered As Important
Leaflets are often distributed to people's homes, some of which are promoting something you aren't interested in, others are trying to sell you things you wouldn't normally buy etc; therefore, when many people receive a leaflet, unless it really captures their attention they will tend to discard it. Therefore creating an eye catching and worthwhile leaflet is key to ensure this doesn't happen to you.
To Round-Up...
Looking at the advantages and disadvantages of using leaflets as a marketing tool in 2022 shows us that they are still effective and will be used for many years to come.
When it comes to the disadvantages, design and thorough planning will allow you to create an effective leaflet that will be an effective form of marketing.
Leaflets have been used as a marketing tool for many years and if you design a great leaflet then you will reap the benefits.
As leaflets aren't expensive to produce and are easy to distribute amongst local businesses and homes they are a great way to promote your business or product.
The quality of the print will help you stand out against other companies using leaflets as their marketing tool. If you are wondering which is the best print type to use for your leaflets then our free eBook will help...