Sustainable printing methods are becoming more and more popular as individuals and businesses work to reduce their environmental footprint. Advances in technology allow printing partners to produce sustainable printed material with no effect on quality.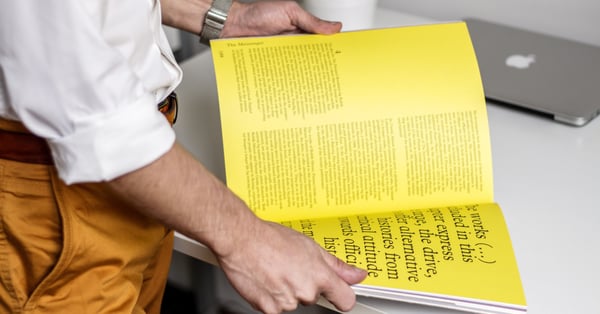 Understanding what sustainable printing methods are available in the market is important if your business wants to show their eco-friendly credentials.
LED UV Printing
LED UV is the perfect printing method for brochures, booklets, leaflets and promotional material. Using ultraviolet light for an instant drying process, colours are left more vivid and the designs are much sharper - creating a lasting impact.
In terms of the environmental viability of LED UV, it's an exceptionally 'green' printing method. First of all, the drying process means there's no need for an anti-set off powder spray or a sealing coat. As a result, LED UV is a method that requires less raw materials.
On top of that, LED UV produces no heat or ozone and the energy use of the technology is exceptionally low.
Recycled Paper (Explained)
Paper or stock choice can influence how sustainable a printing method actually is. We are often led to believe we should only be using recycled paper if we want to be more green.
The truth is, virgin fibres are needed to maintain the paper cycle. Without new fibres, from new trees, the paper cycle cannot be maintained. Recycled fibres degrade after several uses and the paper industry needs fresh fibre to keep the renewable cycle going.
As long as the fresh fibres are from sustainably-managed forests you have the green light on using virgin paper or recycled paper.
Digital Printing
Digital printing doesn't require a printing plate to complete the job. The ink sits on the top layer of the substrate, so this process produces significantly less waste than more conventional methods that require a plate.
Digital print is great for smaller print runs, being quick and easy to alter as it requires no unique printing plate that other print methods do.
Another benefit of having no plate is that digital printing can be done in a quicker time than other methods. Once printing has begun, a machine can complete up to 4,800 sheets per hour. If you need a smaller number of prints, digital printing is a very cost-effective method to use.
Carbon Balanced Paper
You may have heard of carbon balanced paper, but not know exactly what it means.
If the paper has been carbon balanced it means that the CO2 outputs created during the paper production process have been offset.
Printing suppliers choosing to offer this paper as a stock option are allowing their clients to choose a more environmentally friendly option for their print jobs.
Carbon Balanced Printer
This is a step up from choosing carbon balanced paper because not many print providers go the extra mile to achieve this status. Basically, the process involves measuring the CO2 outputs of the whole company.
After this is determined, the print provider invests in ways in which its CO2 output can be lessened or even reversed so the impact of the paper they use is neutralised.
A print provider can use hybrid or electric vehicles, use automatic lighting and even ensure all the windows of their building are double-glazed. Once all these measures have been taken and the CO2 output is at an absolute minimum the company will offset the unavoidable carbon.
These are just some of the ways a print supplier can use sustainable printing methods to lower their environmental impact. As someone who is need of professional print services, how can you ensure your print supplier is using the most eco-friendly practices as possible? The first thing you can do is use our Green Printing Checklist.
Determine if Your Print Provider Is Eco-Friendly
The Green Printing Checklist is the one-stop document you need to discover the best eco-friendly printing practices. You can use it when deciding which print provider to work with, as it gives you the info on requirements a green printer should fit.
You'll be able to look into printing methods, stock types and even the practices employed by the print provider on a day-to-day basis, such as their energy usage or recycling success.
Until this is ready why not find out more on how and why B&B Press became a green printing company.