As technology has changed and evolved, so has print marketing campaigns. With the use of mobile phones, print ads can come to life and interact with their audience. This has given marketers so much more to play with and greater ways to delight audiences.
To inspire your next campaign, we're looking at 10 great ways that print complements digital.
1. Nivea
Nivea understood that parents often worry about their children running off on the beach and found an innovative way to promote their sun care while also helping parents keep their kids safe.
This print ad by Nivea includes a detachable wristband that parents could wrap around their children's wrists that's also linked to a mobile app. After downloading the app, parents can set a distance limit, so if their children wander off too far, the app sends an alert.
2. Peugeot
To show off one of the biggest benefits of the Peugeot 408 - safety - Peugeot created a one-page interactive print ad. On the front, the ad asked people to hit the ad hard. This triggered the mini airbag on the following page which inflated after being hit.
3. Lexus
Lexus created a print ad that, when lined up with an iPad beneath it, revealed a clever light display. The print ad on its own would be just another print ad, but by adding a digital element, the ad has a greater impact.
4. Reporters Without Borders
Unfortunately, not all countries guarantee the freedom of press. There are many controversial world leaders who are against freedom of the press and to bring light to this issue, Reporters Without Borders created an interactive print ad.
This print campaign featured portraits of three world leaders that readers could interact with by scanning the QR code placed at the bottom of the ad. After placing their phone on the ad, a video will play.
5. Nivea
This is another creative ad from Nivea. As Nivea creates products for use in the sun, it seemed only right to make a print ad with a solar panel. When placed in the sun, users could plug their mobile phones in and charge their phones while they sat on the beach.
6. Frontline
Frontline complemented its digital marketing campaign with this huge floor display at a shopping mall. From the upper floors, the shoppers below looked like fleas moving across the dog's fur. This created a creepy but memorable effect that boosted Frontline's brand awareness.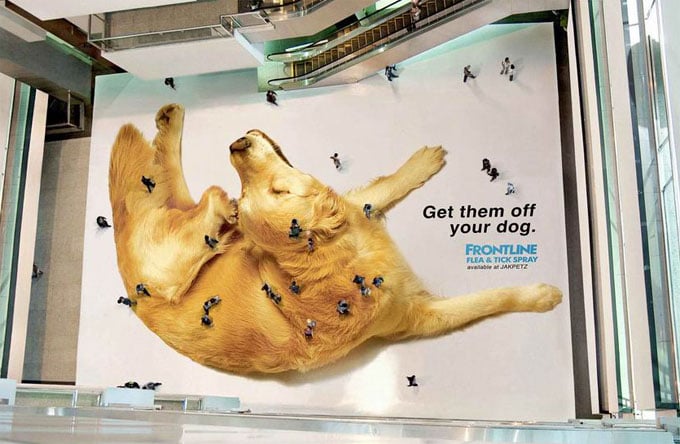 7. IKEA
To promote its new range of bed frames and mattresses, IKEA created a print ad that would help consumers get to sleep easier.
As part of a back page of a magazine, the cardboard ad is removed by readers and assembled to improve their sleep. After opening the tab on the back, white noise begins to play. Plus, the ad also uses lavender-scented ink which is said to help sleep.
8.19 Crimes Wine
19 Crimes Wine features a 'living' label. Once scanned by a phone, an augmented reality plays, conveying the crime the person on the wine bottle committed. Every bottle has a different story that can be played using the app.
9. Sonera
Sonera is a telecommunications company that wanted to highlight its 4G wireless speed. Their print ad features a place for consumers to place their phones and fingers while playing their game that shows just how fast their wireless speed is.
10. Volkswagen
For this ad, Volkswagen published a three-page spread so readers could pretend to take a test drive in their new car. First, the user would have to download an app. Once downloaded, users could try out different features, like the 'Lane Assist' mode. This would cause the phone to vibrate when it veered too close to one side of the road.
COVID-19 has changed the way businesses are hosting events. Because events have to be held online for the foreseeable future, there's a lack of tangibility and authenticity that can't be conveyed through a screen. However, the great thing about print is that it can be used with digital media.
To learn more about this, take a look at our download below.
Learn How To Combine Print and Digital
Although online events have filled the gap for events, what they're lacking is the personal touch that's just not possible with digital alone. Simple print media like brochures, welcome packs and merchandise can make a world of difference - and we're showing you how in our ebook.
Take a look for yourself - click the banner.