Food supplies present a massive opportunity for packaging designs. It's a heavily crowded market and it's often hard to give your brand a point of difference. That's where innovative and effective printed packaging methods come in.
To get you inspired, we've rounded up some of our favourite examples of food packaging — many using printed methods that could easily be replicated for your brand.
1. Pukka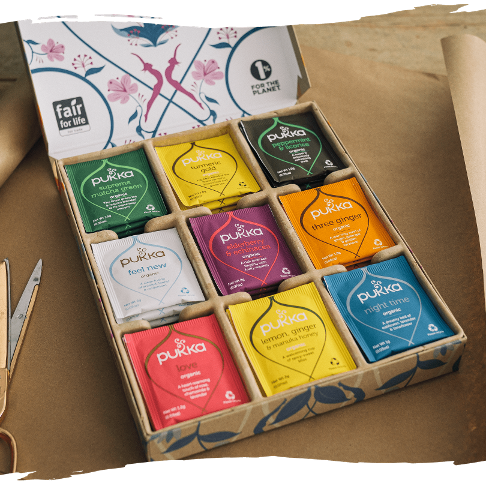 Credit: Pukka
When it comes to tea bags, it can be difficult to stand out on overcrowded shelves. But Pukka has done just that. The repeatable, floral designs take inspiration from the herbal ingredients inside each tea bag, while the different colour schemes give each box its own identity.
It's not surprising that for a brand so focused on wellness, it's big on sustainability too. The tea packaging is 100% recyclable, with each tea box being made from FSC certified card and printed using vegetable-based inks. Right now, 98% of the packaging is widely recyclable.
2. BrewDog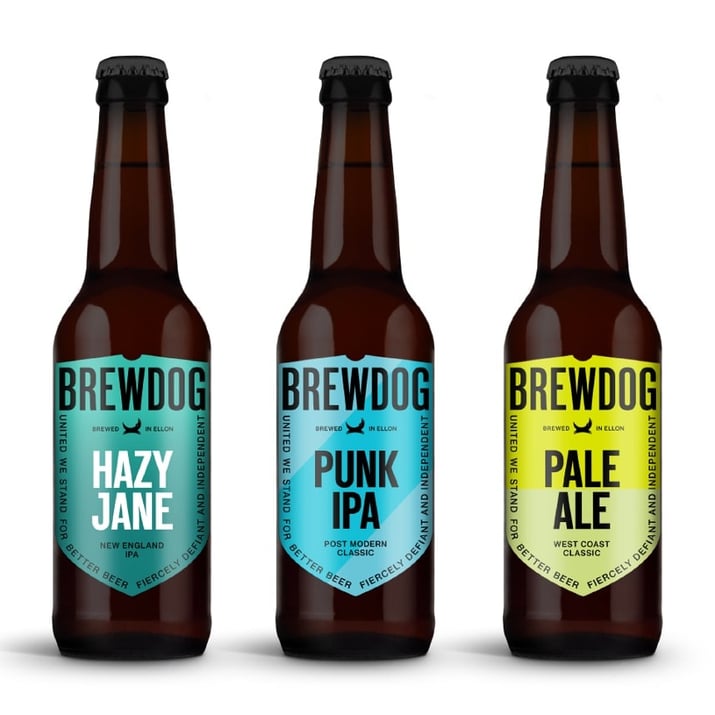 Credit: BrewDog
When asked about eye-catching packaging, chances are you'd find BrewDog somewhere on most peoples' lists. BrewDog has mastered the art of creating a strong visual identity. While the shape of the bottles and cans is fairly standard, the strong colours and graphic patterns help the offering stand out on the shelf.
As a certified B-Corp, sustainability is vital to the brand too. All the cans and bottles are recyclable and all multipacks are housed inside a cardboard sleeve. BrewDog shows how bold colours, simple designs and sustainable materials make for great branded packaging.
3. Lucky Charms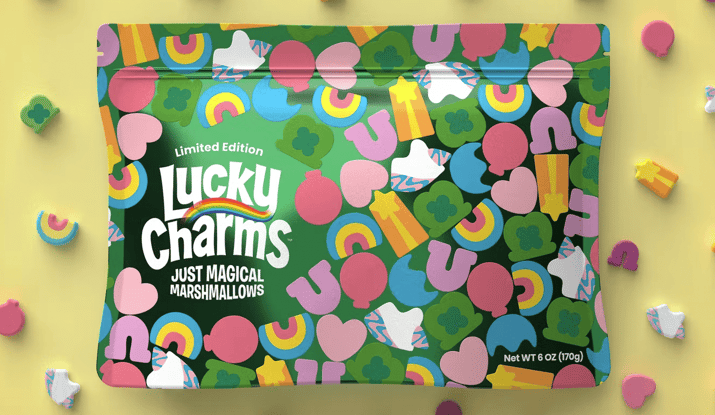 Credit: LOVE Creative
Lucky Charms is a brand that needs no introduction. It's been popular with many for decades with its packaging staying much the same for most of that time.
The brand went for a more eye-catching, graphic approach to the packaging design for its limited Just Magical Marshmallows range. The bold print on a resealable pouch is visually appealing and practical. The resealable element means the sweets stay fresher for longer – just in case you don't want to eat them all in one sitting.
4. Joe Tea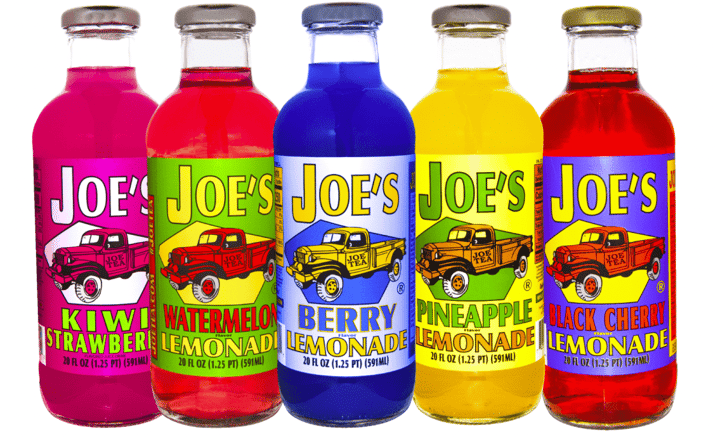 Credit: Joe Tea
Great packaging doesn't always have to be modern and forward-thinking. Joe Tea is a prime example of how a vintage approach can provide a point of difference. While it's a simple bottle with a printed label, the design features punchy, bright colours that help it stand out. This shows print and colour quality are as impactful as innovative concepts.
5. Good Hair Day Pasta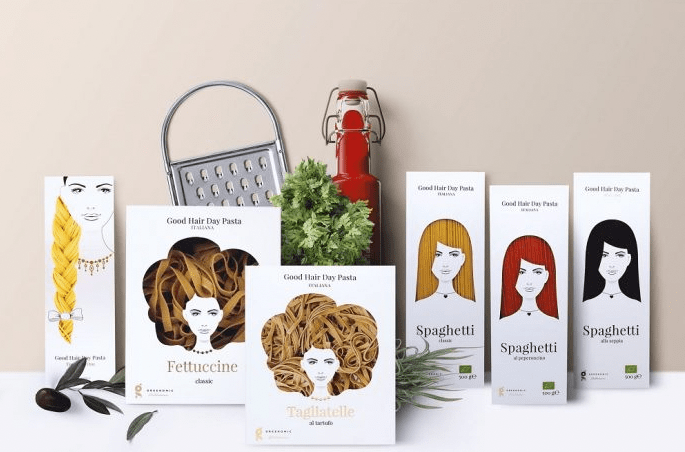 Credit: Branding News
Good Hair Day Pasta shows just how clever food packaging can be. In a market crowded by standard branding in plastic packaging, Good Hair Day Pasta is breaking the mould.
Housed inside recyclable cardboard packaging, the brand has used its product offering to its full advantage. There's a plastic window in the box that displays the type of pasta inside, in the shape of a hairstyle. The result? Pasta that looks surprisingly like hair and gains interest due to a clever, intuitive design.
6. Tony's Chocolonely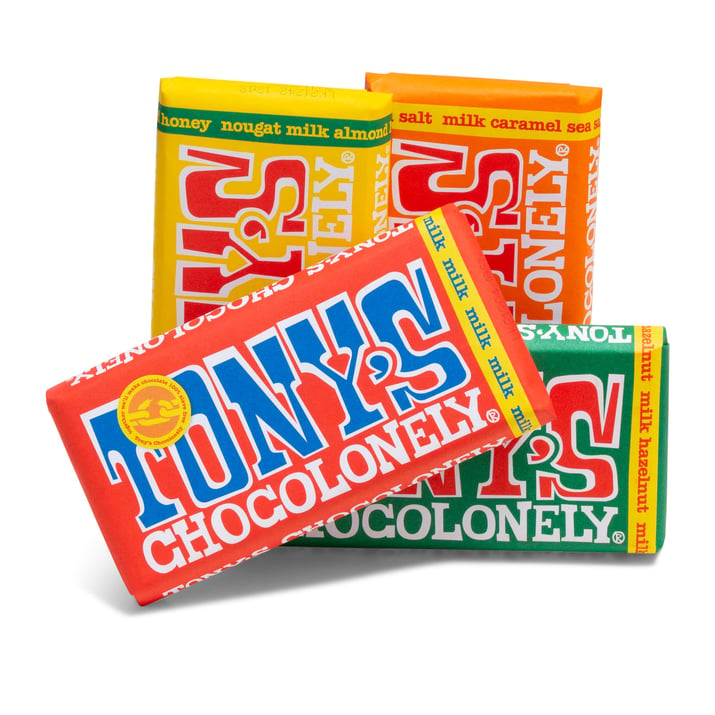 Credit: Tony's Chocolonely
It's fast becoming one of the most popular chocolate brands available. Part of the reason may be the striking packaging you'll find wrapped around every bar of Tony's Chocolonely.
Tony's Chocolonely shows just how effective a printed paper sleeve can be. The type-heavy design and bold colours instantly make the branding recognisable, partly thanks to the high print quality and recyclable paper stock.
7. Heck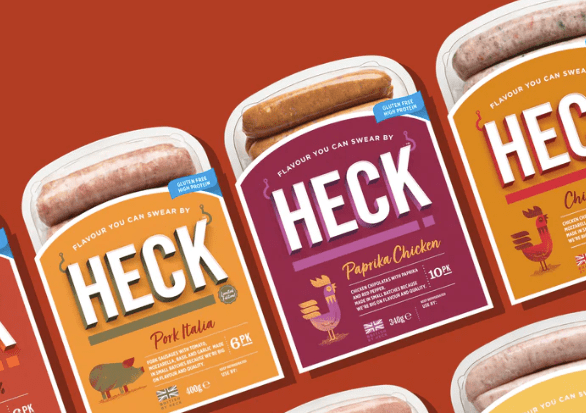 Credit: Heck
When you think of effective food packaging, sausages aren't the first thing that comes to mind. Heck is changing that perception. This high-quality meat brand has harnessed the power of branded food packaging to get them noticed in a crowded supermarket fridge space.
It's a simple cardboard sleeve design, but the bold colours and typeface help the brand stand out against your run of the mill supermarket branded counterparts. Plus, it's recyclable too. Heck is another example of how effective packaging doesn't have to be complicated.
8. Tyrrells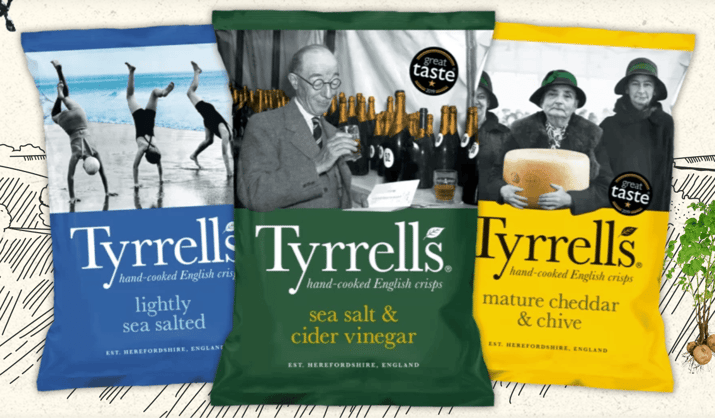 Credit: Tyrrells
Humour isn't an element you often come across with food packaging, which is perhaps why Tyrrells has harnessed it so well. The luxury crisp brand has taken a different packaging approach than its competitors.
While the bag container is what you'd expect from a packet of crisps, the graphic design takes a slightly different approach. Using high-quality printers, Tyrrells uses vintage photos that incorporate the flavours of the crisps into the image. It's a point of difference, while the printing quality helps the photo stand out.
9. Bozal Mezcal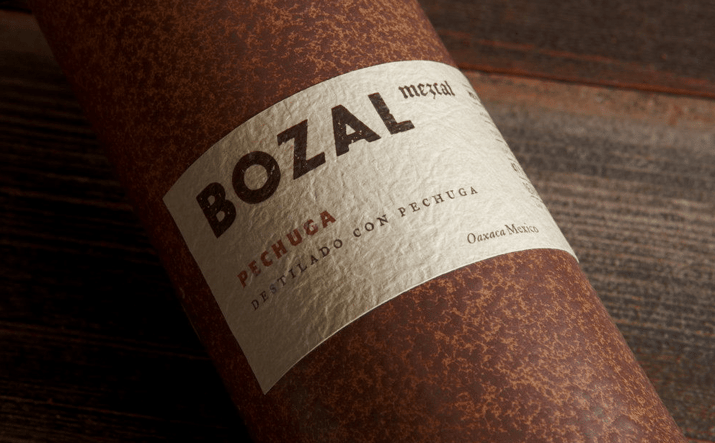 Credit: Dieline
Bozal Mezcal takes things one step further when it comes to luxury. This Mexican brand bottles its mezcal into hand-crafted, custom made ceramic bottles with a different earthy colour for each variety.
They're finished with a natural, unbleached paper label, printed with bold text. The result? A packaging design that would make you look twice. It's too good to throw away once you've finished with your bottle. The ceramic material means it can be used again, limiting the harmful effects of excess packaging on the environment.
Want to See What We Could Create for You?
At B&B Press, high-quality printing is what we do. Recently, we teamed up with Feel Good Kitchen to create sustainable printed packaging for their range. To find out all the details about our printed packaging options and to read the case study, click the link below.