Web2print offers online tools for creating high-quality, consistent printing jobs for your business. It's sometimes referred to as "remote publishing" or a "print e-commerce solution", so don't be confused if you come across these terms when looking for the right print supplier.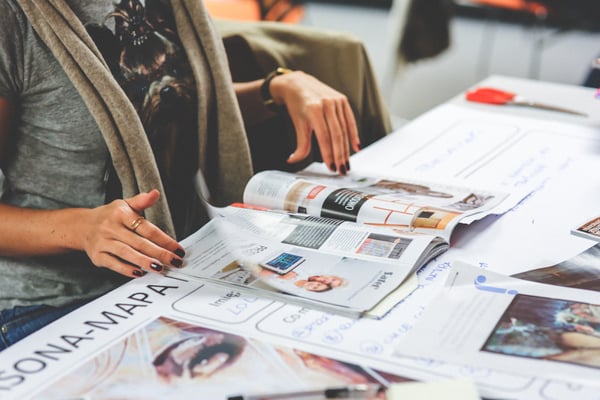 Web2print is perfect if you want to create a wide range of marketing materials for your business and keep consistency throughout the campaign. Plus, it'll help keep the costs low too. Here's everything you need to know about Web2print and how it can benefit your business further.
We'll cover:
What is Web2print?
Web2print is a service that has become popular as e-commerce has grown and evolved. Both businesses and the general public can use the services, but it's most often used for businesses that are wanting to create a wide range of quality marketing materials. It gives them the opportunity to create consistent marketing products by allowing them to create templates.
When introduced, the service began with files being transferred via email from the customer to the printer. This was an opportunity for businesses to expand their customer base and allowed them to work with people that were all over the country, rather than be restricted to their local areas.
With the evolution and accessibility improvements of technology, the costs of Web2print have significantly reduced. The reasons why costs were so high at the start is due to the expensive software, maintenance costs and owning the required hardware.
Web2print allows customers to create the exact marketing materials they would like at their fingertips. It allows users to create newsletters, brochures, business cards and more, providing the full range of necessary marketing publications.
The fact that customers use templates to create designs means that time is reduced significantly creating what they need.
How Does it Work?
In essence, Web2print works as an online ordering platform which is accessible through a web browser. The library that you use has the ability to upload all of your business' branded files to make the ordering process as simple as possible.
This allows for easy customisation and personalisation. It's a great solution for businesses that frequently print and reorder.
Web2print allows you to take full control of your printing. Order what you want, as and when you need it. Instead of having to order more than you need to meet minimum order requirements and having to order more than what you require. The process saves your business both time and money.
What Are the Benefits of Web2print?
Web2print solutions can help your business by:
Brand consistency. Use your own templates to make sure that all of your printed materials stay on brand. Your templates can be made with customised designs and personalisation.

Reduces time. Web2print brings all the control to your fingertips. So, you reduce time by having fewer meetings to finalise designs and approve different stages. You don't have to wait for samples to be sent either - everything is available for you to see onscreen and just needs your approval.

Reduces costs. Web2print provides you with the ability to order on demand. This means that you can order things as and when you need them, rather having to meet certain requirements and having an inventory that you don't currently use. By eliminating some of the normal steps that go into an order, you'll also reduce overall costs.

Order from anywhere. All you need are the login details and access to a web browser and off you go! This means that you're not restricted to one location and can place orders remotely from wherever you like. This is also beneficial as more than one person can make orders, should the other be out of the office or occupied with other tasks.

View a catalogue of products at one time. Should you need to reorder, view your previous orders at the click of a button. This saves time compared to having to root for the latest invoice and manually check the last order.
Are There Any Drawbacks of Web2print?
As with many things, along with the benefits and pros of Web2print, there are also some drawbacks to implementing the system.
These are:
Can clash with other systems. As a business, you're likely to work with other platforms and systems. By introducing another, you're raising the risk of potential human error and confusion between systems. Dependent on the size of the error, the consequences could be particularly detrimental.

System has to be simple. 20 percent of users struggle with the implementation of Web2print. If you struggle with the software, you're going to need extra training time on it. This means that the business could have to spend more money on their investment. Also, if you're not using it correctly, you're not going to get the best out of the system.
Despite these drawbacks, Web2print is still a highly popular and convenient printing option for businesses. To get the most out of your project, one best practice is to make sure you choose the right print company to handle your requests.
When you're deciding on which company to deal with, there are some key questions you should be asking:
Are they able to do everything in-house?

Are they using the latest technology?

Do they deliver what they promise?
We've covered even more questions in this blog, which you can check out for more guidance.
Choose B&B Press for Your Next Printed Campaign
So, as you can see, Web2print has many factors that your business can benefit from. Now that you've got the right tools to succeed, there's no point having them for shoddy products, is there? At B&B Press, we provide nothing but top quality products that are sure to help your business' chance of success.
For the last 60 years, we've provided a top-quality service and provided the most luxurious products on the market. Our expertise can ensure that your next marketing campaign is on point. So, when you're considering your print supplier, don't forget about us, plus we're green.
We've created a free checklist on green print and how you can save the planet and produce something awesome.