Printed marketing is tangible, impactful and memorable - it's even scientifically proven to be more effective than digital marketing. Although we live in the digital age, it's important to showcase your institution on all platforms, utilising old school marketing methods to reach all audiences and create campaigns that really stick in their minds.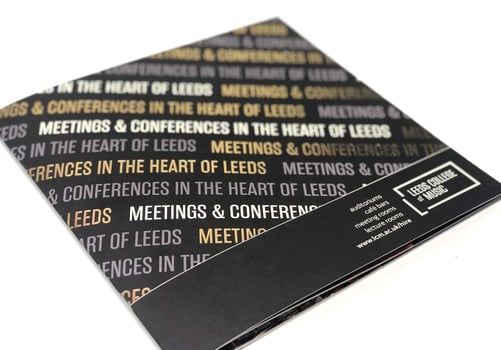 From making a lasting impression to encouraging potential students to take action, printed education marketing takes campaigns to a whole new level. Here's how:
Direct Mail vs Digital Ads
Although digital marketing enables marketers to target specific audiences and demographics, it's constantly changing. This means you must frequently update the way you work to adhere to algorithms such as Google. However, one thing that doesn't change is direct mail.
Millennials and Gen-Z may do the majority of their research into institutions online, but direct mail is still an incredible asset to enrollment campaigns. In fact, direct mail has proven to be more effective than digital ads.
For example, a neuromarketing firm in Canada once carried out a study to compare the results of print marketing to digital media. To many people's surprise, print marketing came out on top.
Through using advanced eye-tracking, questionnaires and high-resolution EEG brainwave technology to gather the data, the study discovered direct mail requires 21% less cognitive effort to process compared to digital media.
This suggests printed media is both easier to understand and more memorable. Not only that, but consumers who received direct mail were also able to remember the brand 75% of the time.
In contrast, consumers who received digital-only versions could only recall the brand 44% of the time. Whatever the industry, these results clearly show printed marketing materials are more impactful, effective and beneficial than digital.
Make a Long-Lasting Impression
Although prospective students will spend a lot of their time consuming ads through digital media, choosing hard copy prints like prospectuses help institutions make an impression that lasts. Unlike a digital ad, a physical copy of a prospectus will be viewed more than once and won't disappear after one view.
After receiving a prospectus in the mail or at a university fair, a prospective student will hold onto their copy. They could keep it in a bedroom or on a dining room table, on a desk or in a book bag to take to college.
Wherever they store it, it'll be viewed multiple times. It can be shared with friends and family members, exposing the university brand to a wider audience and creating a long-lasting impression.
Leave the Best First Impression
You have one chance to make a great first impression; print can help you do exactly that. When at a university fair, students are swamped by choice. You want to stand out from the crowd and encourage students to stop and take a prospectus when they pass by with a high-quality prospectus.
Take a look at York College's prospectus below. They chose a high shine gloss finish over the images which really brings the photos to life. This, paired with the matte laminate finish on the rest of the cover, creates an interesting contrast that catches the eye.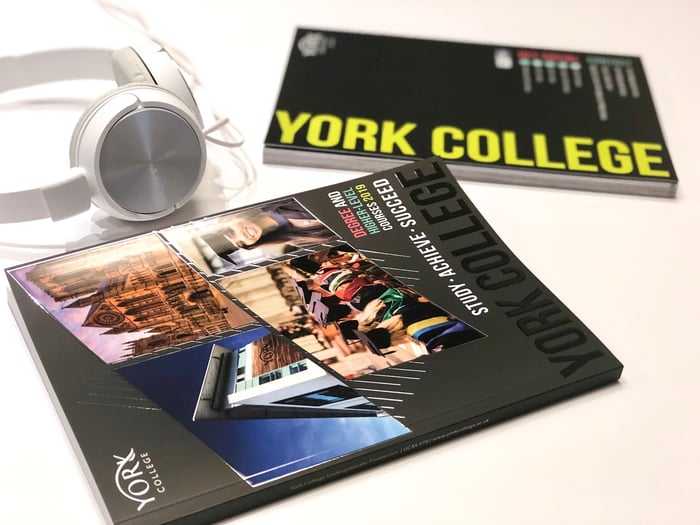 When it comes to prospectuses, you want to create something that future students will want to hold onto, so it has to be first-class. The silver foil York College chose gave their prospectus an expensive feel and the digital print enhancement emphasises its quality. This prospectus will be considered, cared for and might also be the number one choice for a potential student.
Encourage Audiences to Take Action
If there's one thing people try to avoid while scrolling through the internet, it's ads. So much so, consumers invest in ad blockers and some even pay platforms, like Spotify, a premium to avoid ads completely.
That's where print media is different.
Holding something like a prospectus is an action that encourages consumers to take another. As they flick through your prospectus, turning corners on pages they want to look back at, prospective students will return later to investigate further.
This could be through reading the prospectus again, doing their own research online by visiting your institution's website or following the university profile on social media platforms.
Print Campaigns for Internal Education Marketing
Environments like university campuses need printed education marketing to make students aware of upcoming events and any university updates. Advertising-these campaigns online wouldn't guarantee students will see it.
However, printed marketing materials, like posters, banners or flyers, expose students to events while they're on their walk from their accommodation to lectures, or even while they sit with their friends for lunch. Printed marketing materials bring university halls to life, raising awareness of university events while also polishing the university's overall brand image.
The University of Salford has created some beautiful marketing material with us at B&B Press. This was presented to students after they received an offer from the institution.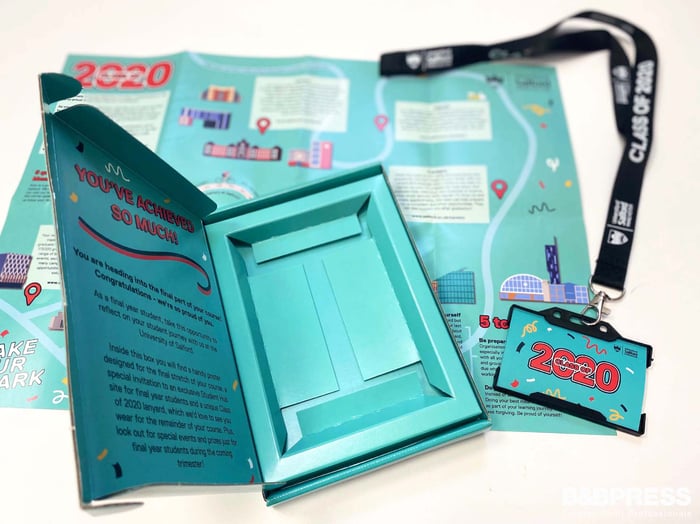 An email may cost less, but it doesn't make quite the same impression as printed marketing materials and there's no guarantee the recipient would see it or open it. Now, imagine your prospective students finding a surprise for them at their door from you, one of their chosen universities. It's a great opportunity to stand out from their other chosen institutions.
This eye-catching mailbox was sent out in the post containing a lanyard and information pack. The print for this project was done on our LED UV press which keeps the colours bright and vibrant and consistent with the rest of University of Salford's printed materials.
Your prospectus should be a true representation of your institution and everything it has to offer, so speak to our experts here at B&B Press to make sure yours are printed to the highest standards.
Discover the Possibilities of Print Marketing for Education
If you have an upcoming campaign but you're not sure what kind of printed marketing would work best, contact us today. Our team will be happy to help you with your query and bring your campaign to life.