Company Name
Why is this job brilliant?
Did you know that Britons receive an average of 90 phone notifications a day? We're constantly exposed to digital marketing - from in-app advertising on our smartphones to in-newsfeed adverts and emails. This makes us more adept to tuning them out so it's becoming increasingly difficult for marketers to have their content actually seen by customers.
So imagine the excitement when something brilliant and unexpected arrives through your letterbox and is waiting for you on your doormat.
This project was created for potential students who had received offers from the University, the eyecatching mailbox was sent out in the post containing a lanyard and information pack. A gesture like this helps offer a further inducement for the recipient to chose UOS for their higher education.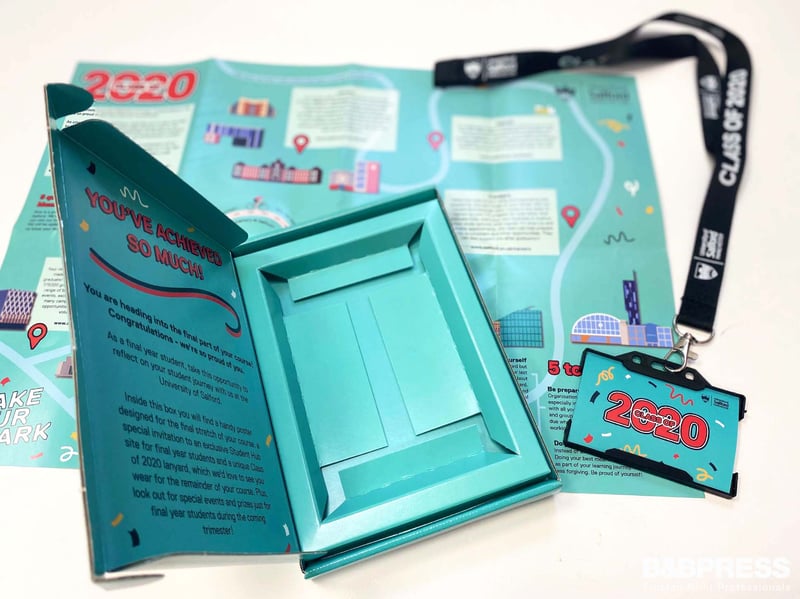 It may seem easier and cheaper to send out the information to the potential student via email, but would they actually read it, or even open it? In contrast, print is simple, in a good way. It's very memorable due to a combination of its traditional and tactile attributes.
The print for this project was done on our LED UV press which keeps the colours bright and vibrant and consistent with the rest of their printed materials. Consistency is key when it comes to strong branding.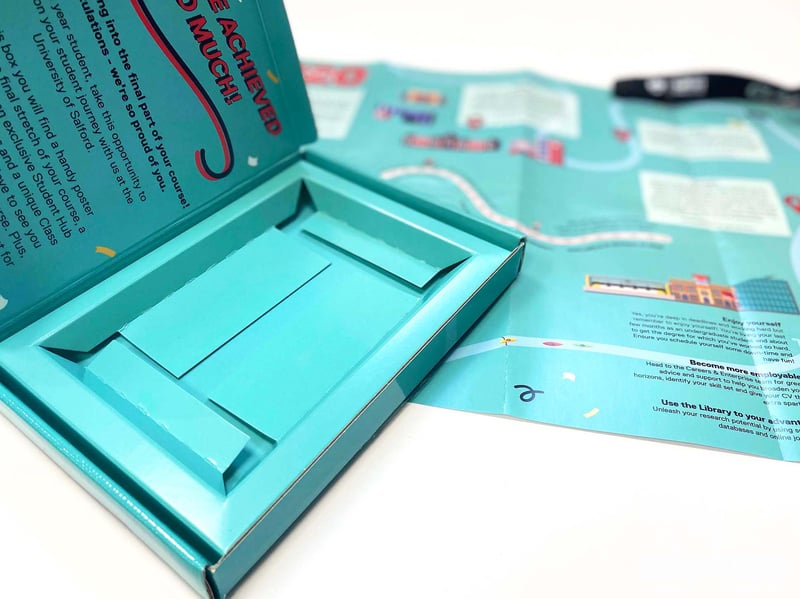 The entire visual concept was provided by our client based on a previous successful spec, we absolutely love making your print ideas a reality. Our client said 'Richard is always brilliant and goes far out of his way to assist us with jobs' adding 'The turnaround time was fantastic, especially considering we had an almost unrealistic lead time.
Specification
Job: Class of 2020
The Mailing Box
Size: 188mm x 145mm x 20mm
Paper: 3D Silk 170 gsm - FSC®
Card: Invercote G 1 sided Board 350gsm - FSC®
Print: LED UV
Finishing: Box and wrap mounted onto E fluted board and lined, then die-cut to shape.
Inserts
Size: A3 folded to A6 to create 16 pages
Paper: 3D Silk Art 130 gsm - FSC®
Print: LED UV
Size: 55 x 85mm Landscape
Paper: Splendorgel Extra White Digital Uncoated 340gsm - FSC®
Print: Digital
Finishing: Attach Lanyard
Typical turn about time for a similar job: 10 - 14 days from approved print ready artwork.
This job includes fulfilment and mailing.
LIKED The University's

Job?
If you liked the look of this job and what the power of print can produce, get in touch with one of the team members here at B&B Press and we'll make your next project, a brilliant one.