A good programme can help visitors to enjoy the occasion and even act as a keepsake after they've gone. When it comes to event programme printing, there are a few things that you need to keep in mind to make sure you get the perfect design.
We've put together a helpful guide that's filled with important things for you to think about when creating and printing your event programmes.
Why Does Your Event Need Programmes?
Event programmes are printed booklets, brochures or catalogues that you distribute to guests when they arrive. They are filled with important information that attendees need to know and can be used to lay out the activities, entertainment, participants and more.
Programmes keep everything moving smoothly, providing attendees with vital information to make their experience a positive one. In addition to useful information, you can use space in the programme to increase revenue through advertising.
Guests are likely to keep hold of their programmes so advertising can be lucrative. It also encourages other organisations to want to advertise in your programmes in the future if you create a well-designed offering.
Use your programmes to thank sponsors, volunteers and participants. You can also include a feedback form to collate valuable data and information that can improve your events in the future.
What to Remember When Creating Your Programmes
When you're creating your event programme, there are three key things that you need to remember - the content, the design and the printing technique.
The content
First and foremost, you need to ensure that your programme contains all of the important information about your event. This is completely up to you and varies from event to event but there are a few basics.
A schedule, the names of speakers, entertainment and guests and maps or diagrams of large venues are all essential points that you should include. Include a calendar of upcoming events and photos of past occasions to encourage future visitors.
If the occasion features an auction, then make sure to catalogue the items for sale. Some events are fundraisers so it's useful to include information about the charities to encourage visitors to donate. Additional information about the charity or organisation, including photos and website links, will help to raise awareness.
THE design
Once you've thought about the content you'll be including in your programmes, you can start to think about the design. Be bold and creative whilst still incorporating all of the important information you've already thought about.
An amazing programme can be a collector's item and memento from an amazing experience. Think about different colours, textures and materials that will help your programme to wow visitors.
Here is just one example of a creative programme that's eye-catching and informative. Created for 1-2-3-Helsinki!, a pop-up Finnish design event by the River Seine in Paris, this programme used maritime flags as inspiration.
The bold and vibrant colours caught the attention of passing Parisians, increasing the number of attendees and making the event a fantastic success.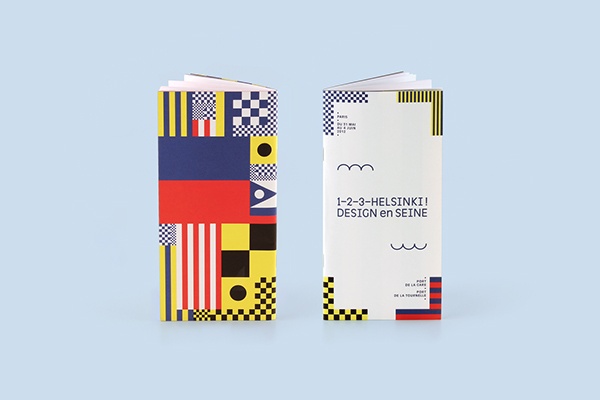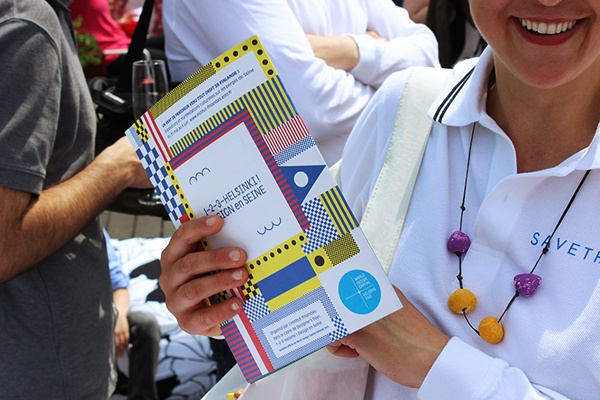 The flags were a perfect choice as the event connected two small villages of shipping containers across the river with a riverboat. The program's tone matched the city-wide design festival perfectly and was a memento that visitors could keep.
THE printing technique
After you've perfected the design and content, it's time to print your programme. After all the hard work you've put in to it, don't ruin them with a printing technique that doesn't do it justice. They deserve to be printed professionally, rather than on the office printer, for example.
Different printing techniques are suited to different stock and making the wrong choices can leave your programme looking cheap. To make sure your programmes look their absolute best, hire professional printers who use state-of-the-art equipment.
For example, LED UV printing is a popular technique for producing luxury printed items such as event programmes and brochures for a variety of reasons.
Namely, it ensures that the printed products are always of an outstanding quality due to the unique UV curing technique. This is where light is used to instantly dry the inks, which not only reduces turnaround time but also prevents these inks from sinking into the stock. The result? Sharper colours and a more eye-catching event programme.
Making Sure the Printing is a Success
Creating the perfect event programme can be a stressful and time-consuming experience. There are a few steps that you can take to make sure your programme printing is a success.
Firstly, when you're in the early stages of planning your event, make sure to finalise a timescale and deadlines as soon as possible. The actual event may be months away, but knowing exactly when you need to have things sorted by can be a big help, especially when it comes to your event's budget.
Confirming your design, the actual printing process and delivery can take a few days, so make sure to speak to the printing company ahead of time so you know exactly how long it will take to receive your programmes.
When choosing the printing specialists to work with, make sure to approach multiple different companies to compare quotes. Shop around to find the best deal to suit you.
There can be a lot of information that goes into an event programme so make sure to proof the whole thing as many times as possible. There's nothing worse than receiving boxes and boxes of the final programmes, only to discover a crucial typo or spelling mistake.
Find Out More About Event Printing
Programmes are just one of the important things that you need to think about when planning an event. Banners, posters, invitations and more are all options you may want to invest in to promote your event. Find out how to plan the perfect event by downloading our free guide using the link below.