It's easy to think that print advertising isn't going to work in today's increasingly digital world. That's certainly not the case. In fact, studies have shown that people are 70 percent more likely to remember business seen in print compared to online - so it comes as no surprise that the major companies below decided to create some of the most effective print campaigns around.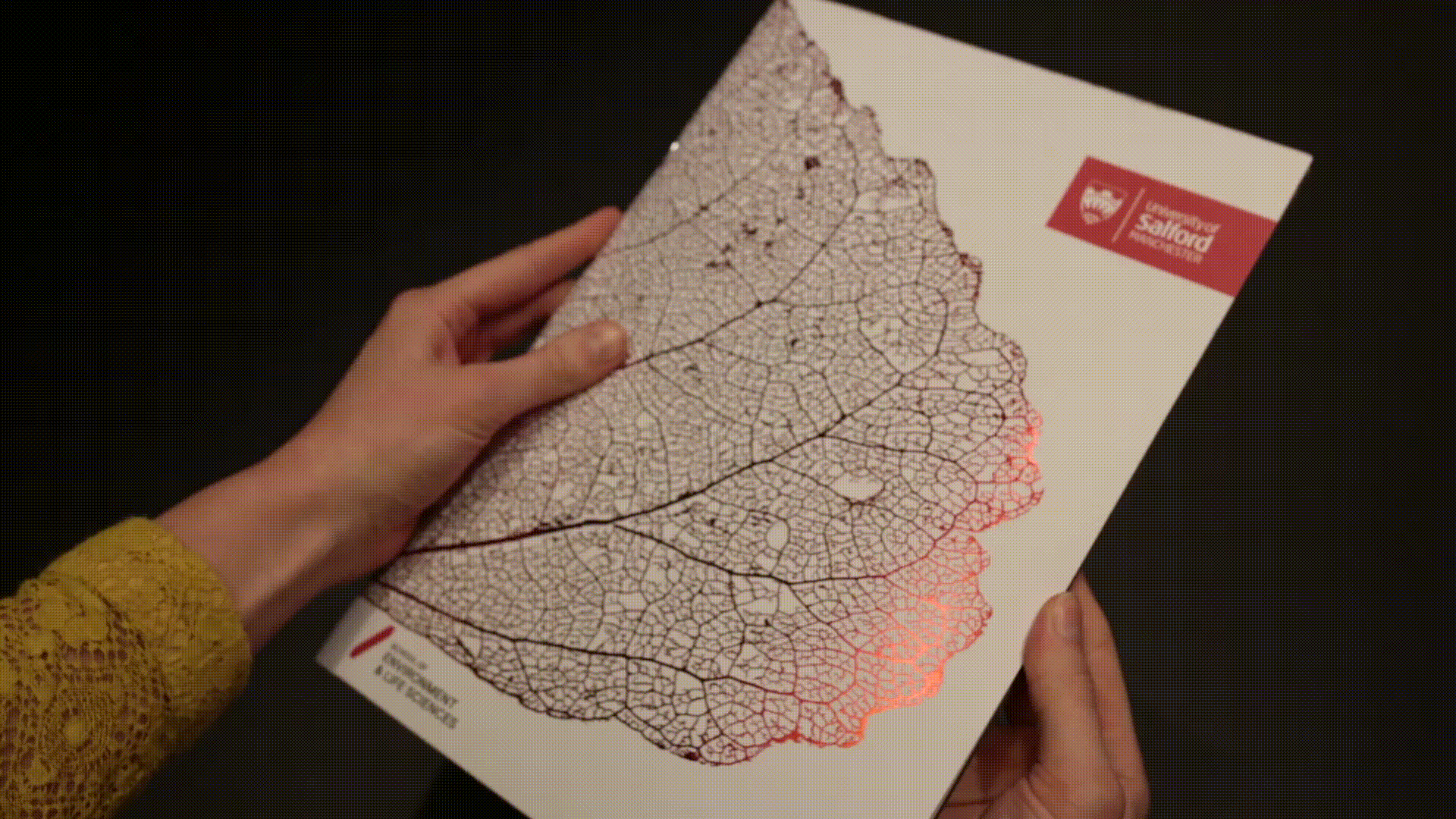 To find out more about the print advertising the major companies below used, just click on one of the headings.
McDonald's
McDonald's is famous for both its print and digital marketing efforts. Perhaps one of their most recent memorable and innovative print efforts saw them convey one of their most popular offerings to millions of their customers.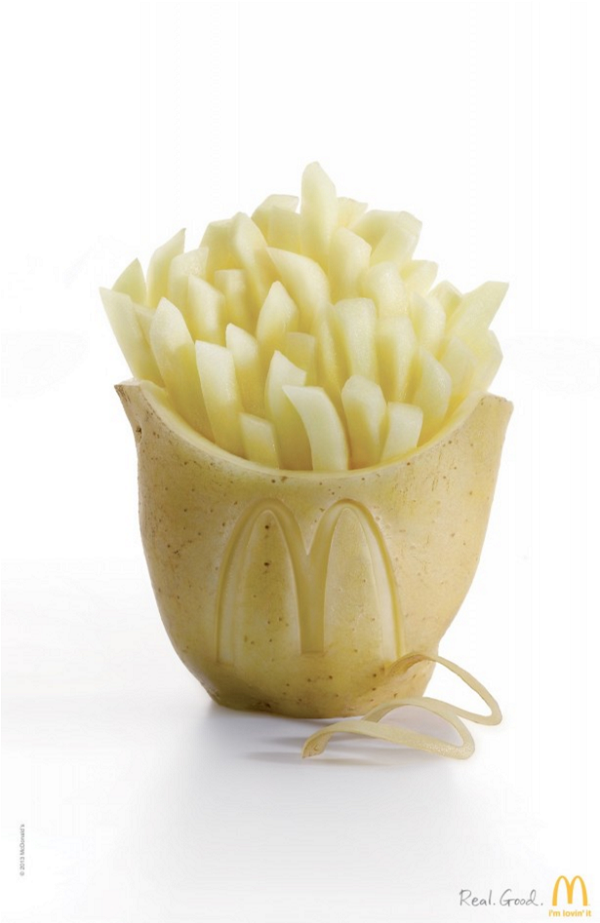 Image Credit: Pinterest
On this occasion, McDonald's showcased a box of their famous fries which were carved out carefully and directly from the very ingredient they're made from - a potato. It's unique in the sense that McDonald's are usually bold and brash with their print advertising, but they've toned it down to match their messaging that everything they do is fresh and not frozen.
It gives off a reassuring vibe and also engages people with the level of detail that's gone into it.
Ikea
Ikea is another retailer famous for its print advertising and honed in on events taking place in certain months in one of their print adverts. The first touched on Valentine's Day, using February as a month to create a tongue-in-cheek campaign that was so simple yet equally brilliant to raise a smile.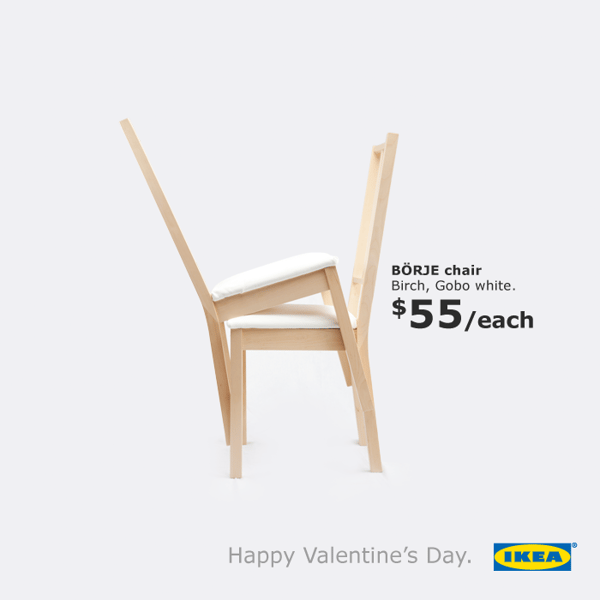 Image Credit: Ads of the World
This probably doesn't need explaining. You get what they're getting at.
Another Ikea advertisement which stepped out of the box doubled up as a pregnancy test. Yes, the paper actually acted as a pregnancy test.
Ikea always manages to keep its products as the centrepiece and in this print advert, it was all about the crib. The unique difference with this print ad is that Ikea offered potential mums a half-price crib if they used the paper as a pregnancy test and if they tested positive, they'd make a huge saving.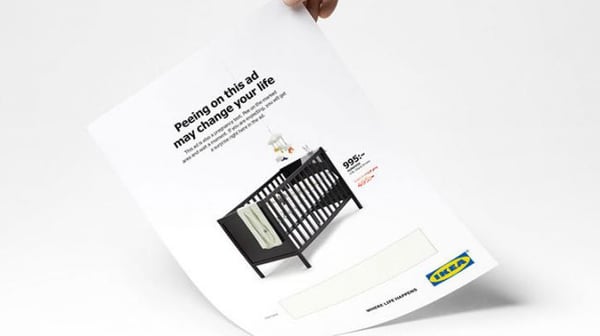 Image Credit: Marketing Interactive
Fanta
Believe it or not, one of Fanta's latest campaigns saw them boast the title of the first ever tastable print advertisement. Fanta claimed that if you tore off a piece of their advertisement and placed it in your mouth, you'd actually taste the orange flavour like their signature soft drink.
This is what makes print marketing so unique and important in comparison to digital marketing as you can't physically achieve the same result. Well, you can try tasting it off your computer screen or phone, but it probably won't have the same orange-y taste.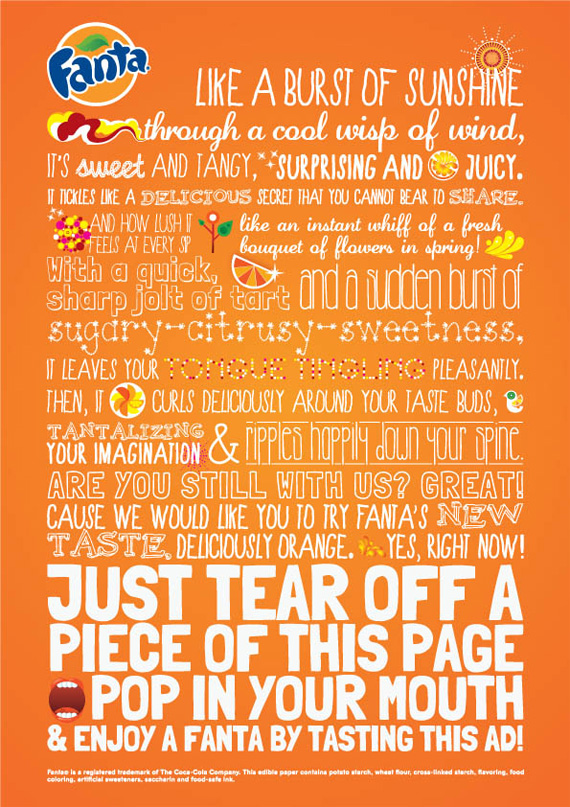 Image Credit: AdWeek
French Ministry of Health
Not every print advertisement needs to be funny or tongue-in-cheek to draw interest. In fact, print ads at the complete opposite end of the spectrum to showcase a more serious message can also leave a long-lasting impact just as much as a humorous one can.
The French Ministry of Health implemented some creativity into a print add which had a serious message about child obesity.
Rather than going overboard with text and explaining the growing problem, they used an illustration of an ice cream topped with a big belly - making it look like an ice cream yet getting the message across perfectly.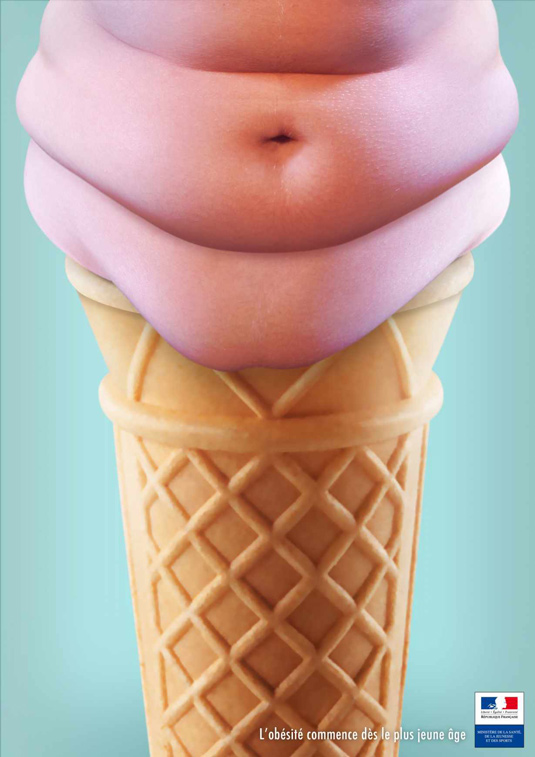 Image Credit: AdWeek
It read: "L'obesite commence des le plus jeune age," meaning obesity starts at a young age. Simple yet super effective with a message that really hits home.
Volkswagen
Volkswagen is another massive company that managed to demand attention with the print advert below. This attention-grabbing ad was their way of introducing the new Park Assist feature, using a hedgehog and goldfish in bags full of water to get their message across which encapsulated the power of visual advertising.
For Volkswagen, the ad was all about highlighting how their newest feature aided precision. So, the use of a hedgehog and goldfish in bags of water was perfectly simplistic. The spiky animal sat perfectly between the bags, acting like a Volkswagen car using the Parking Assist feature to perfectly sit between other parked cars.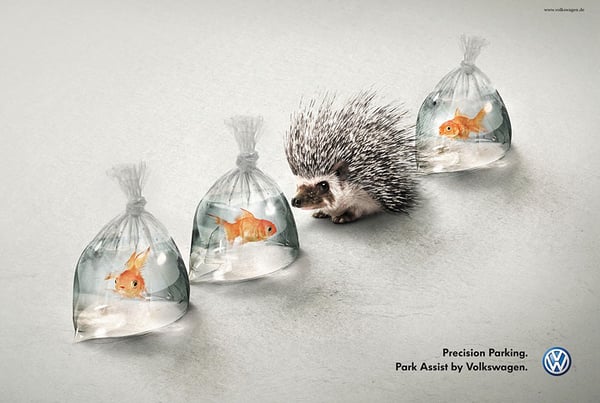 Image Credit: Ads of the World
KFC
Nobody is going to forget what happened with KFC in 2018, something which left many KFC enthusiasts distraught. KFC ran out of chicken thanks to new distributors and the chain was forced to close most of its 900 stores in the UK.
A disaster for the chain quickly saw them take advantage and mastered the art of saying sorry by bringing in an agency to create an effective print apology ad. KFC handled it like professionals by rearranging the KFC letters - which you can see below - and apologised in a unique way that instantly went viral.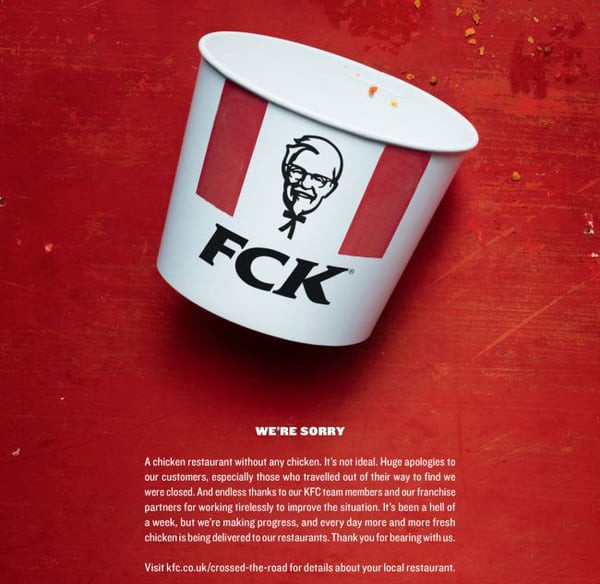 Image Credit: AdWeek
Heinz
Heinz used some really clever print adverts for their wide range of sauces. If the images below look familiar, it's because they actually featured in an episode of Mad Men, with Don Draper pitching a series of ads showing food that goes nicely with ketchup - but hiding the ketchup in the ad.
The character argued that people would fill in the gaps for themselves and create a stronger association in the mind. Although Heinz didn't agree to it in the programme, they ran with in real life which looked completely accurate to the ones that featured in the programme.

Image Credit: Art Plus Marketing
It's a great nod to the show by tapping into pop culture so people that understand the reference will get it right away and those that didn't also will, as Heinz is instantly recognisable.
Scrabble
You know you're on to a winner when you successfully gauge the interest of readers who take the time to read what your print ad is all about. That's exactly what Scrabble did, where they used the beauty of the game to great effect by essentially telling a story.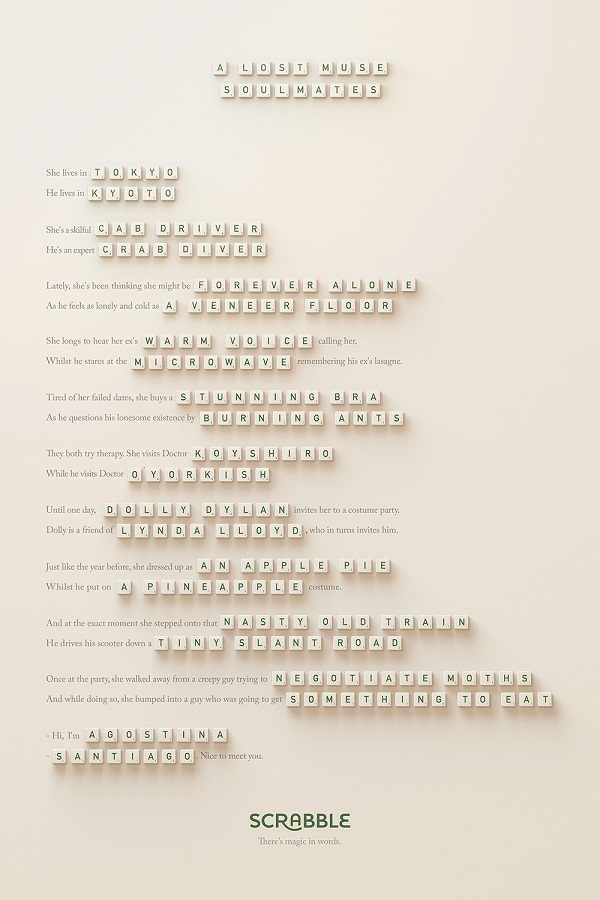 Image Credit: AdForum
The unique twist is that the gaps were filled by the use of Scrabble tiles, the main item used in the board game.
While there are print ads that are bold, striking and vivid with their colours, Scrabble stripped it based that couldn't be digested in one glance. Instead, it challenged readers to make an effort to read the story about soulmates.
StrongerMarriage
StrongerMarriage utilised intelligent wording with the print ad below promoting the importance of compromise in marriage. Despite being relatively simple, it gained a lot of notoriety with it being such a brilliant idea.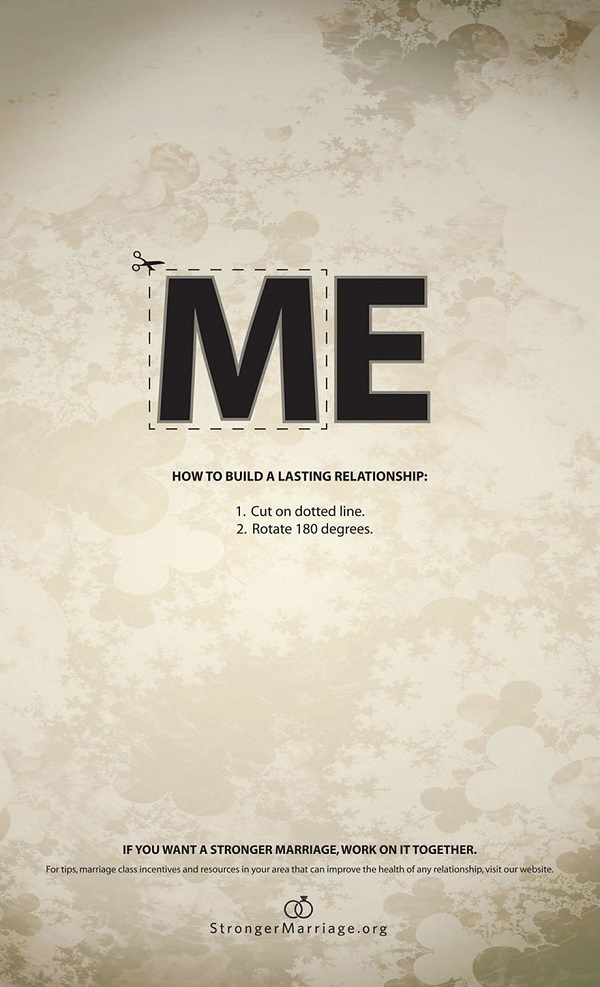 Image Credit: Ads of the World
The reader only had two instructions to follow: cut around the dotted line and rotate it 180 degrees. It changed the word 'me' to 'we' which perfectly promoted the messaging of their brand, by promoting compromise to help marriages become stronger.
Print Isn't Dead
The examples we've included above are just scratching the surface - there are and will continue to be plenty of killer print campaigns that succeed in grabbing attention. There's research to back up claims that print is a lot more powerful today than marketers might think, so it shouldn't be overlooked.
A study highlighted by neuroscience marketing has shown that print ads can be impactful enough to implant a false memory in the brain, alongside increasing positive feelings towards a brand.
Another neuroscience study has shown that brand recall was 70 percent higher in participants that read print compared to digital, while Waitrose went on to describe print as its most effective advertising channel in terms of return on investment.
The studies are there for a reason and they back up the fact that print is still important today - and is still an area you need to focus on.
See How to Make Your Next Print Campaign Stand Out Like This
It's starts by being prepared and knowing all your print options. This all in one guide will get you up to speed and getting the most out of your next printed campaign.
Download the guide now.