Social media has become a huge part of life and the business world is no different. Here's how to promote an event using social media.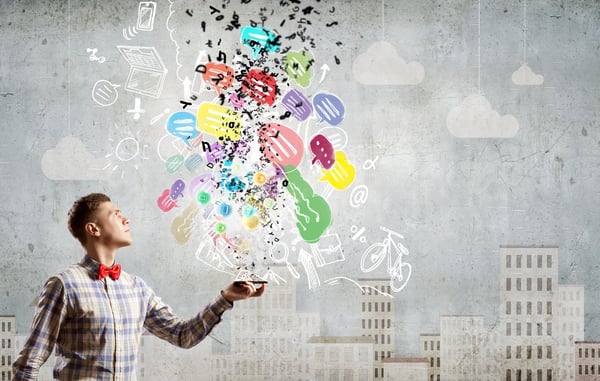 The topics we'll cover are:
The Dos and Don'ts of Promoting Your Event on Social Media
Before you get into this post, here are the main dos and don'ts of event promotion on social media:
Start with a cohesive plan.

Your social media promotion needs to work alongside your other online marketing processes, such as your blog content and email. Also, it should link with more traditional styles such as your flyers and leaflets. Get the event messaging consistent and present on all mediums.

Don't overdo it.

The largest platforms can be useful for a lot of businesses, but some might not fit the style of your event. There are many smaller networks that can be suited to the most niche of events.

Stay committed.

Post regularly and interact with your audience on a regular basis, ideally daily. Intermittent or sporadic replies and posting won't build momentum.

Don't just go for the hard sell.

Social media is a stepping stone where you engage with your audience - not a sales event. Draw them in with your amazing content and benefits to them of your exciting event - not brash or pushy messaging with ticket details.

Listen to your audience.

This will help you cater to their needs and also help when figuring out how to target your demographic in the future.

Track your results.

It's important to know which platform choices work for which type of event. You can then tailor future events promotion on the back of your results from previous events.
Don't Rely on Organic Search
Social media is forever changing. Billions of posts are sent daily, which means that masses of new organic posts are being pumped into the system constantly. This means that the various platforms have to up their capacity to be able to deal with all the new content.
Algorithms are always changing which means that organic posts don't hold the same power as they used to. Newsfeeds are no longer chronological which is a nightmare for organic social media marketing.
This is not to say that organic posts shouldn't still be utilised as it's a useful tool to use alongside your paid social media advertising. After all, if you're ranked highly with the assistance of organic search, it offers a certain sense of credibility to your audience.
Paid social media is, in essence, sponsored advertising. If you've scrolled down your Facebook or Twitter timeline recently you'll have no doubt noticed these sponsored posts.
They are used to increase your brand's presence. At its core, paid social allows you to reach out to a wide audience who have expressed an interest in your event or any other demographic you choose to target.
Here are three quick tips on how to promote an event on paid social media:
Choose your platform carefully (see next point) as there is no point paying to show your content to an audience which isn't interested.

Set an overall budget but test around £100 at a time before pausing and tweaking your audience and timing settings.

Include a video (or at least an animated GIF) and a link in the sponsored post to a page which tells the user more about the event, and gives them a place to sign up.
Choose Your Platform Carefully
With technology constantly evolving, social media is no different. There are many different platforms out there for you to promote your event on but making sure you get the right one to appeal to your audience is key.
Facebook
With over 1.5 billion active users, Facebook is the perfect platform to use for awareness and exposure of your event. There are plenty of features to consider which will make promoting your event that bit easier. These include:
Use the Events feature - This gives your audience a convenient place to find all the required details of your event. Also, you can easily see who's attending your event and reach out to them with questions. When people RSVP to your event, they can also share it to their feed, furthering the reachability.
Use Facebook Live to broadcast engaging content - the live feature provides a great opportunity for you to interact and engage with potential attendees. Set a scheduled time for when you're "going live". Your followers will then see a notification they can simply click on to get to your broadcast. Answer questions, promote your speakers and create a general buzz around your event with this top feature.
Twitter
Easily see the reaction and the conversations that are being formed by your event. Twitter allows you to reach out to your audience and engage with them directly. Here are various ways you can use Twitter to promote your event:
Track your event's buzz by creating your own hashtag for the event. This is a great way to follow chatter about it. However, be careful that your hashtag isn't already associated with another subject/event.

Encourage your audience to use your hashtag before and after the event.

Use free tracking tools like Tweetdeck or Hootsuite to determine how frequently your hashtag is being used and the location of the people who are talking about your event.
LinkedIn
You can use your company profile on LinkedIn as a promotional platform too. Share the same event information as you have on Facebook and Twitter, or to save you time, simply link them so it replicates the different content across the sites.
Be careful though - this doesn't work for every form of content. If you post the same on all platforms, the chances are that you're not catering well to the varying audiences and your content will fall short. Remember that Facebook is a social platform first before work, whereas LinkedIn is professional first.
Your event advertisement on LinkedIn should be more than just an engagement tool. Whilst this is good, you want to offer more to the reader and get them over the line to attending your event.
Instagram
Boasting half a billion active users, Instagram is proving to be a really successful platform to promote your event from. Take advantage of the "stories" element. Here, you can give followers a behind the scenes experience, before and during the event.
In the lead up to the event, post daily teasers to create a sense of excitement. Don't forget to capture it on the day too. It serves as a good way for attendees to look back on and see the event from a different angle. Plus, it shows the followers who didn't attend what they were really missing.
Snapchat
If your audience is active Snapchat users, it can be a great tool to use whilst your event is happening. For example, a school open evening can be a great way to utilise the live story tool. People can all collectively add snaps to one long story, allowing users to see different parts of the school from a different angle to what they might've seen themselves, or if they didn't even see them at all.
If a guest speaker at your particular event has a large Snapchat presence, encourage them to say a few words on their personal story before and after the event. This will boost awareness and keep the buzz alive.
Keep in mind that Snapchat isn't as versatile as some of the other platforms. There will be various events that don't suit the platform or perhaps your audience is more likely to be found on other channels.
When it comes to social media, it's important that you choose the platforms where your audience are most likely to be found. Only after that should you begin to tailor the content for that platform.
For instance, Snapchat is known to be more popular with younger audiences and might not be appropriate for a professional networking event. LinkedIn would be more suited here. However, for a fashion show, Snapchat would be perfectly fine.
What about Pinterest? Pinterest is a popular social network where users can pin images and create mood boards. But in terms of event promotion, it's not recommended as it's not timely and your posts may go unnoticed.
Find the Right Balance of When to Post
Once you've chosen the correct platforms for promoting your event, you need to know how to master them. The first thing you need to recognise is that the different demographics of people browse different platforms in different ways and at different times so use your analytical tools to suss the peak times of when to post.
Finding the right balance is crucial when promoting an event. Post too infrequently and your audience will fail to recognise that your event is even happening. However, plug your event too often and people will get fed up with it and they might even switch off. The frequency of your promotion can be the key to a successful event or a flop.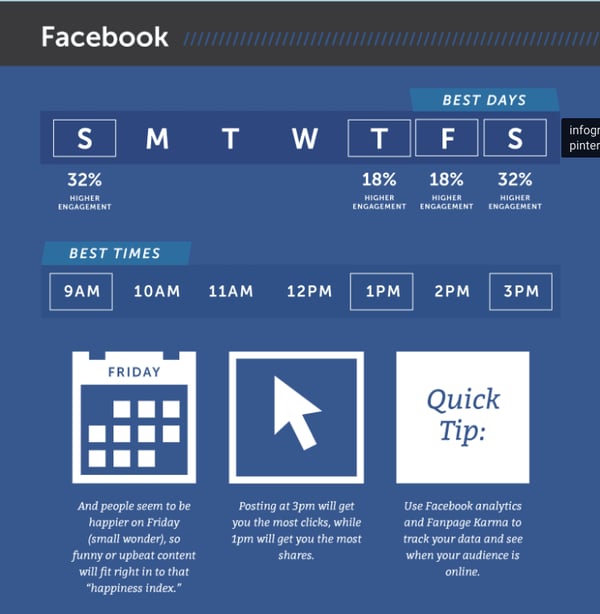 For more infographics on the perfect times to post (like the one above), click here.
Plan the Perfect Event
By following the tips in this blog, you can be sure to have your social media promotion on lockdown, but this is only one factor that contributes to promoting and pulling off the perfect event.
Not sure on everything that's needed to plan an ideal event? Don't worry, we've got you covered. Download our free Event Guide below: