As technology continues to evolve, the more traditional methods of promotion can often be swept under the carpet. But, why? Methods like leaflets, brochures and posters still hold their own and create a buzz around your event - if done properly. Here's how to design a poster for an event.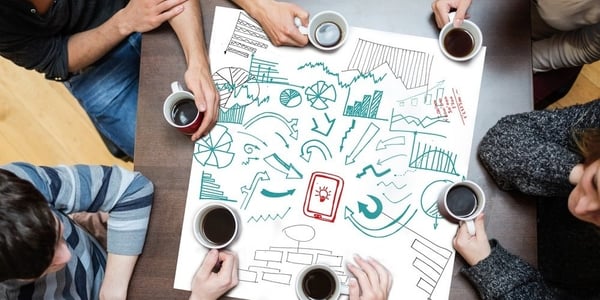 Areas we'll cover:
Choose What Needs to Be Included in Your Poster

Follow these Basic Design Tips

And Go Through these Design Steps
Choose What Needs to Be Included in Your Poster
You need to find a focus to centre the poster around. In your case, you know it's the event itself so you've already got that step in the bag. Here's what else you need to include when designing a poster for your event:
INCLUDE ALl vital information
Obviously, you need to include the date, time and location on your poster. What if somebody saw your poster and liked the look of the event, but didn't know where and when it was on?
A contact number, social media handles and an email address is another feature that we recommend you include. That way, if a reader has any queries about your event, they can easily contact you to find out more.
Dominant Elements and Visual Hierarchy
Your poster needs to grip and catch the audience's eye in order for them to engage with it. Dominant elements, such as large headlines and striking images, are a great way of grabbing attention and will normally be the basis someone decides whether or not they want to read on or not.
Ensure that your headline is cleverly written to draw them in. Short and to the point in a BIG FONT SIZE is a good one. Or you could maybe try being witty - everyone loves a quick gag - and don't be afraid to go big and bold when it comes to colours too. Relevant, cool images or illustrations are ideal too.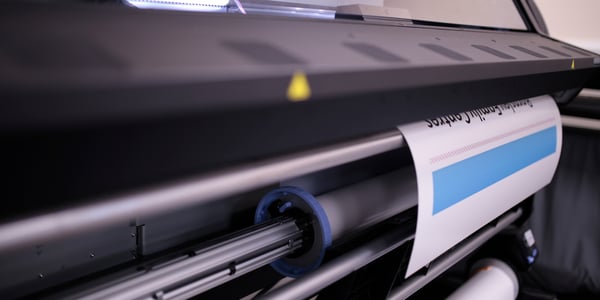 Bold Colours
A good poster can be seen and read from at least five feet away. Intense colours fixate the reader's attention and will allow your message to stand out from surrounding messages.
Relatable Language
As with the other different promotional methods, you need to know your audience and write with them in mind. There's no point including technical jargon if it's just going to go straight over their head, for example.
Keep your text short and concise - posters aren't a place to go into great depth. Save that for your event literature and tease the reader in.
Follow these Basic Design Tips
By following the steps above, your poster should be more or less ready to go. But here are some tips on how to design a poster for an event that will take it to the next level:
T

hink hierarchically. Give the most crucial info the biggest font size and boldest colours. Put the housekeeping info such as contact info and price information at the bottom of the page as that's where people expect it.
Use signposting aids to help the reader know where to start your poster and what order to read it in.
Bullets are a lot easier to read than paragraphs and big blocks of text. They also stand out and appeal to the reader more.
Use no more than two fonts. Keep it consistent and choose two which work well together.
Titles and subheadings should be readable from at least five feet away, so make sure you use appropriate sizing.
White space enhances your poster and its readability. It clearly distinguishes what information is in which section and allows the poster to breathe. Not enough white space can make the poster seem too cramped and cluttered.
Your poster should include a call to action. This encourages the reader to engage with your event. A simple "book your tickets here" and website address or contact number should suffice. Or you could utilise a QR code that directs the reader to your event's website.
And Go Through these Design Steps
Before you start laying down designs and bringing your poster to life, follow these simple steps to ensure that everything is covered:
Layout
First of all, you need to thoroughly plan your layout. What size is it going to be? Landscape or portrait? Will you play it safe or be a bit more out there? -These are all questions that you need to nail down before you start designing.
It takes a lot of contributing factors to produce an audience grabbing poster. However, it's the design which rounds it all off. A bad design will mean your poster gets lost in the noise, while a great design will stand out from the crowd.
Start by rough-sketching the layout of your poster by hand. Do this by using boxes and scribbles to represent where the text and images will be placed and don't worry about the exact wording at this stage. Read more on how to nail your poster layout.
Choose the Right Printing Technique
There are many different types of printing methods available and they're continuing to evolve. Each type is suited to a different need, meaning that you can choose a printing technique that best highlights your event.
Digital Printing is great for a quick turnaround on relatively small runs of posters but isn't particularly cost effective for big jobs. Screen Printing, Litho Printing and LED UV Print are more effective for larger runs - above a thousand - but take longer to set up. Large Format Print is another possible option if you are thinking more along the lines of a billboard or building wrap.
For posters, we recommend Digital Printing which allows for quick turnaround and allows you to print on demand. With little restrictions, it allows your printed collateral to scale alongside your event.
Read more about different print techniques in another of our blog posts.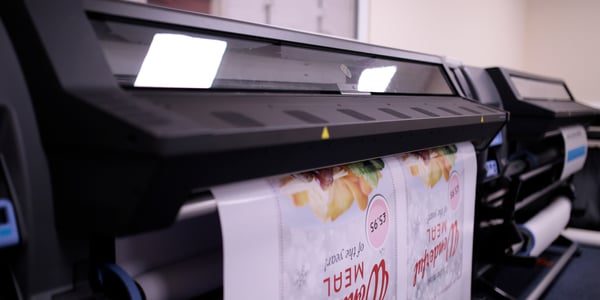 Keep Your Stock Choice in Mind
Your stock choice can make a world of difference to your poster. It can be the difference that makes your poster look the bees' knees or a bit of a car crash as different types of stock show off your print differently.
For posters, we recommend Silk as once printed on, it produces a coating which fits somewhere between a matte and gloss finish. The colours used consistently remain vibrant which help highlight all of the small details by reducing the shininess and increasing the readability.
There are other stock choices that can be used for your poster. Read more in detail about the different types of luxury paper and their uses.
Outline Your Content
It's good practice to pool all your content ideas together before you start to actually write it. Try writing bullets down on paper of all the topics you'd like to cover, that way you can stick to a plan when creating your first draft. Having it all in front of you will make it easier to structure your poster text too.
Be careful not to make your poster too text heavy though. That will only put off the reader. Your body of context should be short and snappy, enough to entice but not fully give away the whole message.
Graphics
Graphics can be anything from images to illustrations. In order to make your poster really appeal and stand out to the reader, you're going to need solid graphics. Decide on which ones you're going to use before you start designing. You can then work your text around them and save going back and forth looking for something perfect that fits.
Proofing
Proofing is essential. You should always include a proofing stage. And an extra one too.
Always get a different pair of eyes to proof your event poster. As people, we become too attached to our own work and can't bring ourselves to chop bits out where required, whereas another person will be ruthless and not hold back when proofing your work. But your eye will also miss typo errors because your mind will be seeing what it should say rather than what it actually does. Run it through spelling and grammar-checking applications and websites too.
Plan Your Event to be a Roaring Success
Posters should only be one part of your promotional strategy for your event. Traditional methods still pack their own punch and are a great way to ensure that you promote your event successfully but a wide-ranging approach is best. Utilise the massive surge towards social media too.
Your promotional strategy is only one step in the right direction to making your event as successful as it can be. There are various other contributory factors that you need to consider.
Don't worry if you're not fully clued up on them - we've got your back. Download our free Event Planning Guide and you should be ready to host a knockout event.