It's clear why more and more businesses are choosing to outsource their printing. You just can't get the same results in-house. Technology has developed and print specialists also have the experience to produce the most amazing results possible. Although, businesses tend to overlook certain factors when outsourcing business printing…
1. Make Sure You Question Their Experience
A print company might say all of the right things on their website to tempt you, but they might not deliver the results you want. It's important to do all of your research beforehand to see how effectively they have completed previous jobs and to what standard.
Read their reviews, see which types of businesses they have worked with before and what they're saying about them. You'll get an even better idea about their experience and reputation if you can get your hands on examples of work they've produced.
If they're willing to share their catalogue of previous work, then that's a good sign. Plus, your business avoids the risk of working with a new, untested company that might not be able to meet your exact needs and requirements.
2. Ask If Their Services Are Bespoke
No business wants to be the same as everybody else. If you fail to take into account that an outsourced company might offer the exact same services for every business they work with, then your work simply isn't going to stand out.
It needs to feel like a great deal of attention and care was given to it and it's completely different from anything that's been seen before. So, factor in the ability to provide bespoke services.
Some signs to look out for include:
Can they help you find the best package to get the results you need?
Are they asking you questions about your specific requirements?
Is the company offering different methods, techniques and stock choices to suit your needs?
Are they catering to your goals and budget rather than their own capabilities?
If they can do the above, then it's likely they'll provide your business with quality print products to create exactly what you envisaged.
3. Can They Help Show Off Your Content?
Can your outsourced print company help you show off the content in your print products to its potential? While the outsourced company might tick every other box, agreeing with only your suggestions rather than utilising their own experience could leave you unhappy with the final results.
Don't overlook the importance of a hands-on company that has design services and the relevant experience. Even though you might have amazing ideas, they can provide excellent suggestions on how to further improve your work.
If they do know how to help make your content shine and grab attention, it's a good sign that they know what works and what doesn't - rather than just taking instructions. So, you'll be able to rely on them in the future for business print materials.
4. Look for One That Helps Your Business...And the Environment
Fact: consumers want to work with businesses that care about environmental issues. If your customers recognise that your print materials have been produced in an eco-friendly way, then it helps you stand out a lot more.
There's no denying that the print industry can have significant adverse environmental effects. So, look for an outsourced print partner that carefully and meticulously manages this process and does its part to minimise effects on the environment.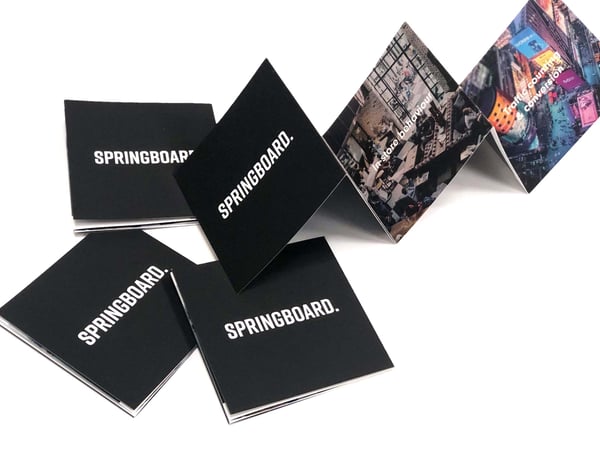 One way to check this is to see which certifications they have and which materials they use. It's a double-win as you don't compromise on quality while working with an environmentally friendly organisation.
5. Don't Compromise With Just One Print Technique
Another factor that you shouldn't overlook when outsourcing business printing is the techniques they have on offer. This goes hand-in-hand with their ability to provide bespoke services and how they can help best show off your print products.
If the company is limited to one technique, it doesn't mean that it'll be the right one for your needs. If they can offer multiple innovative techniques, then you're likely to get print products that offer something a lot more unique.
Some techniques to look out for include:
Offset Lithography: Popular amongst businesses as it's able to print on almost any flat surface and different materials.
Digital Printing: Perfect for businesses that are seeking short runs and personalisation. It also allows you to get even more creative as you have endless options.
Large Format Printing: Best suited to your business if you need to make a big impression - literally. As expected, speciality production equipment is needed.
Flexography: Ideal for printing on uneven surfaces and versatile enough to print on a plethora of materials.


LED UV: The most popular and impressive choice for businesses. It's perfect to leave a lasting impression and ensures print quality is sharper and more vivid while retaining the original characteristics.
If the outsourced company offers a range of choices like these, then you know you're in safe hands.
6. Find out If They're Using the Latest Technology
In addition to the techniques, look at the actual technology outsourced companies are using to produce the printed content. They might agree to produce everything your business asks for, but using outdated methods can drastically decrease the overall quality.
That's why print technology is an important factor to seriously consider. The older the technology, the lower the quality of your print products are likely to be. This isn't a great way of trying to capture attention from your target audience. The poorer the quality of your products, the poorer they'll think your business' services will be.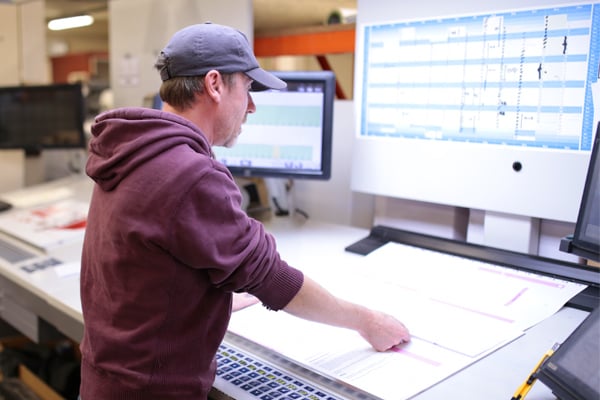 If you see them using technology like LED UV, then you can be sure that what you're receiving will be brilliant because of the many benefits this cutting-edge print technology brings.
It's kind on the environment, it enhances the colours used, it's versatile, the turnaround times are much quicker and the finished products are always high-quality.
7. Check If They Can Print on Your Desired Stock
You should also check if they're able to print on certain materials and stock. Again, don't succumb to their needs as a good, reliable printing company will be able to give you what you need rather than making you change your content to fit their requirements.
Not every brochure, leaflet and poster will be the same. A business might want to go down a luxurious route and choose a stock like silk or lux, and that business might not think beforehand whether their chosen company can even offer a service like that.
So, make sure that you do and that your printing company is able to adequately advise you.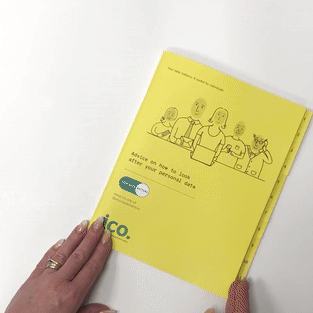 When it comes to making sure your business print materials are better than the competition, the points above are a great starting point to make some huge changes right away. However, there's still a lot more to think about when outsourcing business printing and how you can get the best results.
Get Your All-In-One Guide to Business Printing
To help with your search, we've created the ultimate all-in-one guide to business printing. In there, you'll find out how important the process is, the steps you need to take beforehand, how print can be the answer and so much more.
To get access to this one-stop resource for the most useful business printing related content you'll ever need, click on the link below.