There are many types of printing services available to you with numerous benefits that can take your print materials to the next level. However, they each work best for different needs, events and even paper types and weights.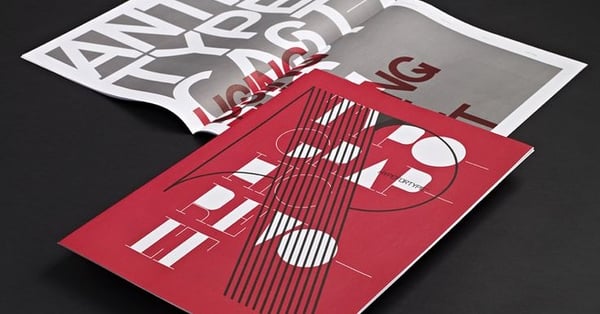 So what are the benefits of each method and what type of stock should they be paired with for a good impact on your customers? Let's find out...
LED UV
LED UV is fast becoming one of the most popular printing methods offered by some printing partners. The method uses UV (ultraviolet) light to dry the ink, resulting in a much faster drying time.
Benefits of LED UV
There are a number of amazing benefits that come from using LED UV as a print method. For example, the instantaneous nature of the drying process prevents the ink from thoroughly soaking through the material. It means the clarity of your artwork will be top quality. The other benefits include:
Quick turnaround: LED UV provides one of the faster turnaround times for a professional printing method.
Eco-friendly: It uses less power than traditional printing machines.
No limitations: LED UV isn't limited to a type of stock or specific print job.
Versatile: It's a method that can be used for a range of different printing methods.
LED UV is mainly for newsletters, posters, leaflets and thicker, more durable print media such as magazines, catalogues, brochures and prospectuses. It works especially well when combined with either a matte or gloss coating to really bring out the colours.
Display Print
Sometimes referred to as wide format printing, large format printing or POS.A large format print service is usually implemented for one-off requests or events, so you might not need to use this technique that often. Although, it's still a very valuable print method.
Display solutions create brilliant impact and are one of the most popular choices when it comes to getting your brand and message in front of your audience.
Benefits of DISPLAY PRINT
There are lots of important benefits that come from creating large format print, such as:
Huge impact: The sheer size of the artworks makes them incredibly good at catching the eye of passersby.
Increased footfall: They can be strategically placed in areas of large footfall. It can also work to increase the audience in a particular area by generating curiosity.
Increased design possibilities:

Due to the size of the pieces, you can create truly bespoke artworks where you can let your imagination run wild.
Digital Printing
Digital printing is one of the most common types of printing. It covers a variety of processes such as laser and inkjet and is widely offered by printing partners.
Benefits of Digital Printing
As it's digital print, it means there's no need for a printing plate as the files are sent over in file format. This can save a lot of time and money but it's not wise to use this for print jobs with large numbers.
Other benefits of digital printing include:
Quick turnaround.
On-demand printing.
Can be used for small to tiny print runs.
Digital printing works best on smaller paper weights such as 90gsm and 130gsm.
3D Printing
One of the most increasingly popular types of printing is 3D printing. It lets you create 3D models by using digital model data from sources like AMF (Additive Manufacturing File).
Benefits of 3D Printing
Due to its popularity, using this type of print service can really draw attention to any event you're running. As we progress into the future, 3D printers become more sophisticated and can print increasingly complex items, some even with moving parts.
3D printing is a great print service to choose if you have something specific in mind that you need to market using promotional materials. You can also create bespoke novelty or display items. They're perfect at catching the eye of a passerby.
Web2Print
If a print service offers Web2Print you're in luck - it's a brilliant addition to any print provider's offerings. Web2Print consists on an online portal where print designs can be uploaded and stored. You'll even be able to check stock levels to know when you're running low.
BENEFITS OF WEB2PRINT
There are many benefits of Web2Print. As it combines quality and automation, you'll find your smaller print jobs to be both speedy and accurate. You'll also be able to:
Manage your brand's visual consistency.
Edit, order and approve marketing materials.
Explore digital print on demand.
Access the portal via the cloud, anytime, anywhere.
Offset Lithography
Offset lithography (or 'litho') is a popular print service. Litho is a versatile choice as it can be used with any paper type.
As the stock doesn't actually come into contact with the printing plates, it means the plates have a long lifespan, making it more cost-effective.
Benefits of Offset Lithography
Offset lithography is a brilliant type of print service to utilise because:
It's versatile: Litho can be used to print on any flat surface, regardless of texture.
Consistent quality: Because of the way the plates transfer their design onto rollers which are used to print, their lifespan is increased and quality remains consistent.
Litho printing is often used for rough-surfaced materials such as wood, canvas and cloth. It's also used for things like books and stationery.
It's a great choice for printing on heavier paper weights such as 350gsm and 380gsm.
The types of print services are numerous and each has areas they excel in. But if you're looking to work with a print partner and a specific print method for your event or marketing campaign, you'll need even more information.
Take a look at the services we offer here at B&B Press.