With digital technology constantly growing and print options supposedly dying out in many ways (Psst! It isn't.), it would be easy to forgive you for not concentrating on the more traditional marketing methods. However, physical flyers for events can still really make your brand stand out from the crowd. Here's how to make sure you're really nailing them.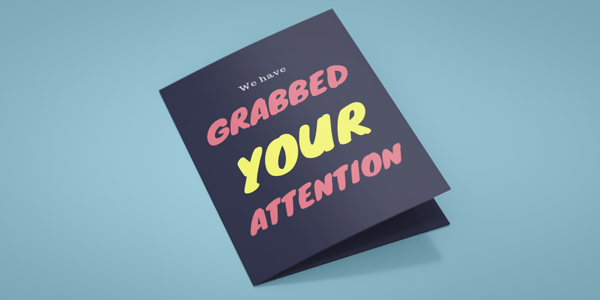 How to Produce a Great Event Flyer
Perfect Your Layout
The design of your event flyer will be the foundation that holds everything together, so it's important that you nail it. A bad design will leave your leaflet lost amongst all the other handouts that potential customers receive at the event but a great design will help you stand out from your competitors.
For example, an insurance broker would probably keep things plain and simple to reflect the assured tone needed in their line of work. On the other hand, an event hosted by a quirky, independent fashion label would favour something more bright and upbeat.
Consider Different Folding Options
A quirky fold can be a complete game-changer when it comes to standing out from the crowd but there's a fine line between what works and what doesn't. Make sure that your particular fold choices add to, sell your product and more importantly your brand, and that they're not just gratuitous and complicated.
Consistent Colour Scheme
Your colour scheme is vital. It can be the difference between getting your event flyer just right or horribly wrong. A consistent theme of a handful of colours will help your audience read the message you're putting across and also make your brand instantly recognisable.
Don't go too out there. Loud and contrasting colours can give off the effect of "too much going on." A small choice of complementing colours usually polishes off a good flyer nicely.
Choose Images Tactfully
Images are the key to event flyer success. Your images will need to be powerful and eye-catching in order to entice your audience into reading on and finding out more about your brand.
For best results, directly advertise the product you're selling. Don't overcrowd things that could lead to confusion. Also, avoid the use of stock images. Your images should be your own to set you apart from your competition and really show off your product.
Use the Right Stock
A flyer printed on quality stock (as in, the paper or card type) carries much more power than ones that aren't. If a flyer feels low quality, the reader will straight away judge it as junk mail before absorbing the message.
Use specially chosen, luxury stock to let your leaflet feel different and show your audience that you're a force to be reckoned with.
Flyers for events can be produced on a variety of luxury paper choices. These include Lux, Constellation Snow, Silk and Uncoated heavier options. Read more about how these choices can enhance your leaflet.
What to Include in Your Event Flyer
A Snapshot of the Event
Along with powerful images, readers will also want some written content to get stuck into. They'll obviously need information on the message you're trying to get across but the way it's portrayed is important.
Avoid waffle. Readers won't waste their time diving into a flyer that's filled with paragraphs upon paragraphs of useless text.
You need to be straight to the point with what you're trying to say. The aim is to entice the reader into wanting to learn more about your brand and what you can offer. Give the reader enough information to draw them in but leave them wanting more.
A Call to Action
Your call to action should work in tandem with your enticing flyer's copy. The copy should lure them in and give them enough information to take you up on your call to action.
This could be something as simple as "Book a Tour" or "Request a Quote" via a webpage or phone number.
Contact Details
This may seem like a given but it's important that you include at least one point of contact your audience can reach you on, whether that be email addresses, social media handles or telephone numbers.
The readers of your leaflet are all potential customers, start their great customer experience right there on the leaflet with easy access to a way of finding out more about your business.
Why do Event Flyers Still Work?
There are various reasons why traditional flyers for events work. These are:
People love having something to hold. Looking at something digitally on your smartphone isn't quite as satisfying as physically having it printed and in your hands.

Photography is much more eye-catching and engaging in printed form as opposed to digital.

A strong event flyer says a lot about the business behind it. If the quality is top-notch, it will reiterate to your reader that you're a well-established business.

Physical event flyers are more reliable and require less hassle. You don't have to wait for it to download - simply grab it off the stand and take a look.

Internet communications and social media is a saturated space. Attention spans are hyper-shortened but quality printed collateral still holds special value to consumers.
With technology and customer buying habits constantly evolving, it's easy to think that digital marketing is the only way forward. But traditional marketing methods such as physical flyers for events, still come with their own power and can be used to make your mark.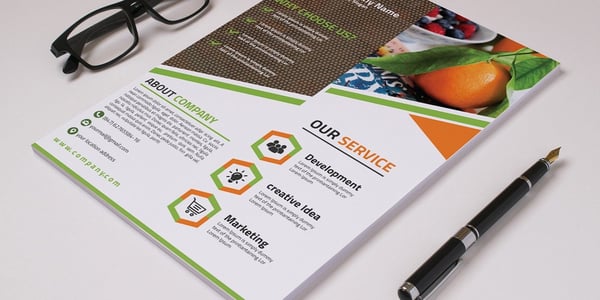 Ensure Your printing is always brilliant
Want to easily stand out from your competitors? With the right printing technique, enticing content and powerful images, you'll be sure to do just that. Download our free guide below to help you produce the most effective products possible: