Company Name

Why is this job brilliant?
How do you create a brochure that lives up to the standards of a bespoke luxury yacht? I mean this calls for premium printing at its finest. We are delighted with this finished piece as are our customers... let me tell you why.
Out of all our five senses, touch plays a vital role. It tells our brain how we perceive something, it influences our emotions and our power to make decisions. The choice of stock for this brochure is key, the soft touch lamination creates that perception of luxury before the reader has even opened the brochure.
The sophisticated brochure design is enhanced by the high-quality finish of our LED UV press. Every significant detail is brought to life in HD from the manufacturing process to candid shots on the open water. Using a combination of printing techniques throughout the brochure including silver block foil and spot UV varnish to the inner pages, all add to that feel of ultimate luxury.
We have pulled out all the stops to make sure the Princess brochure is, well, fit for a princess - The only thing missing is a glass of Champagne.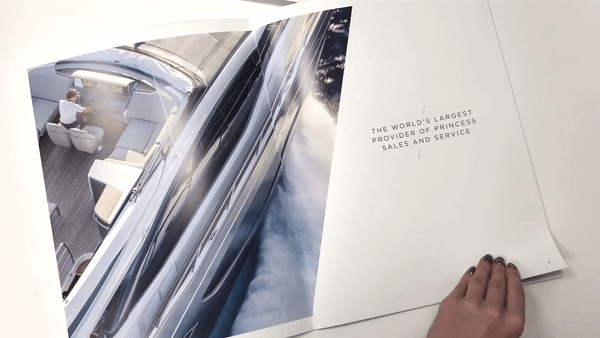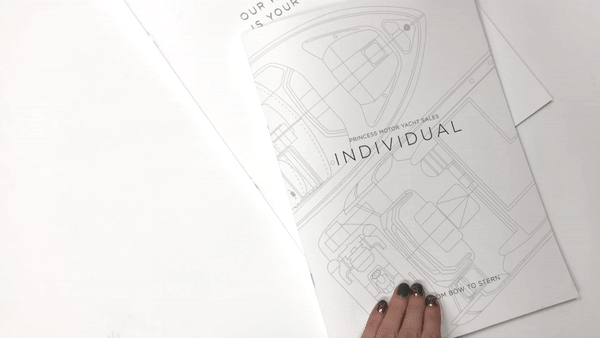 Specification
Job: Corporate Brochure
Size:
Paper: Cover: Essential Silk 300 gsm, Inside Pages Essential Silk 150 gsm
Print: LED UV throughout
Finishing: Soft Touch Lamination & Spot UV Varnish and Silver Blocking
LIKED prince motor YACHT'S JOB?
The soft touch lamination combined with the LED UV press finish gives the princess brochure the look of ultimate luxury, similar to the feeling one must get when they ride on a yacht.
Why not feature your project next? Place your confidence and next print job with B&B Press knowing that not only are you going to get a professional looking leaflet, brochure or unique design but you can also rely on us to send these out safely following all the latest GDPR regulations.
If you like the look of this stunning brochure and what the power of print can produce, get in touch with one of the team members here at B&B Press and we'll make your next project, a BeBrilliant one.