Everyone seems to talk about the importance of an online presence for a small business. However, when it comes to marketing your business, many potential customers still love the feel of a business brochure in their hand.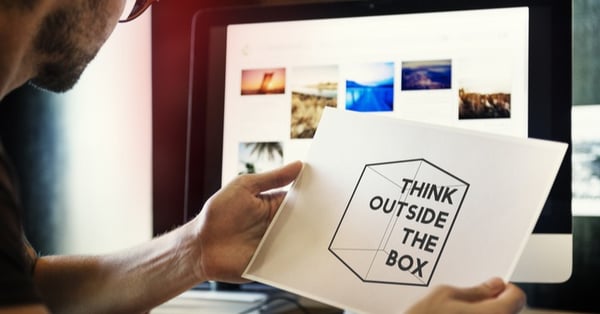 Print marketing hasn't lost its relevance. Print materials and promotional products are tangible showcases of your brand and remain crucial parts of any successful small business marketing plan. Here's why you need to reconsider their place in your strategy.
Complements Your Online Marketing
Have you noticed how you receive fewer magazines and printed newsletters in the mail these days? We don't know about you, but we definitely pay more attention to the eye-catching printed material that comes through our letterbox. Embossed, metallic foiling and other tactile print techniques demand attention.
We're not telling you to drop your digital marketing to go to a strictly print route. We're saying print marketing is still extremely beneficial and can actually go hand-in-hand with your online marketing.
Technology can be distracting with oversaturated ad space and deterrent pop-ups. Printed materials compel the consumer to engage with something physical. Businesses that use offline printed collateral in addition to their online marketing promotions are known to have a larger (and possibly more loyal) customer base to engage with.
These little pieces of print really pack a punch. Customers can grab a few to share with friends; you can hand them out at networking events and even have them sitting pretty in your showroom. When you hand your brochure or catalogue out to potential clients, you create a mental and visual link between your offline and online efforts.
Builds Credibility and Consumer Trust
On a typical day, a person spends an average of 30 minutes reading their physical, printed mail. Compare that to the average lifespan of an email: 11.1 seconds. When you have someone's attention and spend enough time with that person, you start to build a relationship with them.
Whatever your business is selling, remember it takes seven experiences with your brand before a customer is ready to make that purchase. All of us prefer to do business with people we know, like and trust - but getting enough time with someone to build that relationship is very difficult on the vast online landscape.
Picture this, your print newsletter shows up in someone's home or office, they sit down - coffee in hand - and they spend time reading about you and your company. As you're laying the foundation of trust, they're taking in your business offering.
When nurtured and properly promoted, it'll lead to more referrals, lower customer churn and a higher customer lifetime value. These benefits make print marketing a worthy investment for businesses of any size.
Still a Strong Contender for Your Collateral
Some businesses have jumped on the "print is dead" bandwagon, which can actually work in your favour if more and more businesses are relying solely on online marketing for their advertising. This leaves a huge gap in the print space - with less competition.
Even in this day of digital everything, these printed marketing collateral materials are still important marketing tools. Brochures and flyers are vital as a way to present your information quickly and remind your customers about your products and services. You can deploy these materials in direct mail marketing campaigns to prospective or current customers.
There's no denying we live in a tech-reliant world where we're all connected digitally. But surprising your customers with a different type of marketing, such as print, might be the item you need to grab their attention and encourage them to engage. Plus, it's fairly inexpensive to get started if you work with the right partner.
With budget most likely the number one consideration, especially for small businesses just getting started, it's easy to be apprehensive about investing in this type of marketing. However, you can still measure the effectiveness of a print advertising campaign and see the results for yourself.
We often pit print and digital against each other. Which one will be victorious? If you want to know the truth (and if you really want to grow your business), your marketing strategy should include both print and digital marketing. Add a printed newsletter, sprinkle some direct mail and a dash of Facebook advertising to drive leads.
To develop a well-rounded marketing mix that includes print marketing, talk with a print expert about your marketing goals today.
Reconsider Print Marketing With Experts in the Industry
B&B Press has been helping customers achieve great results for over 60 years and are experts in all things print.
The truth is, smart marketers need to play in both online and offline worlds to grow their business and their bottom line. Our expertise can ensure your next printed marketing campaign is successful. Get in touch with us today to learn more about how we can help you.