When it comes to deciding which business printer to work with, you have many options. Some of them might not be up to a high standard and be unable to satisfy your specific needs.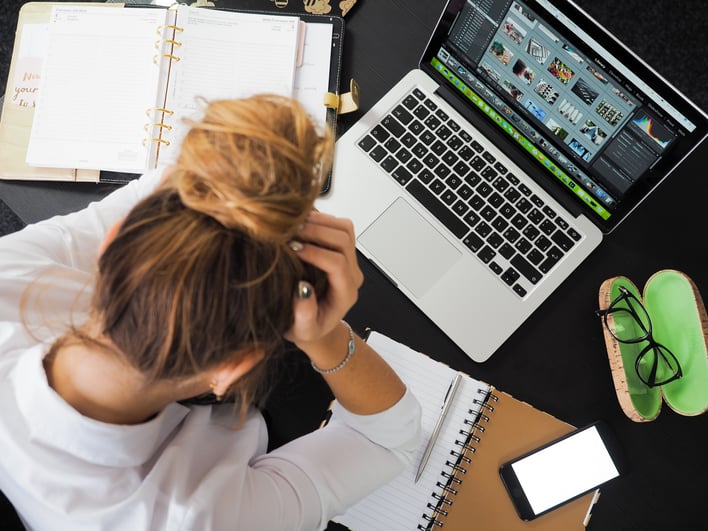 So what are the signs you've found the wrong business printer? And what should you look for when searching for the right one?
1. Their Products are Low Quality
If you're working with a printing provider, the main thing you're looking for is a quality product.

Printing can be a tricky business. Printed media can be subject to blemishes, incorrect information, poor design and damage during transport. An experienced printing company will be able to deal with these issues and still produce a product that you can be proud of.
This is a very simple question to answer - is the finished product up to my standards? If the answer is no, it might be time to consider another print provider.

To counter this, you can either ask for a sample or look into their past projects. If they can send or show you a range of good quality sample pieces with a great finish then you've probably found yourself a winner.
2. They Offer a Small Range of Services
If you find a printing company that only offers one type of print or a small amount of paper options, it's wise to reconsider your business. Having proficiency in one type of printing is OK, but that doesn't exactly make them leaders in their industry.
If your tastes or needs change, you may find yourself in an awkward position with a printing company who can't provide what you want.
A good printing company will pride itself on offering a large range of services to fit all your printing needs. They'll have experience working with and producing many different types of printed media, be it brochures or bespoke printed packaging.
They'll also have multiple types of printing methods such as bespoke printing, flexography, screen printing and LED UV that they'll be confident in.
3. They Have Little To No Examples of Previous Work
The first thing a business printer should do, either on their website or in a first meeting, is showcase their work. After all, their main goal is to create something spectacular for you. So if they're not showing their other projects off, you might want to reconsider a potential partnership.
Showcasing previous work will show their quality, range and ability to see projects through to the end. At the end of the day, finding a worthwhile business printer means finding one that's transparent.
4. They Have Bad Customer Service
Any company should place a lot of emphasis on exemplary customer service. There needs to be a good amount of helpful conversation between you and your print providers, so that your wants and needs are met with precision and clarity. Does your business printer provide enough information on their services, methods and types of material?
If the print provider you're using has a poor record of customer service, or you've personally experienced a bad conversation or lack of communication on their part, maybe it's time to look elsewhere.
Before you look for a print provider, check out their online presence. They might have a well-developed website and frequently-used social media which you can use to determine their trustworthiness. It's also beneficial to give them a call, not just to see what they offer, but how they offer it.
Also, finding customer reviews can save you the trouble of having a bad customer experience in the future. Check out Trustpilot or Google Reviews as they can be incredibly helpful.
5. They Have a Slow Turnaround
If you require printed media, you need it to be ready and waiting for you when you need it, whether it's for an event or a marketing campaign.
The wrong business printer won't be able to provide this. It's an immediate and incredibly important sign that they aren't worth your business or time.
Deadlines are crucial in any industry. Missing them produces unhappy clients. If you're working with an unreliable print provider, it may end up with you missing opportunities for further branding and advertising. A good printing company will never push back a deadline and will work within the promise that they gave you.
6. Their Prices Aren't Competitive
Spending more money doesn't mean the final product will be better. This is a very common myth. It maintains the idea that you should give gargantuan amounts of funds to business printers and in return, they'll allow your product to be printed to a high quality.

The wrong business printer could charge extortionate amounts for run-of-the-mill printed media. When looking into the pricing of a business printer, you have to consider each of the topics we've mentioned.

For example, if the customer service is great but the product quality is low, should you be charged a lot? The pricing needs to reflect their offerings. It also needs to be competitive.

That isn't to say that a print company's prices should be incredibly low - they should actively represent the market and the type of work they do.
Hopefully, these six signs to look out for have given you more confidence when it comes to choosing a print provider for your business. The next stage is figuring out what kind of print you need and what method you'd like to implement it with.
Before you commit to a print provider, you should determine their capabilities to see what they can and can't do for you. Invest the 15 minutes you would spend googling and meet with a printing professional.
Take a look at the range of brilliant print services we offer, and if you're still not sure get in touch, with over 60 years experience we can give you trustworthy advice to make your next campaign a huge success.