Whether you're welcoming a new team member or next year's university students, a welcome pack is a tangible way to show the recipient how much you value them. During the pandemic, many organisations have been forced to hold events online, which has created a gap. It's hard to be personable through a computer screen, however, this can be changed by sending a branded welcome pack through the mail. Although it's possible to welcome your audience by simply sending an email, you're actually missing out on the opportunity to make a real impact on the recipient.
When a person holds a physical welcome or onboarding pack in their hands, they're engaging all of their senses. They can hear the turning pages of the brochure, feel the crisp, newly printed pages, smell the fresh ink on the page, see the bright, engaging text and they could even taste the pages if they wanted.
In fact, 84% of people say they can understand and retain more information from printed material. So, if there's a message you want to get across and you want it to be remembered, it's best to put it in print.
Here are five creative branded welcome pack ideas for online events.
Branded Tumblers
Image credit: Pinterest
There's a variety of branded merchandise that you can send as part of your welcome pack, eco-friendly branded tumblers are just one. These kinds of branded items are particularly good for brand visibility, as the recipient can use the item again and again while being constantly reminded of your organisation or label. With one of these sent as part of your welcome pack, the recipient will remember your brand for years to come.
Branded Notepad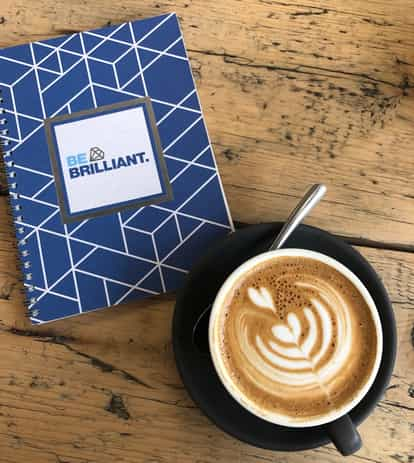 At your event, your audience will want to take notes, so give them the means to do so with a branded notepad and pen. To ensure they know what to expect at your event, provide a programme for them too. This means your audience won't have to look all over your website or sort through emails to find the information they need.
By sending branded essentials like the above, you're showing your audience that you're thinking of their needs and demonstrating how valued they are.
Branded Tote Bag and Treats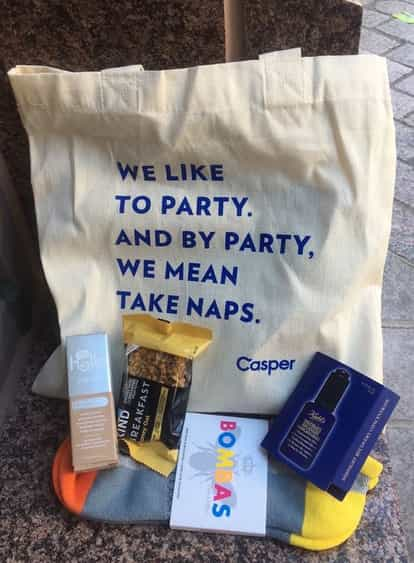 Image credit: Pinterest
As a society, we're moving towards greener alternatives - and tote bags are part of that. Instead of buying plastic bags at the counter, it's better for the environment to take reusable bags, such as tote bags, to the shop. That's why tote bags are a great item to include in your branded welcome pack.
A branded tote bag will be used again and again because they're useful and convenient. Plus, it will also expose your brand to a wider audience when the owner takes it to the shop. Additionally, if they're well designed, they can be seen as a great fashion accessory too.
Treats Welcome Box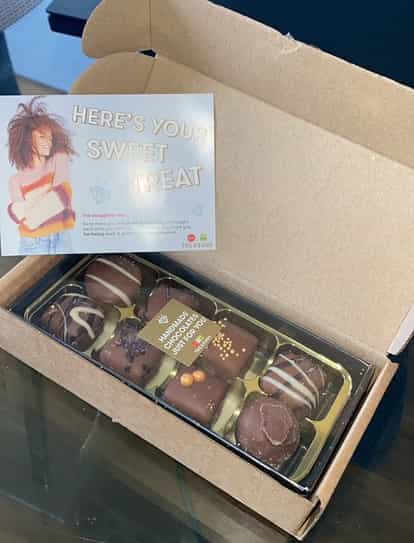 Image credit: Twitter
Snacks. Everybody loves snacks. And they're especially appreciated when there's an online event. Often, audiences will have to stick to specific times provided by the event organisers, meaning they may get hungry during the event. But as long as you send a few tasty treats as part of their welcome pack, they'll have snacks to hand.
Plus, you can even add your own branding to the snacks with stickers or a printed postcard to make it even more personal.
Information Pack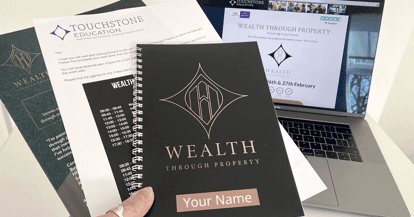 Touchstone Education usually hosts its events in person. However, like many businesses, they've had to move their events online. In their branded welcome pack, Touchstone Education provided their audience with all the information they'd need for the event, as well as a branded notepad to take notes.
These welcome packs can also be personalised, making the recipient feel more connected to the brand and creating a greater first impression.
In doing this, Touchstone Education maintained an authentic connection with its customers. Receiving a package in the post is much more exciting than receiving an email, there's no doubting that. It also delivers real benefits for building strong customer relationships.
To discover how print can complement digital marketing, take a look at our latest download.
How to Enhance Digital Marketing With Print
Print makes the intangible tangible, giving an audience things to touch and peruse while they're sat at their home computer. From making an impression that lasts to printing marketing collateral on-demand, in our latest guide we've covered how digital and print marketing can work together, enhancing your customer experience.
Click the banner below to learn more.