We can help your budget go further, without compromising quality...
Ask any charity what their main priorities are and getting the most from their budget will always be up there at the top of their list. In fact, you'll most probably find, budget is a priority for most organisations these days, not just charities.
As clichéd as it might sound, every penny really does count, whether that involves cutting back on your current marketing campaign to pay for this year's annual fundraising event or relying more on voluntary support to reduce how much you pay out in staff wages. It's a real balancing act that involves constant reprioritising and re-evaluation.
But what many charities don't realise, is that many of their suppliers, including their printing company, can help them get more from their budget...
We've been working with charities for over 60 years and during that time have literally helped countless organisations save money on their printing costs, and it's not at the expense of the overall quality of the end product either…
Believe it or not, we help charities make their printing budgets stretch further, regardless of whether they're printing 5,000 copies of their latest 12 page newsletter or ten pop-up banners and 50 super-sized posters to promote their forthcoming event. Here are just some of the ways we make it happen:
We take care of everything
While some printing companies may just deal with printing, we take on projects in their entirety, from the design and print, right through to dealing with your data and postage.
This enables our experts to advise you on all of the best options (not just printing) available to you based on your requirements. It also ensures you get the best possible results based on your budget. We'll also highlight if there are ways you can generate cost efficiencies that may occur, and you may not have spotted, along the way. Dealing with just one supplier saves our customers a whole lot of time and hassle too!
We're extremely thorough
As well as seeing a project through from concept to completion, we pride ourselves on providing you with the best return on your investment at every stage. For instance, when we handle your data, we'll run checks on it to make sure it contains all the correct information and that details, such as postcodes are complete. We'll also talk you through the different mailing options, such as using Mailsort, which is much cheaper than using standard First or Second Class delivery or franking post. It's important to us that the postage tariff we use is the most cost effective for your company.
We get to know you
One of the reasons why we're able to help our customers within the charity sector get more from their printing budget is because we take the time to understand their brief, core objectives and what success looks like.
We care about saving you money and helping you raise funds, which is why we'll ask you about your funding streams, how you're currently raising money and tailor our outputs accordingly to ensure you truly get the best return from your project. Our aim is to always add value, whether that's enhancing the impact of your members' magazine or making sure your next fundraiser gets everybody's attention.
We know the tricks of the trade!
We've gathered a considerable amount of insight over the years that we draw upon to provide our customers with printing projects that deliver the wow factor, regardless of their budget.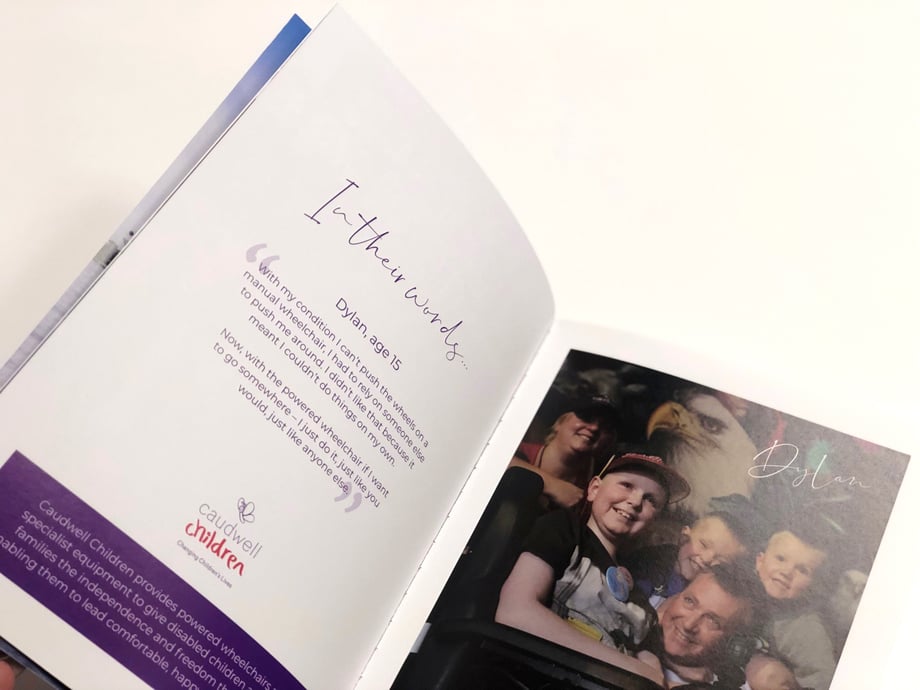 By tapping into our insight and knowledge, children's charity, Caudwell Children, were able to get one of their latest event's booklets out to its supporters in record time. By using our fulfilment services, they were able to post the booklet out to their supporters seven days quicker than if they'd worked on it themselves. They also generated considerable savings as a result of the postage discounts we have access to meaning they didn't take up staff or volunteer resources.
Getting more from your budget may be challenging, but it's not impossible, not if you have the right printing company, who's just as tuned into your world as you are, by your side.