The benefits of a managed print service are very important to anyone looking to create appealing printed media with a significantly positive ROI. You'll have direct control over your outcome while also being supported by the expertise of a print provider.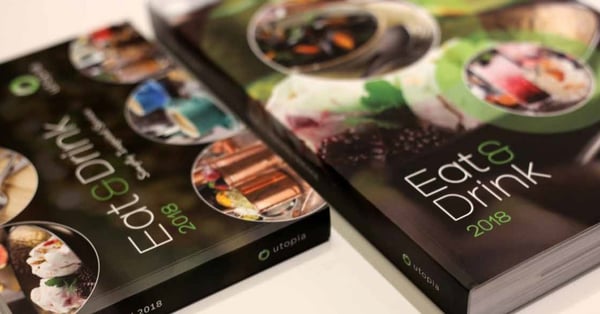 Let's explore what the process entails and the managed print service benefits your business can enjoy.
What Are Managed Print Services?
A managed print service is where a print provider works in tandem with a business, catering to all their printing needs.
By working with an experienced print provider, you'll gain visibility and control over your printing while also benefiting from the direct advice of qualified printers.

So what are the benefits you'll experience by working with managed print services?
What Are The Benefits of Managed Print Services?
Increased Efficiency
Imagine you need to create bespoke printed artwork for an upcoming event. If you did this yourself, you'd need to design the artwork, determine the printing method, identify your print amount and file format, choose print materials and then actually print your artwork.
As you can probably guess, it can be a stressful list of jobs if you're also working on marketing, planning and implementing your event.
By working with a print provider, you'll cut out a big chunk of this work and hand it over to the experts, leaving you and your team to focus on other important tasks. But don't worry, you'll still be involved in the full process.
MPS Reduces Your Environmental Footprint
By outsourcing your print, you're making your workplace more environmentally-friendly by using less energy and raw materials.
It can also mean that your printed media is made from carbon balanced paper. Here at B&B Press, we're ISO Certified and FSC Certified. The best print providers will have an environmental management system in place to enhance and promote greener business practices and also source their paper from renewable sources.
Increased Productivity
Printing needs for every department or a specific event or campaign can vary. However, when you work with a managed print service, you'll benefit from the tailored print methods they recommend to best suit your needs. They might realise your project can be enhanced by using other stocks or print methods such as digital printing or even LED UV.
A qualified print provider will also advise on print size, such as whether an artwork would suit small or large format. Furthermore, print providers use the most updated technology such as in-house digital suites and full-colour presses which allows your print process to be much faster and efficient.
Cost Reduction
If you're not working with a print provider, your use of printing techniques may be sporadic. This means multiple people may be working on a project, each with contrasting ideas. It also means some people may be less qualified, leading to an increased chance of human error.

Human error is one of the main causes of rising expenditure, which can wreak havoc on your ROI. By working with a print provider who can offer advice, expert knowledge and fully manage your print job, the chance of human error is greatly reduced. This leads to less chance of having to rework problematic print jobs and a cleaner expenditure bill.
Gain Insight on The Correct Print Methods
A unique MPS benefit is the insight you'll gain. They live and breathe print which is why they're so reliable and their advice so trustworthy.
Imagine developing a printed artwork with no prior experience in print and then working with a print provider with over 60 years of experience. You're guaranteed to be satisfied with the product while learning a significant amount of industry knowledge if you work with the right one.
They'll advise you on print methods, materials, sizes and even design a process specific to an event or campaign you're running.
Prepare for Printing With Insights From Experts in the Industry
Here at B&B Press, we're always trying to make it easier for our customers. That's why we've created a brilliant print guide to advise and inspire you through each stage of creating your print.
For more tips on preparing artwork for print, you can contact an expert printing professional like B&B Press or download our 'Guide to Creating Brilliant Print' below.