Client: Rocal
Location: Lincolnshire
Date completed: 2020

This is a little bit different to our usual case study, rather than focusing on the finished print this is more about the process, the ordering process that is. We pride ourselves on being brilliant and that's throughout the whole customer journey. Let's share this brilliant example of our Web 2 Print portal with you so you can discover how we can make print ordering one less job for you to stress over.
The Challenge
Our client Rocal are a high-end composite door manufacturer and operates under several brands, Endurance doors being their most established and recognised name. Rocal are a trade only supplier.
They wanted a marketing portal that could support their many customers who are all over the UK. Their client base ranges from a single person installer to large networks with showrooms.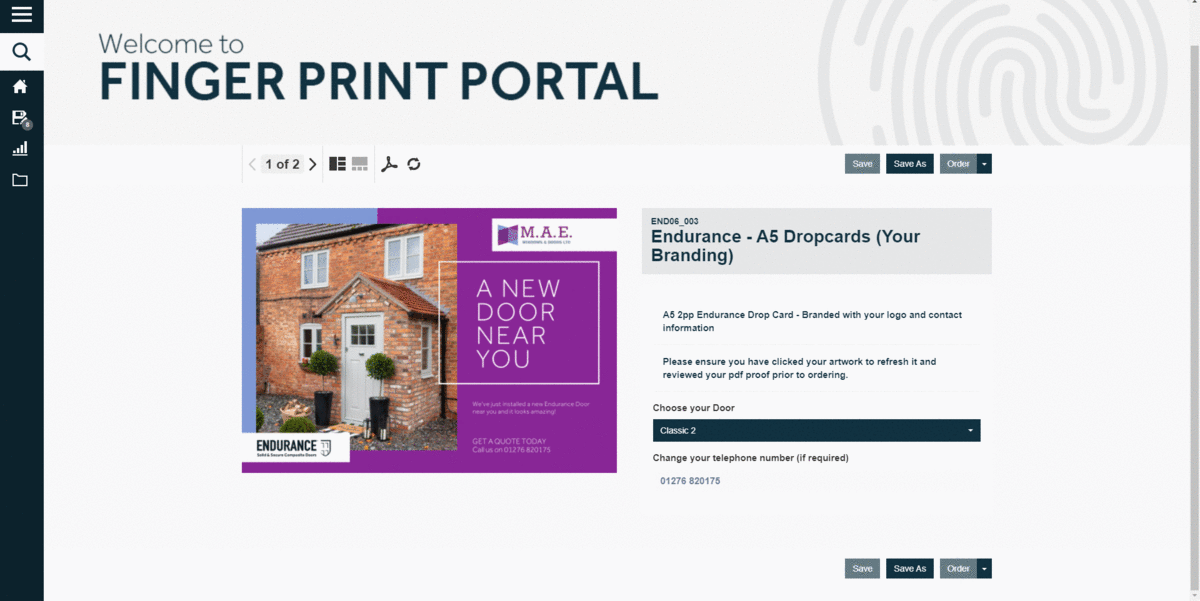 The Solution
The W2P portal we created for Rocal offers the opportunity to purchase brochures, leaflets, showroom collateral and general marketing materials with 'Endurance Door' branding, it also generates digital assets such as website banners and social media adverts.
In fact, the system is very bespoke and that's one of the reasons it's such a great platform, the portal can house almost any marketing asset you'd like your clients to have available in their marketing toolkit.
It allows them to order personalised branded materials, for example having the ability to add their own logo, URL, and showroom address.
The W2P portal can be accessed 24/7 from all over the world allowing your customers to order products from wherever they are working.
The Result
It allows the individual seller to have quality bespoke personalised printed materials at a fraction of the cost of doing it themselves. That's a brilliant thing to be able to offer your clients.
The portal can be accessed 24/7 from all over the world allowing their customers to order products from home, which right now is absolutely necessary. Even as we move into the 'new normal' the way we all work has changed, and we are all going to need to do things on a more remote basis, W2P ticks all the boxes.
Rocal said "Having our own Web 2 Print system has allowed our business to tackle several different challenges we have been handicapped by for some time. Firstly, it has allowed us to channel the hundreds of Marketing Support requests from our nationwide network of Trade Customers through a neat, simple to navigate and reliable system. This means fewer requests are missed and allows us to offer a speedier turnaround for our customers.
Secondly, the ability to quickly rebrand professionally designed, white-labelled artwork to feature our Trade Customer's own logo and branding has been a game-changer for us. Now, we have to invest less in our own internal Graphic Design function and our customers are buying more branded marketing materials than ever before – all of which helps them promote our products and deliver a superior sales performance."
That's just some of many W2P benefits if you'd like to know more check out this page.
If all this has left you keen to explore the power of print, get in touch, here at B&B Press and we'll make your next project a brilliant one.