Client: Nest
Location: Sheffield
Date completed: 2020

The Challenge
Nest are passionate about sustainability, they were looking to find a way of producing their 'Edition' brochure in a more sustainable way to mirror their values. Nest said, "As a company if there is an option available to reduce our carbon footprint and offset emissions, this is sure to be of interest."
The Solution
They say you can't judge a book by its cover but in this case, you can, and it's even greener than it looks. Not only is it a beautifully designed and printed brochure, but it's also completely Carbon Balanced.
We produced this beautiful brochure on behalf of Nest - 'design destination' for contemporary furniture and lighting. The deliberately minimal cover finished with black foiling, feels considered and exudes style through simplicity.
This book is one you'd happily display on your coffee table, and that's one of the reasons we love printing luxury brochures, as we are creating something so great that the reader wants to treasure it.
We love working with brands like Nest, who share our passion for caring for our planet. Nest believes the future lies in filling homes with products that are not only good for us but good for the planet too. The awareness of environmental impact and desire for sustainability is only going to become more in demand as customers look to choose sustainable furniture designs and consider their furniture footprint.
We couldn't agree more with this, hence our recent decision to support World Land Trust as a Carbon Balanced Printer.
It's a complex subject and can feel overwhelming for customers. Nest have tried to make their vision more digestible with content to help define the three pillars of sustainability, economic, ecological and social.
Together with informing their customers on this topic, they, like us are committed, as a brand, to offering sustainable choices. It's worth mentioning that all the paper used in this brochure is FSC® which gives it yet another reason for being brilliant.
The inside pages of this brochure are a mixture of silk and offset, this juxtaposition enhances the experience and creates curiosity. The mix of stock perfectly accentuates the flow of the content held within the pages, creating moments to shift focus. It's all very tactile and helps the reader have a more memorable experience flicking through the pages.
LED UV is known for its high-quality print finish especially on uncoated paper. The striking photography looks even more captivating in print, printed on our LED UV press the crisp images really set the tone for a quality brand and the rich intense colours provide that sense of home.

Credit: Max Hawley, Nest
The Result
Nest said "The team at B&B Press explained the process with passion and their commitment to the cause. It was an easy decision to work with one of only a few Carbon Balanced Printers in the UK and take advantage of this service."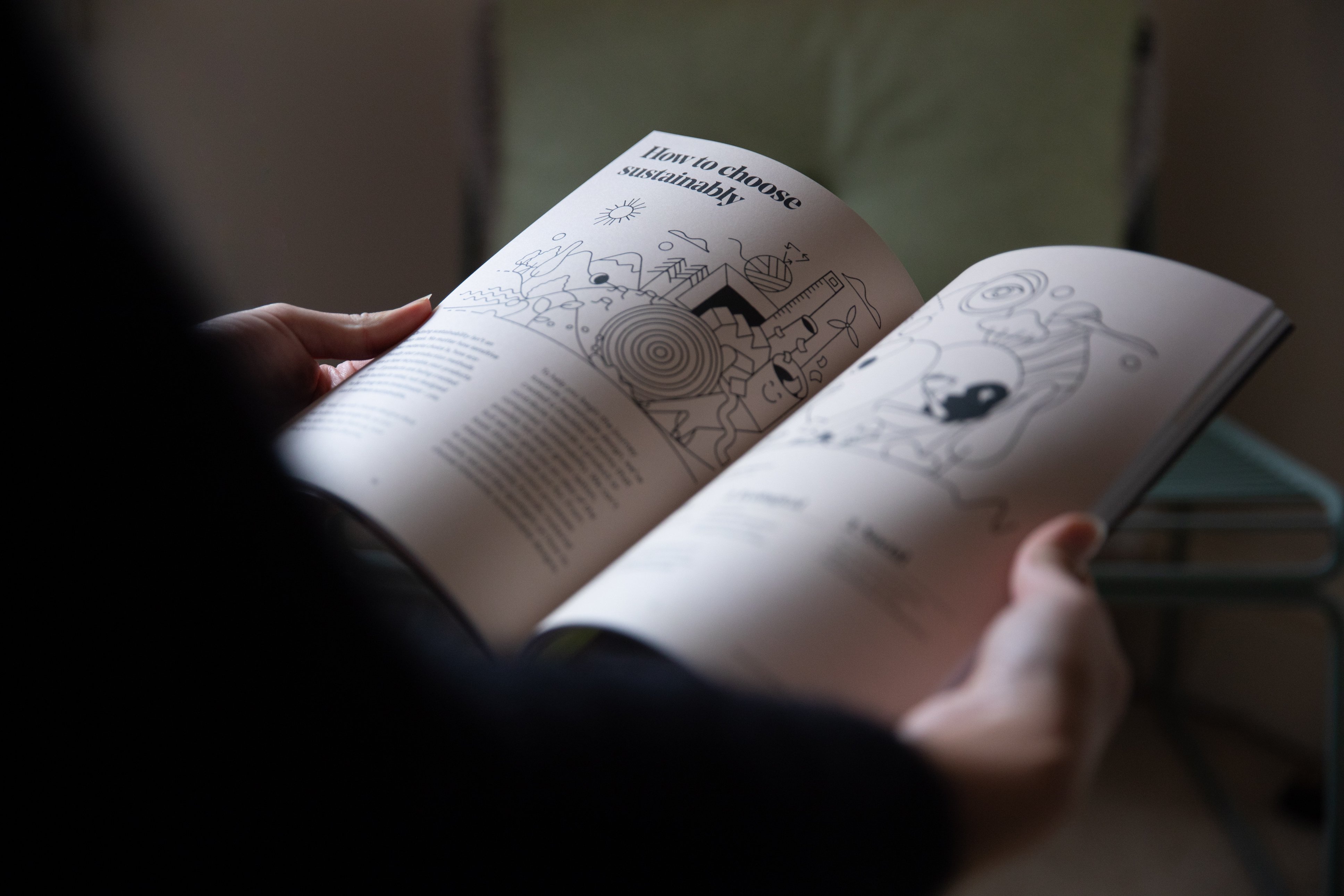 JOB SPEC
Job: Nest - Edition #01
Size: 240 X 170 Portrait
Paper: Cover - Vision Superior 300 gsm White bond FSC®, Inside Pages - Galerie Silk Art 150 gsm FSC®, Horizon Offset 140 gsm White FSC®
Print Service: LED UV, Carbon Balanced Print
Finishing: Foiling on the outer cover
If all this has left you keen to explore the power of print, get in touch and we'll make your next project a brilliant one.