The typical turnaround time for printing services can range from a couple of days to one week. Expect a quicker one for digital printing but for litho printing and large format, you'll be waiting a little longer. Ultimately, it depends on the quantity, artwork and complexity of the job.
Here are a few things you can do to help printers produce your job quickly, correctly and to a high standard.
Clear Purpose in Mind
If you don't know what you want from your print, it's impossible for a printer to know either. Try to find a print provider who offers sound advice on your ideas and suggests feedback on your design choices, needs and the overall feasibility of the project.
To provide the full scope of your project description, communicate what you're trying to achieve with your print provider and what your desired end goal will be.
Purpose?
Are you hosting an event and need promotional material to entice attendees? Do you want to create informative brochures to hand to prospects to really sell your business offering? Whatever your purpose, determining it early on will help all the other pieces of your print puzzle fall into place.
Quantity?
If you require promotional material for an event, brochures for your showrooms or mail-outs for a campaign, you'll probably need large amounts.
A responsible print company that understands your vision will be able to make suggestions based on their years of experience to help you achieve the best results possible. It helps if you make sure your artwork is ready to go to print.
Have Your Artwork Finalised...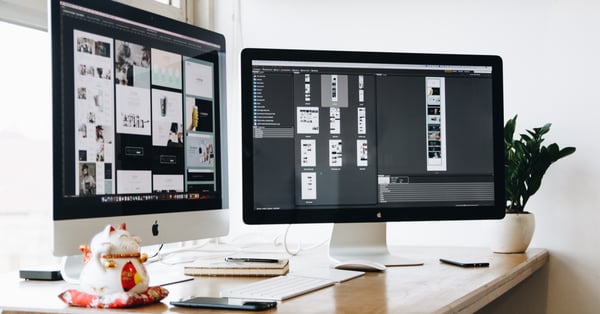 Not every printing company is going to be able to assist you with your design. If you manage to find one that does have experts on hand to help with the design, you're in luck.
If you're not quite there yet, we've put together some tips to help you get your artwork over the line smoothly.
...And Save Using a Print-Ready File Format
With time ticking and a print campaign eager to go, making sure your design is available as a print-ready file is essential for efficiency. Neglect that and you risk unnecessary stress and back and forth with your print partner. Not to mention, a last-minute print project becoming less effective by the minute.
PDFs are a great option for your print-ready files. Just make sure to check with your printer to find out what they'd prefer.
Even the most experienced designers can seize up when it comes to this part. Don't worry - whatever software you use to create compelling designs, we've provided some guidance so sending your files to the printer is a walk in the park.
Communicate With Your Printer
Communication with your printer is absolutely crucial. Not only can they advise you on things like the file format they prefer, bleed area and crop, for example here at B&B Press we offer a preset InDesign file on request that makes the whole process simple (and faster if needs be).
Within your time frame, there will be time factored in for proofing. A quality print provider will send a proof back for you to approve before sending the job to print. To learn more about and print proofs and their place alongside professional business printing, head over to this blog.
If any errors are noticed, the time needs to be allowed for any corrections. Fortunately, if anything does impact your print run, you and your print provider will have enough time to find a solution.
Here at B&B Press, we put a lot of effort into making sure you get what you need on time. We aim to consistently provide you with the best quality in the shortest time without cutting corners.
We recognise the whole process can be a challenge to wrap your head around or a little tedious if you're strapped for time — but don't worry — we're here to help. We've created a guide to help you create brilliant artwork which we'll then turn into brilliant print.
Prepare for Printing With Insights From Experts
With deadlines looming and the clock ticking before you launch your online campaign, we could understand if making sure your file is a PDF is the least of your worries.
Here at B&B Press, we're always trying to make it easier for our customers. That's why we've created a brilliant print guide to advise and inspire you through each stage of creating your print.
For more tips on preparing artwork for print, you can contact an expert printing professional like B&B Press or download our 'Guide to Creating Brilliant Print' below.