Content is key when it comes to your charity newsletter. The formatting, design and content all work together to draw in the reader and keep them entertained. Once you've lost their interest, you've potentially lost a reader.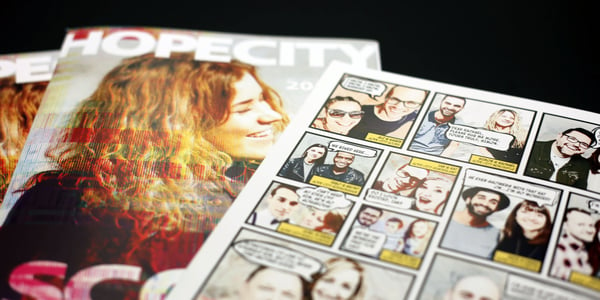 Charity newsletters are usually packed with so much useful information, so it's an easy mistake to make if you feel like you've forgotten something. Want to make sure you've covered everything? This post will outline everything you should include in your newsletter to keep your readers interested and in touch.
Updates About Your Charity
This is the section you should include everything that your charity has been up to since the last renewal of your newsletter. Or if this is the first one then include everything so far.
This could be anything from hosting events, revising your mission statement or reaching a goal. Or has somebody generously deciding to donate a great deal of time or money? That's definitely worth a mention in this section.
Remember to keep your readers at the forefront of your mind. They want to know where their money is going and how it's making a difference. People also might like to get involved with the volunteering, so perhaps share a few success stories that might draw people in.
However, although you should to write to your audience at all times, be careful not to overload them with countless marketing materials.
Donor Highlights
When people think of donations, they automatically think of monetary gifts. But that's not always the case. Tangible gifts and time are also valuable donations to charity.
So, use this section to strengthen your relationships and potentially build new ones. Who are the main donors to your charity? Why are they donating? Stories behind donations are what draw in other donors. It also empowers the current donors, and keeps them sweet and feeling valued.
Volunteer Profiles
As we've just mentioned, time is a healthy donation to your charity. And who devotes more time to hard work for your nonprofit than your volunteers, right? Profile a different volunteer in each newsletter. You could even do a few if you really like. But choose the volunteer who has reflected the charity's values the most and has gone above and beyond for the cause.
Not only will this show your appreciation and value of current volunteers, but stories like these may also encourage other volunteers to behave in a certain way. It may also attract new volunteers, which you can never have too many of!
Relatable Stories
This section should be the one that really grips your audience. Keep your readers impressed with your work by sharing recent success stories and what you've achieved over the period since the last renewal. Focus on the bits that the reader can relate to the most and provide links to your website that explain the story further.
Remember to keep it interesting though and entice them into clicking.
These stories will help you connect with your readers emotionally. Seeing the work that you're doing for such a great cause is something that should be truly appreciated.
News Updates
In essence, this section can be filled with any news story that you like. It doesn't matter whether it's international, national or local news. If you feel that it affects or is related to your charity in any way, include it. Don't feel you have to be too rosy though as sad news that impacts your charity is just as important as the good stuff.
Relevant Blog Posts
Blog posts are a great way to connect with your audience. It also means you're extending the reach of your blog posts, ensuring that a wider audience sees your content. This can have a positive impact on your blog as it may attract more regular readers.
Blog posts are an effective way of letting your readers see your charity's personality shining through. When your audience reads a blog post, they should feel as if they're connecting with somebody, so don't be afraid to get conversational and chatty. This will help your readers relate to and put themselves into the situation that you're mentioning.
Events
Your newsletter should be the one-stop place that all the details of your latest events are packed into. Include all the necessary details - location, time, date and motive behind the event. Not only should you share information about upcoming events, but also show off your previous events with images and success data. Make your readers feel like they simply can't miss the next one.
Relevant Community Events
Just because it's your newsletter, it doesn't mean that everything has to be all about you. Charities are a big part of local communities and your newsletter is a great place to acknowledge this partnership and show off your relationships.
Keep an eye out for events in the community that like-minded supporters might be interested in attending. Showing your support for local events is a great way to spread awareness for your nonprofit's cause.
Make Sure You Don't Miss Anything Vital
So, now you know that you've got everything covered, it's time to include all of that in your newsletter. There's nothing worse than sending something into the printers or publishing something online and then realising that you've missed a crucial section out.
Lucky for you, that's why we've created our free newsletter prep checklist. Tick things off as you've included them into your newsletter and see for yourself in front of you what you've actually got in there.