Client: Nest
Location: Sheffield
Date completed: 2021

The Challenge
This is the second edition of the Nest brochure, the first edition was a huge success and we wanted to make sure that this one was even better.
Having worked with Nest on their first edition we understood their values and vision, they have exciting design ideas and we love putting these into print. Choosing a sustainable print solution is ever-increasing in importance. Nest are looking to champion the designs and brands they work with that are adapting to take steps to minimise their impact on the environment and navigate toward sustainable thinking, materials and processes with both sustainability and a circular economy being a focus.
The Solution
Carbon Balanced Print is one of the most sustainable print solutions available and it's something we are proud to offer all our customers. As Nest discovered with their first Edition Brochure, working with us allowed us to select options that we were looking for, that would reduce our carbon footprint and offset emissions. They said "It was an easy decision to work with one of only a few Carbon Balanced Printers in the UK and take advantage of this service."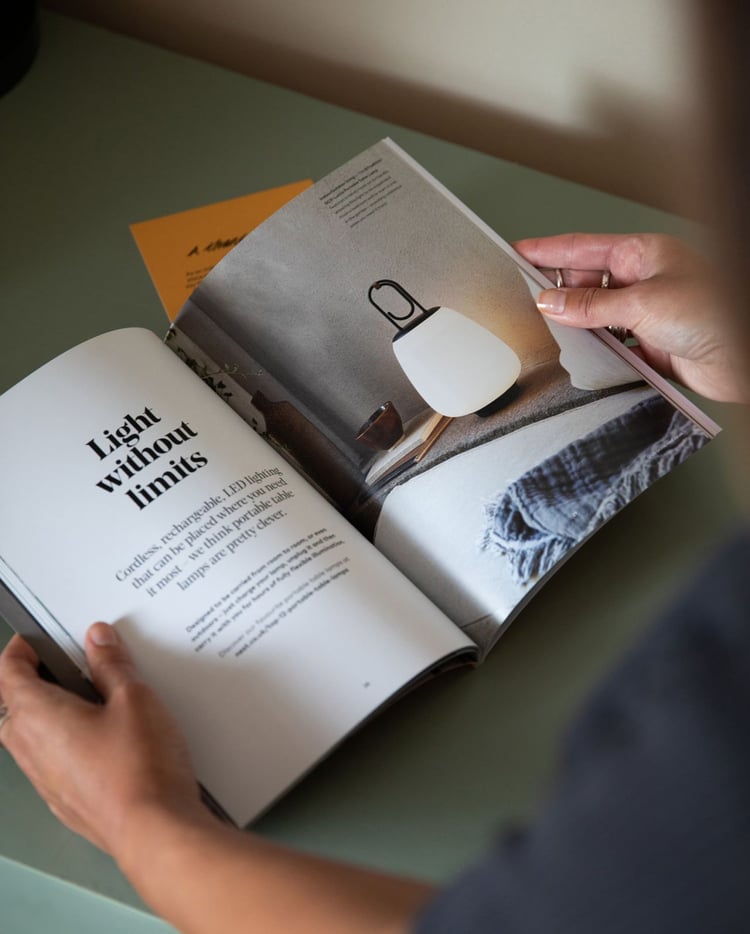 Credit: Max Hawley, Nest
Knowing what something is going to look like as a finished piece of print can feel difficult at the early design stages but having so much experience our team love guiding clients through this process, and looking at the different options available. The colour choice for the covers is so vibrant and eye-catching, it makes you want to pick it up, it also compliments the green used on the cover of the first edition which is important as these brochures are the start of a series to showcase the wonderful products, photography and passion Nest have.
The Result
Here are a few words from our client "B&B Press worked in complete unison with our timeline with regular check-ins to ensure we had the support and open communication channels for if delays were expected on either side. We remain very pleased with the quality of the print provided, delivering consistent results which is key for our brand. It's apparent that they are striving to get the best results for you from both their attitude toward and attention given to each job. This acts as reassurance in what can be a daunting process when large runs are being produced. You need to feel you are in capable hands and we do with B&B press.
JOB SPEC
Job: Nest - Edition #02
Size: 240 X 170 Portrait
Paper: Cover - Vision Superior 300 gsm White bond FSC®, Inside Pages - Galerie Silk Art 150 gsm FSC®, Horizon Offset 140 gsm White FSC®
Print Service: LED UV, Carbon Balanced Print
Finishing: Foiling on the outer cover
If all this has left you keen to explore the power of print, get in touch and we'll make your next project a brilliant one.