It's 2018; do we still need to worry about handing out business cards to important-looking people at events and conferences? With the rise of LinkedIn and other digital alternatives, there's a strong case for not owning them but the business card is still a vital part of the networking experience. Here's why.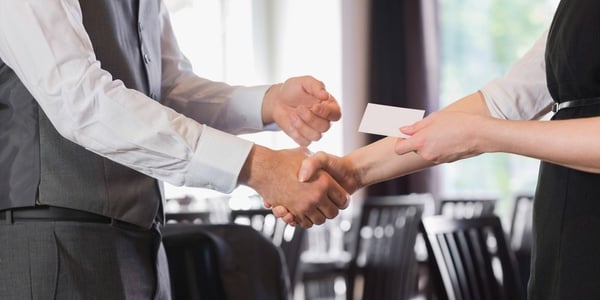 Do We Need Business Cards at Events?
Despite what many people would have you believe, there's a reason why people all over the world still take business cards to events. No matter your sector or job role, a business card is still the best way of giving a prospective client or partner your important information.
Even in today's digital marketplace, there's still genuine value in a face to face conversation. If you're trying to make an impression, a positive interaction and an effective business card will help you to stand out from the barrage of faceless emails they receive.
With a business card, you can give someone all of your important information without even breaking eye contact. Without one, there is that awkward time spent swapping numbers or email addresses that could be better spent having an actual conversation. This is why a business card is still the best way to pass on your details, regardless of the type of event.
However, it's also important to remember that the average person at one of these events could receive lots of business cards, so it's vital that you make sure your card stands out. You need to ensure that your cards are fresh and perfect for that specific event, that's why more people are printing multiple cards.
Different Business Cards for Different Events
You might attend a lot of different events that are aimed at different kinds of people. Your business card might be perfect for young professionals but be lost on senior executives. Because of this, it can be useful to have multiple business cards.
Although it's important to have business cards at events, the card you design might not suit every situation. For example, using a QR code might appeal to those in high-tech industries but be deemed confusing and unnecessary by others.
Having multiple cards available allows you to assess the event, the specific situation and the person you're giving your card to. You can decide which is most likely to result in a positive interaction later on. So, how do you go about making your business cards stand out from the crowd?
How to Make a Business Card Stand Out
There are so many options available to you when it comes to business cards so it can be difficult to know where to start. If you're looking for ideas and inspiration, explore this article from Canva that's packed with creative designs.
Some of those cards are genius and are sure to leave a lasting impression with anyone. But before you start designing, it's important to take into account your job role and the industry you work in (bright and sparkly might not be suitable for a divorce lawyer).
It also needs to be practical and easy to have in a wallet, handbag or pocket. If it's covered in glitter or is poor quality and easily rips, then there's a good chance it's going to end up in the bin.
When designing your cards, think about paper type, texture and orientation. Be creative and use contrasting colours to make your text stand out, use unusual materials or design something 3D. The possibilities are endless!
One of our favourites from the Canva article uses biodegradable paper seed packets so that it's still useful when it isn't needed anymore. This also acts as a great conversation topic with someone and shows you're forward-thinking and eco-friendly.
This particular design would be perfect to have at events to show your commitment to being green. However, they might not be as successful in a more formal setting so it's always useful to have different designs on hand.
It's important to remember that it doesn't matter how good the design is if it's missing vital information or it's unclear. Make sure your design has room for everything you might need to include.
What Should Be on Your Business Card?
There are some basics that should be on every business card, including your name, title and email address. The purpose of a business card is for you to be contactable by a potential new client or partner, so this information is vital.
Then, it's really up to you. If you include a phone number, make sure it's your direct dial or mobile number. No one wants to have to enter extensions or speak to receptionists if they thought they were calling you.
It can be useful to include a website URL and location, especially if you're handing out your business cards at events around the world. A logo, personal photo and tagline are all options you should consider, but you should avoid your business card feeling too cluttered with unnecessary text.
A QR code is a great way of sending someone directly to the content you want them to see, whether it be a social profile, website homepage or relevant landing page. If you work in a creative or tech sector, this shows people you're up-to-date with the latest innovations.
It's so easy to design and print creative multiple business cards that aren't expensive, so even today, you should always have some to hand when you attend your next event.
Stand Out with Perfect Printing
Business cards are a great way to promote your business, but they aren't the only approach you can take. Brochures, leaflets and other exhibition materials help you to make the most of your time at the event. But you need to make sure they're designed and printed to perfection.
Download our free guide to business printing and find out more on how to stand out from your competition with the perfectly produced printed material.