How professional services companies can achieve quality and avoid hassle when outsourcing their printing
Whether you're outsourcing your business card printing or redesigning your company brochure, it's essential you receive the highest quality material that meets your requirements and timescales.
But what happens if the colour of your finished leave-behind doesn't quite match your corporate colour palette or it's not possible for your banners to be printed in time for the exhibition you're attending the next day?
Outsourcing your printing doesn't necessarily have to involve these types of frustrations. In fact, it shouldn't be frustrating at all! We should know, we've been working with professional services companies, ranging from solicitors to accountants, for almost 60 years!
Here's a quick glimpse into how we make sure everything we produce is of the highest quality for our professional services companies and that it involves minimum fuss:
Consultative approach
When you're busy, it's easy to think that a consultative approach is the last thing you have time for. However, it's an approach that we've been taking for the last six decades and one that enables us to provide our customers with a consistently high level of service.
Taking the time to discuss the details of your brief and what the end product needs to achieve and look like, enables us to account for every single aspect of the job at hand - as well as deliver outcomes that don't just meet, but exceed, your expectations.
Peace of mind
We're renowned for being trusted printing specialists and it's a reputation we're extremely proud of. Countless companies have trusted us to deliver their projects over the years and we've risen to the occasion every time.
Once we're entrusted with a piece of work, we run with it. From start to finish, we can be trusted to create exceptional results, freeing our customers up to focus on other aspects of their work.
Take Simon Gorman, Marketing Manager at hlw Keeble Hawson Solicitors, for instance. He got in touch with us as he was organising a company sports event and needed us to take care of branding for an event within a tight timescale. We took care of the entire job, giving Simon one less thing to worry about and more time to focus his attention on other aspects of organising the event. You can see some of the items we produced for it below: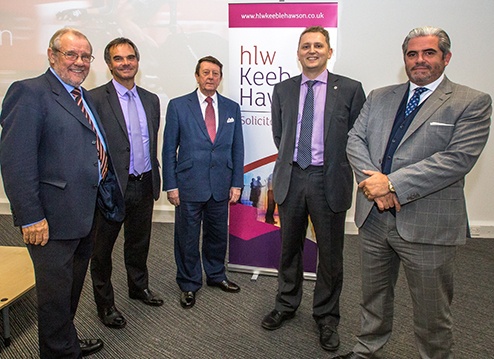 Cost efficiencies
With budget cuts commonplace and existing budgets increasingly squeezed by the day, we understand the importance of trying to deliver projects that don't just come in within budget, but under budget, where possible.
It's an ethos that's at the core of all of our services here at B&B Press. If we identify a more cost efficient way of doing things, such as using a different type of envelope or postage tariff, we'll be sure to tell you about it. But one thing we'll never do, is compromise on quality.
Looking good
How you look matters to us. Obviously, we want to help you look good to your colleagues by providing you with end products that push the visual boundaries, represent value for money and meet your timescales.
We also want to make your company look good too. Thanks to our wealth of in-house experience and knowledge (we employ many of the industry's leading creatives and printers, who've been with us from day one), we excel at helping professional services companies achieve the right visual identity.
What's more, everything we produce is to the highest standard and we've held many of the industry quality certifications, including IS0 9001 Quality Management (which we passed with 100%), for more than 12 years. (For more details about our certifications, visit our Green Printing page).
We've shared with you some of the ways we help our professional services customers achieve quality and avoid hassle when outsourcing to us, now why not let us prove it by getting in touch with our team of experts? To find out more or discuss your printing requirements Contact us or talk to one of our team on 01709 710000.