Client: Touchstone Education
Location: Doncaster
Date completed: 2021

The Challenge
Touchstone usually hosts their training events at a venue, you know that feeling of going to an event (if you can remember), it creates excitement. Right now, that's missing from the world, going to a virtual event isn't quite the same. There are certain perks like being able to wear your pyjama bottoms but it's difficult to feel fully immersed in the experience.
Well, it was until we created a brilliant event welcome pack to help bridge this gap.
The Solution
We've chosen to showcase this job as it's a brilliant example of how embracing print can enhance your customer experience. In this case, it was used to keep Touchstone Education connected with their customers in a world where we are all very much apart.
Touchstone Education offers a variety of courses concerning landlord and property development. To maintain an authentic connection with their customers, we helped them produce and deliver a welcome pack pre-event and more printed collateral over the event.
These packs are sent out to everyone enlisted on the course prior to the first session, the pack consists of a personalised introduction letter explaining the course and agenda, a course booklet and a personalised notepad.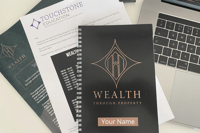 Receiving a package in the post is much more exciting than receiving an email, there is no denying that. It also has real benefits for building strong customer relationships. When your customer only receives your marketing through one sensory channel, online via a screen, their engagement is relatively low. When they can actually touch the paper, the message is printed on, a second sensory channel is opened, and the brain moves into a new level of engagement, especially when that paper has their name on.
Consumers are increasingly frustrated by and become immune to some digital marketing techniques such as pop-up ads and banner ads, so when they see quality personalised print, it creates a unique experience that can capture their attention in a more positive and memorable way.
Stat:
84% of consumers say being treated like a person, not a number, is very important to winning their business. If you don't want to create an entire personalised brochure, you can create a brilliant personalised front cover. This can have the same amazing results and be more cost-effective.
The Result
Not only did we produce the printed materials for this job, but we also handled the distribution which can sometimes cause unnecessary stress, but not for us it's something we are used to dealing with, which is great news for our client who could spend time focusing on their event prep knowing this part of the job is all in good hands.
Our client said: "I'm so rubbish with tech and have little experience with print but the B&B team always take this stress off my plate and go above and beyond to assure I don't need to worry about projects once handed over."
We are delighted with this project and being able to help our customers explore the power of print.
If you're looking for more inspiration on how you can successfully incorporate print into your digital presence take a look at this welcome mailing box we created for Salford Uni.
JOB SPEC
Job: Wealth Through Property Note Book
Size: A5 Portrait
Paper: Cover: Silver Digital (Gloss) 350gsm
Pages: Navigator FSC® Pre Print 120 gsm White FSC®
Print: Digital Print, Including Personalisation to Front Cover
Finishing: Wire bound
This job includes fulfilment and mailing.
If all this has left you keen to explore the power of print, get in touch, here at B&B Press and we'll make your next project a brilliant one.