Client: Beatson Clark
Location: Rotherham
Date completed: 2021

The Challenge
Sustainability is an extremely important factor to our clients business. Their product, glass packaging, is already a sustainable material as it is 100% infinitely recyclable, contains recycled materials, is made using natural raw ingredients and is completely inert. They not only wanted to convey this message to their customers within their marketing but also to demonstrate how as a company they are doing their bit to contribute towards a better environment.
We are regularly told that going paperless and relying on digital communications is better for the environment. This presents challenges for marketing teams who understand there is still a huge amount of value in printed marketing and don't want to miss out on the benefits.
Our client said, "Although a lot of our marketing tools have moved online over the years, we still believe that some customers require a printed copy."
Our client needed a marketing solution that ticked both boxes. Especially as the whole focus of this campaign was to promote sustainability, the brochure needed to be true to its word, quite literally.
The Solution
We understand this challenge is becoming a lot more common so we needed a solution that could deliver our clients with print they could be proud of.
Firstly, it's important we address that paper is now regarded as one of the world's great sustainable products. It's biodegradable, recyclable and made from a renewable raw material.
It's easy to think reducing your print use will help save the planet, but the opposite can in fact be, print can actually help protect our planet, it's just about choosing the right kind of print.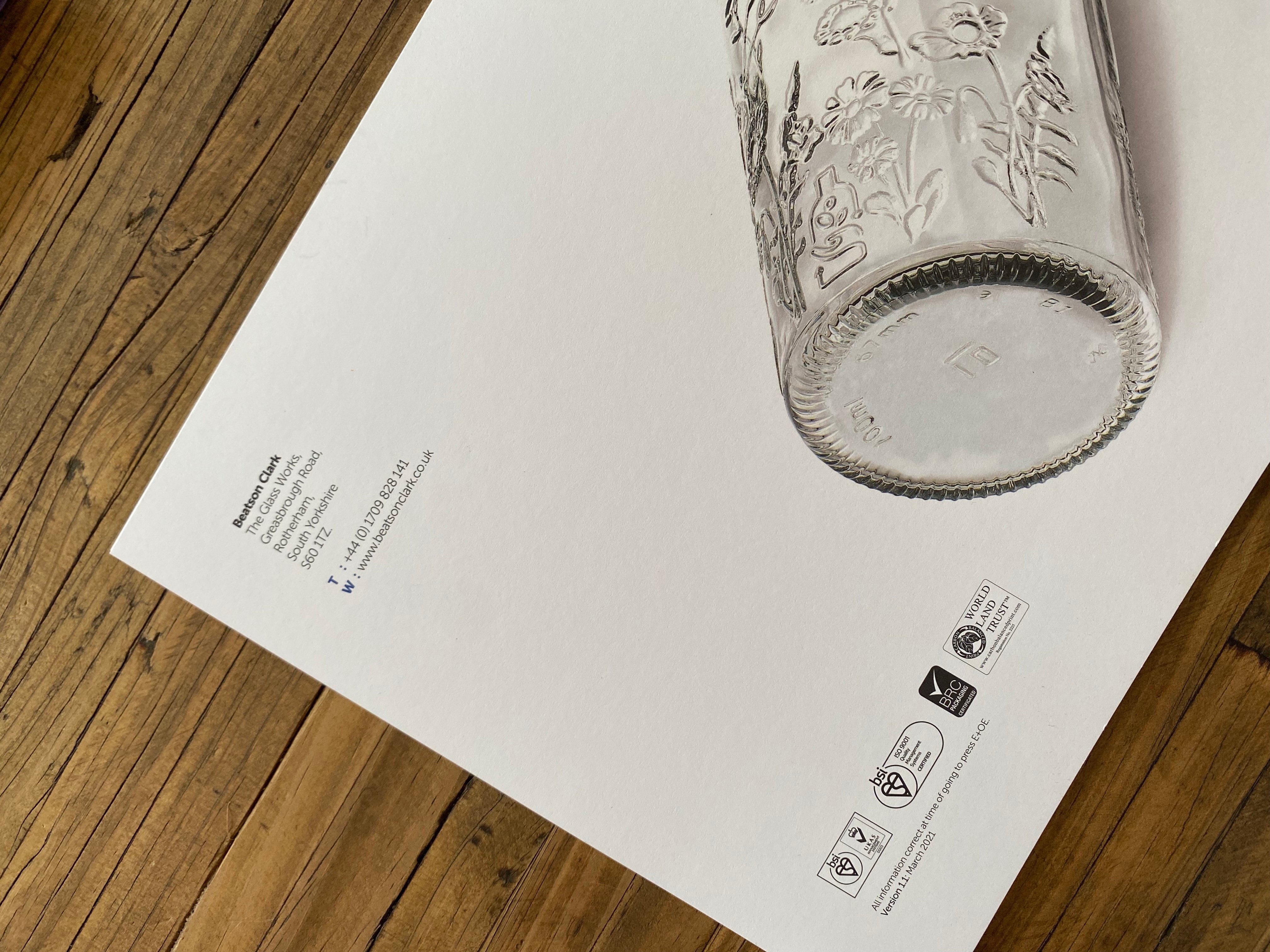 When you choose to use Carbon Balanced Paper, printed by a Carbon Balanced Printer, you can be confident in knowing you are choosing one of the most sustainable print solutions available.
It's a service we offer on all our in house print and a perfect solution for a brand like Beatson Clark who has sustainability at the heart of everything they do.
As the content is based around sustainability the client wanted to highlight the recyclability of the brochure itself, so wanted an alternative paper finish to echo that rather than the silk paper they usually use. We suggested using uncoated paper to set the more 'natural' tone the brochure is trying to convey.
Stat:
Organisations understand the benefits sustainability has on their relationships with customers: 77% indicate sustainability leads to increases in customer loyalty, while 63% say it increases brand revenue.

source:
https://www.us.sogeti.com/explore/news/research-how-sustainability-is-changing-consumer-preferences/
The Result
Our client said " We are constantly taking steps to improve our sustainability credentials wherever possible and reduce our carbon impact. Whilst we still believe print is a vital channel for our marketing and that customers require certain literature to be in print, we would like to do it in the most sustainable and ethical way possible. Using a Carbon Balanced Printer, knowing paper is 100% recyclable and avoiding waste when it comes to print lengths, means we are assured that anything we need to print is as environmentally friendly as it can be."
JOB SPEC
Job: Sustainability Brochure
Size: A4 Landscape
Paper: Uncoated, Carbon Balanced Paper
Print: LED UV, Carbon Balanced Print
Finishing: Hand Stitched
If all this has left you keen to explore the power of print get in touch. B&B Press can help make your next project a brilliant one.